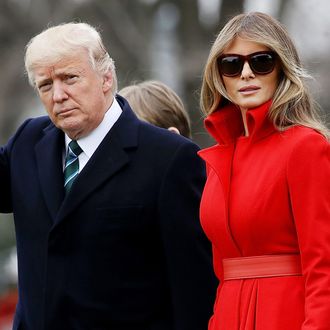 Photo: Justin Sullivan/Getty Images
Well, this doesn't exactly come as a surprise, does it now? After a flurry of 2017 honorees voiced their intention to either skip or protest this year's Kennedy Center Honors, the New York Times is reporting that President Trump and his wife, Melania, will not attend the December ceremony at all — despite the custom dictating that the presidential couple host it. "Each year, the Kennedy Center honors the careers and achievements of artists who have helped shape cultural life in the United States with a weekend that includes celebrations and events," a White House statement on Saturday said. "The president and first lady have decided not to participate in this year's activities to allow the honorees to celebrate without any political distraction. First lady Melania Trump, along with her husband President Donald J. Trump, extend their sincerest congratulations and well wishes to all of this year's award recipients for their many accomplishments." It's like the Correspondents' Dinner all over again!
In an additional statement, the Kennedy Center said that it "respects the decision made today" by President Trump, and that by choosing "not to participate in this year's Honors activities, the administration has graciously signaled its respect for the Kennedy Center and ensures the Honors gala remains a deservingly special moment for the honorees. We are grateful for this gesture."
This year's Kennedy Center honorees are LL Cool J, Norman Lear, Lionel Richie, Carmen de Lavallade, and Gloria Estefan, who are all being recognized for their distinctive contributions to American culture. Lear previously commented on how he will not attend the pre-ceremony reception at the White House, owing to Trump's reluctance as president to fund the arts. Estefan, meanwhile, said she would attend but promised to make a strong statement to Trump at the ceremony, while de Lavallade will be protesting the event and not attend at all. LL Cool J and Richie have yet to publicly comment on the extent of their Kennedy Center involvement.