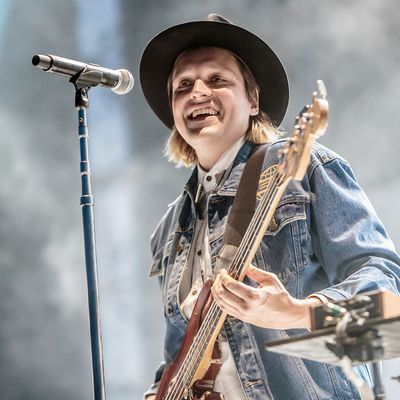 Win Butler of Arcade Fire.
Photo: Sergione Infuso/Corbis/Getty Images
Ten years ago, New Yorker pop critic Sasha Frere-Jones recounted seeing the Montreal indie-rock band Arcade Fire play in a Washington Heights church after the release of its powerhouse 2007 sophomore album, Neon Bible, in a piece called "A Paler Shade of White." He came away from the experience drained by the martial, apocalyptic urgency guiding the words and arrangements: "If there is a trace of soul, blues, reggae, or funk in Arcade Fire, it must be philosophical; it certainly isn't audible. And what I really wanted to hear, after a stretch of raucous sing-alongs, was a bit of swing, some empty space, and palpable bass frequencies—in other words, attributes of African-American popular music." The remainder of the piece ambitiously traced 40 years of what Frere-Jones called "musical miscegenation" between rock, soul, jazz, and punk and worried that indie rock had given up on rhythm. "I've spent too many evenings at indie concerts waiting in vain for vigor, for rhythm, for a musical effect that could justify all the preciousness."
This current summer is a fortuitous moment to revisit Frere-Jones's complaint about rhythm-deficient indie rock. Bloghaus nostalgia tripped off by the tenth birthday of French house duo Justice's seminal Cross album in June has forced a foggy reminiscence of the music of the middle aughts, a period where fractious subcultures had once again come to occupy the same parties and concert spaces, but what sticks out is not tribalism — which Frere-Jones sourced to a growing self-sufficiency of black pop music that depreciated the need for black talent to hitch itself onto young white stars for attention — but rather, fast-paced diversification. The British/American garage-rock and post-punk revivalism and the worldwide dance music renaissance of 2000 to 2002 trickled into LCD Soundsystem and DFA Records' dance-punk movement like brooks to a lake. Overseas, Justice fashioned crunchy electronic music out of guitars and distortion. Kanye West and Daft Punk fused styles to make stadium-sized hip-house on "Stronger." The music from the time that we recognize as having influence on 2017 is stuff that did away with the stiffness of boundaries between genres as internet piracy rendered musical taste wily and borderless.
Arcade Fire has been an indie-rock institution since its stone-cold classic 2004 debut album Funeral met the adulation of the then-ascendant Pitchfork and broke big across North America. But the band has been grappling with what to do about its reach ever since. Neon Bible doesn't speak to the character of late-aughts indie rock so much as it relays the efforts of a single band to push past the heights of a knockout record. While bandleader Win Butler and crew settled for anthemic post-Springsteen rockers that year, peers downstream got good and weird. The Shins augmented the wispy nerd-rock that made it the joke of Zach Braff's mawkish, maudlin Garden State with bits of Motown soul, hip-hop, and bossa nova on Wincing the Night Away. Jenny Lewis of Rilo Kiley pivoted into gorgeous country-soul on her band's unfairly ill-received Warner debut Under the Blacklight. Spoon, whose mathematical rhythmic precision is a defining trait, lurched into the Billboard Top 10 with the soul and disco flourishes of Ga Ga Ga Ga Ga. The albums I pushed on friends at the time — British psych revivalists the Bees' greasy, dubby Octopus and Swedish pop ace Jens Lekman's funky, tropical Night Falls Over Kortedala — still sound wild and free.
Indie rock, hip-hop, and R&B became fast friends as the decade drew to a close. By 2009, Grizzly Bear, a band Frere-Jones name checked in "A Paler Shade" as being delightful in its preciousness, fashioned its baroque folk-pop into music you could straight up dance to. Solange dragged Jay-Z and Beyoncé to a Grizzly Bear and Beach House show the same year. (To quote LCD Soundsystem, I was there!) Jay would later go on Fuse to say he enjoys indie-rock shows more than rap ones. Bon Iver's Justin Vernon appeared on the Watch the Throne, My Beautiful Dark Twisted Fantasy, and Yeezus. Beach House got sampled twice on the Weeknd's House of Balloons. The next few Beyoncé and Solange records featured input from members of Chairlift, Dirty Projectors, and TV on the Radio. A long-standing entertainment-industry joke states that rappers and basketball players secretly crave each other's jobs. But in a pop landscape peppered with rock stars doubling as R&B session players and rappers channeling pop-punk emotionalism and nu-metal iconography, it seems the same is true of rockers and hip-hop/R&B stars.
The other reason it's a prescient time to revisit "A Paler Shade of White," is the release of the new Arcade Fire album, Everything Now. Co-produced in part by Thomas Bangalter of Daft Punk and Geoff Barrow of Portishead, the new album presents the Canadian band's most concerted push into the soulful swing they were once chided for lacking. The title track sounds more like ABBA than The Suburbs. "Signs of Life" situates funky drumming, horns, and strings around a lick cribbed from Captain Beefheart's "Abba Zaba." "Peter Pan" and "Chemistry" play at reggae, while "Infinite Content" and "Infinite_Content" chase a hard-core punk tune with a folky coda. Much of it works on a song-to-song basis but very little of it holds well together.
Everything Now is proof that swing can't save everything. Its grooves might be loose and light, but the feeling is not matched by Butler's words. The lyric sheet presents a critique of the unblinking maximalism of social-media-era youth culture, but it seems to have contracted a similar case of impatience from its subjects. There are always a few too many ideas in play; it's nearly the shortest album in the band's discography, but it feels like the one that could use the most whittling. The worst bits of Everything Now are too sour for their own good, like someone reading Jean-Paul Sartre in a nightclub. The ailing teen in "Creature Comfort" isn't just depressed, she's in a warm bath contemplating slitting her wrists to Funeral. "Signs of Life" sneers at people who seek joy and meaning in nightlife. "Infinite Content" boils Butler's thesis down to a single bit of snark: "Infinite content! Infinite content! We're infinitely content!"
It's worth noting that this terse commentary on internet ennui and faith in capitalism is the band's official major-label debut, and that the accompanying launch campaign has been a smarm offensive of fake album reviews and wry social-media dispatches so exhausting that people were willing to believe they'd force a dress code on a free live show. It's hard to tell if the fussiness here is genuine or just ironic performance of genuineness. It's hard to care about the band's intentions when they're sheathed in layers of snark. Father John Misty has the same problem, but he at least serves up a record sharp enough to make us squint to see things his way, if only for a little while. He also knows to serve his pith with a side of humor. Arcade Fire is many things, but funny is not one of them.
Barring a string of beautifully downbeat tracks on the album's back end, Everything Now feels late and loud, a sharp left turn from a band much better served by sticking to its guns. Comparisons to peak Talking Heads and the fidgety political dance-pop of U2's '90s abound, but this is more like the quirky, perfunctory disco-rock experiments of the late '70s, tight in execution out of sheer force of connections and financial resources but a little dead in the eyes nevertheless. In a year full of rich rhythms and beat-forward rock records like Soft Sounds From Another Planet by Northwest one-woman band Japanese Breakfast, Broken Social Scene's Hug of Thunder, Spoon's Hot Thoughts, and Dirty Projectors' Dirty Projectors, Everything Now needed to try a little harder.