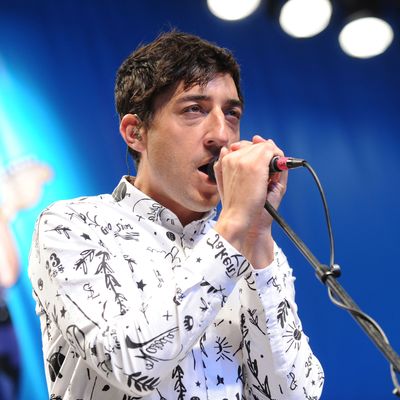 Ed Droste of Grizzly Bear.
Photo: Bryan Bedder/Getty Images for CBGB
Eight months into what's shaping up to be one of the strangest years on record, it's hard to shake the sense each morning that literally anything is possible. You might wake up to news of a clandestine vote to revoke health care, or catty government in-fighting, or heartless domestic terror, or the palpable threat of nuclear cataclysm. It's hard to find a precedent for this round-the-clock theater of the grotesque and profane; doomsayers speak of 1930s Europe, but the current culture of citizen documentarians, voyeurism, and ease of access to images of worldwide calamity doesn't quite match anything in a history book. The pure recklessness of it feels like television. I keep returning to the Twilight Zone episode "The Monsters Are Due on Maple Street," where extraterrestrials descend on a suburban cul de sac sight unseen and switch the power off. The ensuing panic leads to distrustful squabbling, which devolves into a denouement of vandalism and murder. Human decency, it turns out, can be shucked as cleanly and quickly as shrimp shells.
The new Grizzly Bear album, Painted Ruins, expresses disorder as a textural experience, a battery of perplexing sounds, tastes, and sights. It's wracked with images of life during wartime, the "distant shots and passing trucks" of "Mourning Sound," the "great thundering noise" and "planes flying overhead" of "Four Cypresses," and the "great disaster" and "shocking sight" of "Aquarian." The calamity hinted at in the lyrics isn't what's jarring, though; it's people accepting ruin as a fact of the universe and rearranging their lives around it. When logic and decency fail, simple survival is political. Grizzly Bear is too slippery a group of writers to traffic in deliberate political commentary on record, but the disconcerting nearness of oblivion coloring many of these songs is a surprising about-face from the more impressionistic lyrics of Grizzly Bear albums past.
Beneath the martial metaphors lies a smaller, sadder story. Painted Ruins speaks of alienation on both national and personal levels. The narrators are being pried apart not just from a sense of the natural order of things but also from people they've come to depend on. Founder Ed Droste's vocals on the album include bookish observations on the prospect of living alone. "Cut-Out" likens infatuation to "an invading spore" and longs to have the infected areas removed. "Neighbors" sees Droste promise to stick with a partner through the worst the world has to offer, as second lead vocalist Daniel Rossen slips in to note that the union didn't last.
Painted Ruins' emotional wear is matched to music that's pretty but disorienting. "Four Cypresses" builds stacks of vocals and shimmering instrumentation on top of a tribal drum pattern from resident stickman Chris Bear. Bear and producer–multi-instrumentalist Chris Taylor have rebuilt this band from the foundation up. The album's rhythms are indebted to hip-hop and Afrobeat, where earlier Grizzly Bear efforts stayed rooted in rock and folk spheres. The looser low end plays off interlocking parts on guitar, bass, and a host of other flourishes to create a beautiful sensory overload. The traditional Grizzly Bear building blocks — Rossen's distorted guitar leads, three- and four-part harmonies, shuffling, British Invasion–era pop-rock airs — feel more unpredictable in this setting. On any other record, an upbeat bop like "Losing All Sense" would've gone for the jugular on a loud, plodding backbeat, but here it stops and starts anxiously, undercutting a winning melody with a twinge of uncertainty.
Splicing beauty with danger is an old Grizzly Bear trick ("Can't you feel the knife?"), but as a full-length experiment in artfully produced and arranged future shock, Painted Ruins still feels fresh and timely. As a deepening of the rhythmic capabilities of a band whose merits were already tested and enumerated, it'll likely sit in the band's discography as a Fear of Music moment, where an inventive act breaks its own mold by fully embracing the power of dance. What saves Painted Ruins from the brazen, knee-jerk disco excess of an album like Arcade Fire's Everything Now is a valuable sense of self and subtlety. The balance between what Grizzly Bear is great at and what it hasn't tried enough in the past is tasteful, and the batting average is stellar. Growth like that on album five is noteworthy.