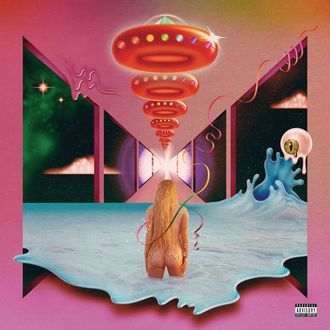 We ask too much of women. They get less pay and more harassment. They get catcalled in the streets and asked to smile back in the face of objectification. We expect grace when they're being torn down, because too much self-respect can scan as cattiness. (This week, Rihanna was called out for hating a Diplo beat, and Trina and Cardi B were the talk of Twitter for responding too crudely to trash talk.) We praise women's strength in overcoming adversity and celebrate their selflessness when they use their pain to help ease one another's burdens. But it's a damaging cycle; it asks for nourishment it is reluctant to give back.
Kesha's third album, Rainbow, is a similar act of altruism. It arrives nearly three years after the beginning of a protracted legal battle that nearly destroyed the singer's career, sparked when she accused her producer and label founder Dr. Luke of sexual and emotional abuse in the fall of 2014. The ensuing battery of court dates resulted in a judge dismissing her claim, and Sony ruling that it could not break her contract with Luke's Kemosabe Records. With the future of her recording career in question, Kesha embarked on a "Fuck the World" tour in 2016, where she visited intimate venues with a set of reworked originals and choice country, folk, and metal covers that broke the bubbly electropop mold of studio albums Animal and Warrior. Her new music advances the rebel spirit of the tour; it's both a phoenixlike rebirth and a breadcrumb trail out of despair for anyone made to feel small and insignificant by the cold, hard inequalities of 2017.
The first half of Rainbow speaks Kesha's truth as plainly as possible. Lead single "Praying" is a cutting sendoff that pulses with pity: "I hope you're somewhere praying / I hope your heart is changing." The first song, "Bastards," pledges perseverance because "all those motherfuckers been too mean for too long." "Let 'Em Talk" is a how-to guide for dismissing petty gossip. "Learn to Let Go" struggles to move past misfortune: "I know I'm always, like, telling everybody, 'You don't gotta be a victim / Life ain't always fair, but hell is living in resentment' / … I think it's time to practice what I preach."
Rainbow is a ray of hope and solidarity, and it stays coolly upbeat and confidently shuffling through genres. "Bastards" is a foul-mouthed folk tune with a bright, orchestral coda. "Let 'Em Talk" is one of two hard-charging cuts with the boogie-friendly Queens of the Stone Age affiliates in Eagles of Death Metal. Dolly Parton provides backup on "Old Flames Can't Hold a Candle to You," a song penned by Kesha's mother Pebe Sebert and popularized by the Tennessee country star in 1980. There's a song about bringing Godzilla home for family dinner and another that casually threatens to kill a lover if he ever strays.
This is likely the only major-label pop album short of Gaga's Joanne with the nerve to shove metal and country players into the same space, and surely the only one to boast assists from Ben Folds, the Dap-Kings, Lana Del Rey co-writer Rick Nowels, and 21 Pilots producer Ricky Reed. The mission seems to be to catch Kesha up to the times and showcase sounds she's capable of that we've never heard from her on record before, but there are a few times where her own voice gets lost in the sprawl. Some of these cuts run too strange for their own good, like the gorgeous, subdued "Finding You," which flies too close to the sun on the quirky ascending melody in its verses, or "Boots," whose somber guitar licks could pass for haunted-house level theme music in a Super Mario Bros. game. Others seem a little too familiar. "Learn to Let Go" sounds like Kesha nailing both the trop-house tone and therapeutic warmth of a Katy Perry song, and the bubbly, R-rated country of "Hunt You Down" feels indebted to the sprightly defiance of Kacey Musgraves. Five years is a long break between albums, and the struggle to bridge the gap costs Rainbow a measure of originality.
You see a glimmer of the bratty party-animal Kesha of old in silly flourishes like the snarky "suck myyyyy dick" breakdown in "Let 'Em Talk" and the verse in "Woman" that she blows by laughing through the vocal, even as darker sentiments elsewhere on the album express why she can't just be that jester ever again. The Kesha hiding behind the shimmering synths and vocal-fry raps of "Tik Tok" and "Die Young" is a compassionate soul, a survivor, and a raw, powerful vocalist. It feels like we're meeting that artist for the first time.
Kesha's passion and breathtaking vocal proficiency serve as Rainbow's thumping pulse. It's exhilarating to hear her nail the hairpin turns she takes on these tracks. (Who else would attempt the sheer overdrive of "Let 'Em Talk" and the cheerleader theatrics of "Boogie Feet" and then stand before Dolly Parton matching soaring ad-libs on her own hit single?) But the emotional gains on display throughout the album feel like muscles she grew while away at war. Kesha weathered bad losses in order to arrive at the effusive peace of these new songs. It's hard to stand in the tidal wave of resilience gushing from songs like "Hymn" and "Learn to Let Go" without thinking hard about why Kesha or any of the thousands of women who relate to her struggle should have to pony it up in the first place.