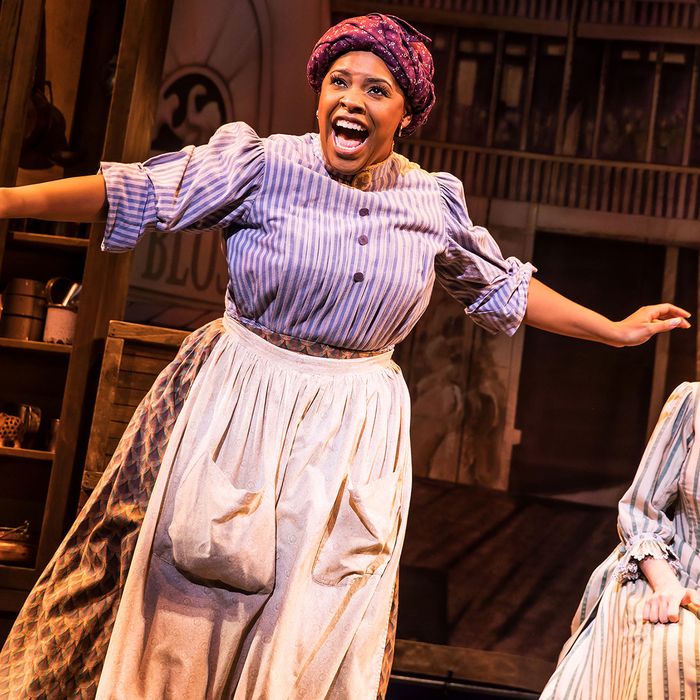 Bryonha Marie Parham
and Kaley Ann Voorhees in
Prince of Broadway
.
Photo: Mathew Murphy
"Everybody talks about their career in the theater," says actor Brandon Uranowitz at the start of Prince of Broadway, "but rarely does anybody talk about luck." Good fortune is a recurring theme in the life of Hal Prince, the famed director-producer whose more than six-decade-long career is the subject of the musical revue, now playing at the Samuel J. Friedman Theatre. Uranowitz is one of nine very game cast members who — when they're not embodying Tony and Maria or Evita and Che — narrate snippets from the producer's life in first person: an ensemble of enthusiastic Prince surrogates, all sporting his characteristic square glasses perched on their foreheads. These biographical transitions bounce us among the 35 songs from 16 of Prince's biggest productions (as both director and producer) that make up the meat of Prince of Broadway — and of course even this bounty is just a sampler plate. Prince's list of credits is staggering, not to mention his accolades (he's won a record-breaking 21 Tony Awards). That's more than, as Lerner and Loewe might have it, a little bit of luck.
Add a 'p' to Prince's favorite word, and you get the overall vibe of the show: pluck and positivity count for much here. Chuck Cooper, as the manager Van Buren from Damn Yankees, sets the tone in Prince of Braodway's opening number: "You gotta have heart, miles 'n miles 'n miles of heart!" Bookending "Heart," on the other end of Prince of Broadway, is an original number by Jason Robert Brown, who created the arrangements and orchestrations for the production, as well as serving as its music supervisor. This finale, "Do the Work," finds the whole ensemble delivering a cheery anthem to good-humored persistence:
Do the work.

Get it done.

When you're finished, you start the next one.

Will it last?

Will it count?

Time will tell.

Fill the space.

Do the work, pal,

And do it well.
Heart, luck, perseverance, resilience, and a go-getter attitude: The defining qualities of the Hal Prince we meet in Prince of Broadway would seem to correspond exactly with the values of the classically upbeat American musical. That story, which is told in this closing number and in the show's interstitial jaunts down memory lane, feels a little neat and tidy for my tastes, especially when Prince himself gained recognition through his deft handling of much denser, darker content. From Kander and Ebb's Cabaret to his many collaborations with Stephen Sondheim — including Sweeney Todd, Company, and Follies — Prince proved to have a gift for a different kind of musical: not the chipper, sun'll-come-up-tomorrow variety, but the complex drama where ideas and music serve to heighten and deepen one another, where social anxieties, politics, and existential dread are just as likely to instigate song and dance as young love or the urge to buck up your baseball team. When the vast majority of the evening's musical offerings are asking us to visit territory that's exciting specifically because it's a little bit dangerous — whether in its emotional, verbal, or intellectual demands on us — it would be a wonderful thing to feel that the show's creators trusted their audience to handle equal levels of nuance in the overarching narrative.
But this narrative is where Prince of Broadway falters. Though the music soars, the show's central figure remains a bit generic, a bit out of focus. We don't really see Prince — certainly not as we got to see Sondheim, through actual personal video footage, in the 2010 Broadway revue (and similar career retrospective) Sondheim on Sondheim. Instead, we see a mostly young cast, all looking very chic in black-and-white base costumes by William Ivey Long, delivering a number of well-meaning truisms about luck and heart. (The book, which weirdly feels both a little too slick and a little too earnest, is by David Thompson).
The company truly comes alive when they are freed from the task of walking us through Prince's polished-up biography and allowed to do what they do best: break into song. The beauty of Prince of Broadway lies in this tour through an astonishing array of musical gems. (There's also great pleasure in the clever, quickly shifting work done by both William Ivey Long and scenic designer Beowulf Boritt as they pay homage to the original concepts by a host of legendary designers, among them Boris Aronson and Florence Klotz.) I got chills when the first recognizable strains of West Side Story filled the theater, and I couldn't stop a few tears during Emily Skinner's wonderfully acted rendition of "Send in the Clowns" from Sondheim's A Little Night Music. It's a breathless thrill to watch the sweat fly from Tony Yazbeck during his furious, desperate tap solo in "The Right Girl" from Sondheim's Follies, and a delight to experience Chuck Cooper's playful "If I Were a Rich Man." Bryonha Marie Parham shakes the walls with her rendition of "Cabaret" and Emily Skinner returns (she gets all the best parts) with two more Sondheim numbers rich with his brilliant fusion of unflinching realism, humor, and heartbreak: "Ladies Who Lunch" from Company and "Now You Know" from Merrily We Roll Along.
I don't know if it's a flaw or a feature, but the secret star of Prince of Broadway is in fact Sondheim. To hear snatches of West Side Story, Follies, A Little Night Music, Company, and Merrily We Roll Along side by side is to recognize Sondheim, a writer with the utmost respect for the intelligence of his audience, as one of the great existentialist wits. Put these numbers next to the hits from Evita and The Phantom of the Opera, and Andrew Lloyd Webber's P. T. Barnum–like cynicism is suddenly revealed underneath his sweeping, romantic musical gestures. For all the wry disenchantment of his lyrics, Sondheim is by far the more hopeful and humane of the two.
As I left the theater, I was struck by the realization that I was primarily contemplating these writers, not the director who breathed life into their work, whose own work was the pretext for all I had just witnessed. Prince of Broadway is attempting something unique and admirable — it's not a frequent thing for a director to be celebrated in the theater — but it seems to me that the revue form doesn't actually lend itself to demonstrating directorial brilliance. What the revue does well is showcase writers and performers. A director needs a whole story to tell — it's an art not simply of curation or stewardship, but of comprehensive authorial artistry. A playwright (or lyricist/composer) writes the play (or musical); a director authors the production. Here, there's not much new material for Prince to grapple into life, and what's there feels pat.
It's frustrating because one senses that there's more complexity here if only the creators — Prince among them, who co-directed the show with Susan Stroman — had chosen to mine it. In the foreword to Prince of Broadway's script, Prince admits to mixed feelings about where his industry has ended up:
"Sometimes, I think I got in just under the wire — when the theatre was central to the entertainment industry and the cost of doing an elegant Broadway musical was $250,000. And largely because of that, it was possible to produce a new musical every year. And you could fail on Broadway one year and succeed the next…. Surely there are as many talented writers, directors, and designers seeking careers in the theatre today as there were then. But they're denied the opportunity to see their work properly produced and to learn from failure. Clearly, I've had an easier time of it. I doubt if anyone today can duplicate the life I've been lucky enough to live."
There it is: heart and perseverance, sure, but also money and timing. That's the darker side of luck. The script's foreword makes it into the show's program as "A Note From Hal Prince," but it's striking that Prince's acknowledgement of the inflation and impenetrability of our present-day theater industry has its edges filed down. The edited Playbill version reads: "There are many talented writers, directors, and designers seeking careers in the theatre today, but clearly it's more difficult for them. I wish they had the opportunity to work as often as I have. I'm having a helluva grand time!"
What if Prince of Broadway had focused less on the grand time and a little more on the real, messy, relentlessly capitalist ins-and-outs of Making Big Theater in America? What if the legendary Hal Prince had used the platform he's earned not simply to celebrate his career in the theater, but also to dig into the current state of the art form? It's a lot to ask, and I don't fault the creators of Prince of Broadway for steering clear of those choppy waters. But, hey, I'm only following an old pro's advice: In the person of Karen Ziemba, Prince himself advises us at the start of his show's finale not only to "do the work" but also to always "ask the question — 'what if?'"