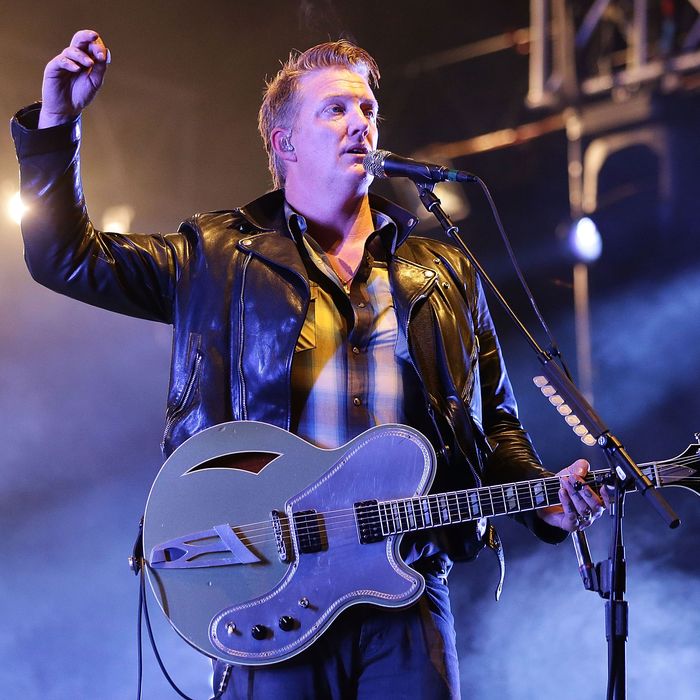 Josh Homme.
Photo: Mark Metcalfe/Getty Images
Josh Homme has one of the best batting averages in modern rock, thanks to a restless mind full of demented ideas and regular access to great players from Failure, Foo Fighters, Led Zeppelin, and beyond. There's scarcely a dud among the nearly 30 years of Queens of the Stone Age, Kyuss, Eagles of Death Metal, and Them Crooked Vultures albums Homme has played front- or sideman for. Even his ten-volume stoned wilderness jam series, Desert Sessions, is speckled with moments of genius. But reliability can sometimes be a trap, and there are only two ways forward: perfect repetition or bold reinvention.
Homme chose the latter option on 2013's …Like Clockwork, with mixed results. It's not a bad album by any measure, but its quality and cohesion were hurt by the decision to refashion a band whose chief thrill is its pummeling physicality into a cerebral headphone experience full of relaxed tempos and quiet ballads. If …Like Clockwork was an exercise in expanding the notion of what kinds of sounds a Queens of the Stone Age album is expected to deliver, this week's new Villains cleans house by re-centering the mission on refinement.
Queens got its proverbial groove back through odd providence: The album landed its producer when Homme got called in by Mark Ronson for session work on Lady Gaga's Joanne. (Run back "A-Yo" and "John Wayne." That's him on guitar and occasional drums.) Homme respected Ronson's clarion directness as a hit maker and later extended an offer to the producer to work on his flagship band's new music. The match seems odd when you consider Ronson's short résumé of rock tunes, but his formidable knowledge of music both new and old can't have hurt.
Homme's impish writing and diamond-sharp playing and Ronson's beat-forward production complement each other like bacon and syrup throughout Villains; on paper, too much collusion between salt and sweet seems exhausting, but in practice, they actually soften each other's edges. Homme got to dirty up Ronson's squeaky-clean sonics, while Ronson pushed Queens toward more conventional pop arrangements and structures. The result is Era Vulgaris with dancing shoes (or "Feel Good Hit of the Summer" with less shredding and more c-c-c-cocaiiiiine). It dials back the last album's heady singer-songwriter vibes and leans in heavily on bawdy, Stones-y swagger.
The best Queens of the Stone Age songs are wonders of robotic precision, sporting riffs so effortlessly circular that extended play feels like slow-acting hypnosis. Think of the lilting lick from "The Sky Is Fallin'" or the rolling boogie of "The Lost Art of Keeping a Secret." Villains effects the same kind of melodic simplicity at every turn. The opening combo of "Feet Don't Fail Me Now" and "The Way You Used to Do" offers ten minutes of sinewy grooves and pulsing sensuality up front, and the rest of the album scarcely lets up. The band sounds quicker and lighter on its feet here than it has since 2007.
Former Mars Volta player Jon Theodore makes a world of difference on his first studio album as Queens' full-time drummer. He's busy without being showy, and his style makes these records feel all the more tightly arranged, as on the 7/8 time scorcher "Domesticated Animals," whose interlocking melodies and percussion hits plow forward on tiny, repetitive movements, like the parts inside a car engine. Queens drummers of the past would've crammed the open spaces in these tracks with ostentatious fills, but Theodore's restraint keeps the low end light and limber. The aim is to get the listener up and dancing.
Homme is serious about the business of making body music this time. The riffs carry melody and push sultry syncopations against bass and drums. The lyrics are, by turns, expectedly salacious and uncharacteristically upbeat. "Feet Don't Fail Me Now" is a rock star's bemused astonishment at his own prosperity. ("Life is hard, that's why no one survives / I'm much older than I thought I'd be.") "Un-Reborn Again" channels '70s glam as it juggles rhyming word mush and lucid longing for restored youth. The vocal is flanked by flatulent horns and sunny synths that crash into a gorgeous orchestral breakdown toward the end. Flourishes like these revisit the adventurousness of …Like Clockwork while reining in some of the fidgeting.
After the first few weeks with this thing I geeked out and told a friend it reminded me of the band's 1998 self-titled debut, which might have been, in retrospect, a little extreme. We're never getting another "Avon," and that's fine. What I was angling at is the return of the long-gone feeling of scrappy, breakneck forward motion that first drew me to desert rock acts like Queens, Kyuss, and Fu Manchu. Villains feels purposeful and sinister even in the T. Rex strut of "Un-Reborn Again" and the nearly seven-minute barrage of riffs assaulting "The Evil Has Landed." It's like a snarling, evil thing cut loose and raging. I couldn't ask this band for more.