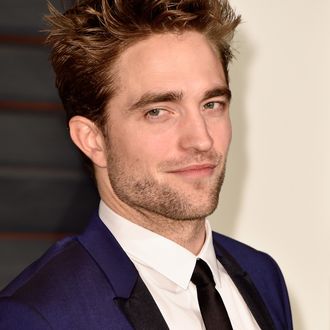 Woof.
Photo: Pascal Le Segretain/Getty Images
Robert Pattinson would like everyone to know that nobody behind the scenes of his new movie Good Time wanted the actor to actually give a dog a good time, or come close to bestiality in anyway. "The story I told on Jimmy Kimmel last night seems to have spiraled out of control," he said in a statement. He added, "We are all huge animal lovers and would obviously never do anything to harm an animal."
On Thursday night's Jimmy Kimmel Live! Pattinson told a rather elaborate story about a scene in which his character was depicted "basically giving the dog a hand job." In the late-night clip, Pattinson explains that the act was filmed using a fake dog penis, but that he was originally instructed to massage the pooch's inner thigh. He claimed that the scene was ultimately cut from the movie.
The talk-show clip evidently got a lot of attention from animal-rights activists. According to Pattinson, his story was misunderstood. "What didn't come across is that this was supposed to be a joke," he explained. "No one at all expected or assumed that anything like that would happen on the Good Time set." He concluded, "I feel embarrassed that in the moment, I was trying to make Jimmy laugh, only to create confusion and a false impression."