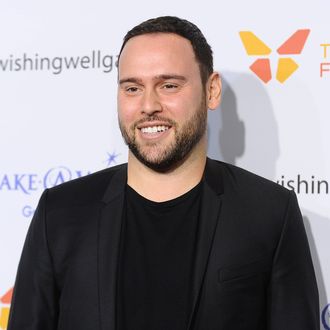 Braun.
Photo: Jason LaVeris/FilmMagic
While Cynthia Nixon has the characters of Sex and the City divided over her potential New York gubernatorial run, another name from the entertainment world might be mulling a similar campaign of his own on the opposite coast. TMZ reports that Justin Bieber's famed manager Scooter Braun is considering running for California governor in 2018 against Lieutenant Governor Gavin Newsom and former L.A. mayor Antonio Villaraigosa. He's said to have been pressured by some Democratic fund-raisers and "political operatives" in California to launch a campaign that could challenge the other "flawed" candidates, backed by the support of his high-profile colleagues. Braun (née Scott Braun) also manages Ariana Grande, Carly Rae Jepsen, Usher, and the politically divisive Kanye West, among others.
Though Braun's work largely revolves around shepherding the Biebs, he also owns his own record label and media company, and has producer credits on the Jem and the Holograms reboot and CBS's Scorpion; he's reportedly now developing an American Idol rival at CBS. He's also not unfamiliar to the political realm, particularly with Hollywood Democrats: Last year, he hosted a star-studded fund-raiser for Hillary Clinton at his Brentwood home, attended by Kanye, Kim Kardashian, Tom Hanks, and more. And, according to reports, Braun is partly responsible for Bieber turning down a performance at the 2016 Republican National Convention after Braun allegedly threatened to quit.
Last month, Braun publicly criticized Trump's attempt to dismantle the Affordable Care Act, saying, "today the president disrespected those who have had more courage than he ever did" in an Instagram post that encouraged a focus on the "real issues" over entertainment. (Many of his other Instagram posts in the last week have included quotes related to social justice.) Meanwhile, Newsom is said to be the current front-runner among Hollywood elites, if donations are any indication, despite Villaraigosa's political support for the arts as mayor and apparent good standing with Hollywood. Vulture has reached out to Braun's reps for comment.