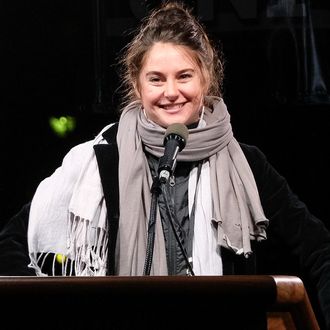 Woodley.
Photo: D Dipasupil/Getty Images
In a world where the president is a former reality-television star, and Kid Rock is at least pretending he might run for Senate, why can't Shailene Woodley hold office? The Big Little Lies actress and environmental activist told the New York Times that entering public service has crossed her mind. "There was a point last year when I was working for Bernie Sanders where I thought, 'Huh, maybe I'll run for Congress in a couple years,'" she said. "And you know what? I'm not going to rule it out. Who knows? Life is big, and I'm young."
In addition to being an avid supporter of Bernie Sanders during his 2016 presidential campaign, the Divergent star made headlines last year when she was arrested protesting the Dakota Access Pipeline. She was charged with criminal trespassing and engaging in a riot, but she ultimately pleaded guilty to a lesser charge of disorderly conduct and received one year unsupervised probation. Unfortunately, at 25 years old, Woodley will have to wait another five years if she wants to follow Sanders into the Senate, but she is old enough to go for the House of Representatives, if she gets tired of receiving Emmy nominations.