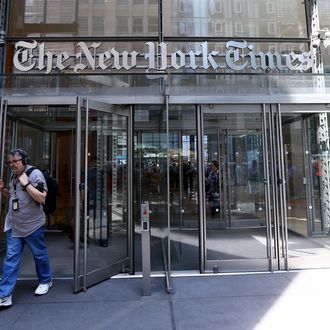 The "failing" NY
Times
, according to Trump.
Photo: Anadolu Agency/Getty Images
Showtime reportedly has a documentary coming out about the New York Times that is so timely, it might even be outdated by the time it airs. Since Inauguration Day, filmmaker Liz Garbus has been embedded with the paper, chronicling its operations in the tumultuous age of Donald Trump, who's been none too fond of the Times during his administration. The working title right now is The Fourth Estate, which is the same name as a 2015 documentary about phone hacking in the U.K., and should not be confused with The Fifth Estate from 2013, starring Benedict Cumberbatch as Julian Assange. CNN reported about the new film, but Showtime provide no further information regarding a premiere date. Garbus, who has previously directed Nothing Left Unsaid: Gloria Vanderbilt & Anderson Cooper and What Happened, Miss Simone?, has apparently been shadowing journalists in Washington, D.C., and New York, and in addition to exploring political coverage, it will also get into how the paper has built up its digital operations. But the Trump stuff will probably be the part you want to know all about.