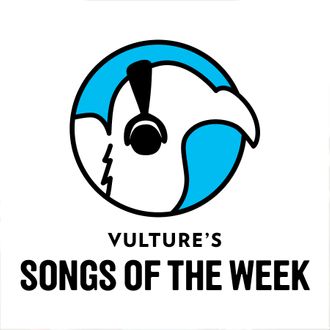 Every week Vulture highlights the best new music. If the song is worthy of your ears and attention, you will find it here. Read our picks below, share yours in the comments, and subscribe to the Vulture Playlist for a comprehensive guide to the year's best music.
Taylor Swift, "Look What You Made Me Do"
I love "Look What You Made Me Do." I can't stop listening to it, and I can't stop watching the video. I agree with critiques by Vulture's Craig Jenkins and Frank Guan about its objective quality, but I still just love it. Watching a pop star who built her career on a mastery of empathy deliver something so cynical, and with such gusto, I can't help but be enthralled while accepting it's all very of a piece. New Taylor is the same as Old Taylor, she's just amassed a large enough pool of base voters to know she can play strictly to them and still break mass-market records. As Mark Harris made clear: She is the quintessential pop star of the Trump era, seizing on our desires to see people go full petty (even if it's not her best look), and displaying a persona that would probably call that Kim Kardashian video "fake news" with her Tumblr legions at her back to scream some version of "lock her up!" Swift has long committed to being pop culture's most effective blame-shifter, completely yet ambiguously a family-friendly Chanel No. 1 that can't understand why you keep making her punch you in the face — after everyone else has been told to leave the room.
It's always been easy to imagine Swift serving that red lip to the camera in the "Mean" video as a performance for one, with her bully tied bleeding to a chair as she dips her head and spits "pathetic." The same goes for her delivery of "look what you've done!" in the outro of "Bad Blood." But "Look What You Made Me Do" turns those asides into a full song, and the war she's having with herself is far more interesting than whatever she's got going on with external motivators. The acknowledgment that this used to be her kingdom makes it clear that our humble big sister saw herself as queen, and the admission that she simply can't move on to "another day another drama" entirely undermines the principle of "Shake It Off." It's contradictory and congruous all at once. It's ruthless and yet defanged. It is Taylor Swift. It's still TBD if there is a welcome place for what Taylor Swift represents in the cultural consciousness today. But she's always been better at showing us more about who we are than who she is, and in that regard, "LWYMMD" is a valuable artifact. —Jordan Crucchiola (@jorcru)
Lil Uzi Vert, "The Way Life Goes"
Find me someone merging the late emo revival with millennial rap better than Lil Uzi Vert. His ubiquitous hit "XO TOUR Llif3" dealt with suicidal thoughts and drug dependency set to a dark, sedated beat — and yet, the VMAs just named it Song of the Summer. (In this manic political climate, it feels appropriate.) Uzi's harshly cynical lyrics and devil-may-care persona resonate with kids the way bands for a generation slightly older than his did just a decade ago. For his proper studio debut, Luv Is Rage 2, Uzi is at his most frank and introspective about the repeated sting of losing your first love. It's the Melodrama of rap, equally mature — "You know I respect her on that level / She don't want me then I'ma let her" is a pill most adults can't swallow — despite their maker's age, which for Uzi is only 23. And in interpolating Oh Wonder's "Landslide" for its defiantly optimistic hook, Uzi just created another anthem for teens in the same boat as him, feeling hopeless, alone, and defeated, that I suspect will explode shortly. (Already, Nicki Minaj wants to remix it.) Because you don't have to be the emotional age of a teenager to feel it. —Dee Lockett (@Dee_Lockett)
Beck, "Dear Life"
The third single from the long-awaited follow-up to Beck's Morning Phase is a bit less poppy than the previous singles "Wow" and "Dreams." "You sang your swan song to the dogs / 'Cause they made mincemeat of the dreams you hung your hopes on." "Dear Life" walks like "Lady Madonna" and talks like a doomsday prophet. —Gabe Cohn (@gabescohn)
Towkio, "Hot Shit"
First known as one of Chance the Rapper's Savemoney crew, Towkio made his first splash in 2015 with .Wav Theory, a mixtape whose cool, inviting ambience led to him signing a major-label deal. "Hot Shit," the lead single from his upcoming Rick Rubin–produced album, serves up a fresh helping of the Mexican-Japanese-American's good-natured melodies and fleet-footed rhythms. The song itself is a relief, though we have no clue what the cult-themed music video means. —Frank Guan (@frankophilia)
Wiki, "Islander"
Is there a better ode to New York City than "I like the 1 train, bagel with lox, crushing the mic / I like the sunset on the Hudson, look at the light"? With lines like these, rapper Wiki paints a love letter to his city on his new album that feels so New York that Frank Sinatra would be jealous. At just 23, Wiki has already been a familiar and respected fixture in New York hip-hop for years, originally as the front man of Ratking, whose grimy, schizophrenic rap injected a much-needed jolt into the city's underground scene five years ago. Wiki continues to chronicle his hometown, warts and all, with his first full-length album No Mountains in Manhattan. Wiki raps with his characteristic frenetic pace that feels like walking down a crowded city sidewalk at rush hour, but his bars are tighter and more disciplined than his previous work. On the first track, "Islander," he pays homage to everyone and everything New York is home to over a backdrop of Caribbean drums and reeds. The short track introduces an album that captures all the joy, misery, and day-to-day fuckery of being a true city kid. You can almost taste the bagel with lox. —Olivia Becker (OliviaLBecker)
Courtney Barnett & Kurt Vile, "Over Everything"
Our first whiff of the fall comes today courtesy of "Over Everything," the first single from Courtney Barnett and Kurt Vile's collab album. Barnett and Vile make a dazed, melancholy duo; Barnett's restrained punk mingles with Vile's twang to make a track that's perfect listening for gazing out a window, wishing it was a little bit warmer. The opening exchange encapsulates the mood — Vile sings, "When I'm all alone on my own by my lonesome / And there ain't a single 'nuther soul around / I wanna dig into my guitar / Bend a blues riff that hangs over everything." And then Barnett comes in with her own "When I'm by myself" story. Two lonely scenes, but sung together. —GC
Miguel ft. Travis Scott, "Sky Walker"
Many consider Miguel's last album, Wildheart, a misstep for its rough experimentation with California psychedelia. That is Miguel's outward aesthetic, but it did not translate so naturally to his sound. His new song, "Sky Walker," doesn't exactly try to course-correct, but it's mindful of the audience that first fell in love (and into bed) with Miguel's music. It's a moody shrug at his critics that narrowly envisions Miguel as the chosen one, à la Luke Skywalker. The song relies too heavily on film references to do the lyrical work, and it could do without Travis's brooding influence, but neither of those small flaws prevent "Sky Walker" from being a late-summer hazy bop. —DL
XXXTentacion, "Jocelyn Flores"
Though he broke through with harsh sounds, crude lyrics, and a reputation for ultraviolence, the deeply polarizing Miami rapper XXXTentacion leads off his slim debut album 17 with an elegy for acoustic guitar that proves there's more to him than casual observers thought. Raw production and plain chords frame a personal history of despair and suicide: Somewhat paradoxically, the overall effect is one of sweetness and agonized vulnerability. His morals and his past are still up for debate, but after "Jocelyn Flores" and 17, it's hard to deny that he's a serious artist. —FG
DOOM, "Notebook 03"
DOOM's latest weekly installment, "Notebook 03," is, unsurprisingly, quite good. A simple, driving beat, acoustic guitar, and psychedelic electronic flourishes combine for an unchanging tableau as the rapper lays down his patently intricate, self-mythologizing rhymes. Mostly narrating in third person, the Masked Villain addresses his odd lyrics, boasting, "Known for his absurd word choices / And will ignore you if you ask him if he heard voices." Backing up his claim, he goes on a few lines later: "Ahem, your attention please / Freeze, he came to seize the free cheese / Before he flees to Belize / In case he forgot to mention, squeeze these." Absurd, sure, but as DOOM says, don't question it and just enjoy his husky baritone effortlessly spinning together rhyme after rhyme. —Ethan Sapienza (@ClickTheMovie)
Frøkedal, "Cracks"
The first real demonstration of Norwegian folk singer Frøkedal came via last year's Hold on Dreamer, a collection of meticulously crafted and mysterious folk songs with an air of both effortlessness and painstaking attention to detail. Her latest release is a double single, which pairs a cinematic lament, "LTF," with "Cracks." The latter is more reserved; the singer explores the ways relationships can effect us in the long-term, and the conflict of whether to display these marks or to hide them away. "Can you see the cracks in me / The tiny cracks that I've covered carefully," she sings. "It is bound to be discovered / I should embrace the openness you're offering." In other words, it's scar tissue that she wishes you saw. —GC