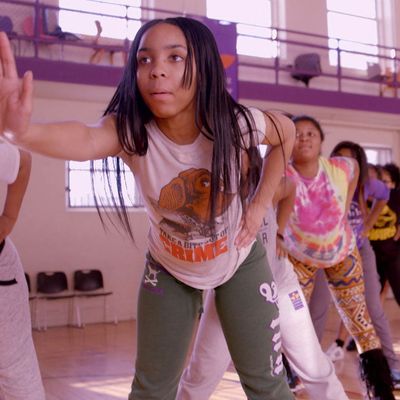 Step.
Photo: Fox Searchlight Pictures
Step opens with imagery that is all too familiar now: the streets of Baltimore, filled with protesters and smoke, in the protests and riots that followed the death of Freddie Gray while in police custody in 2015. Those who will have seen Kathryn Bigelow's Detroit, or next week's Ferguson documentary Whose Streets?, will feel a flash of déjà vu, but Step offers a different variation on the theme of black pain and black communities. The girls of the Lethal Ladies step team are not on the front lines of the Black Lives Matter movement, but they are profoundly affected by it, and their lives and futures hinge on its central issues: the freedom and opportunity to live their lives free of violence and institutional calamity; to work hard and have it pay off.
The girls find structure, not to mention emotional catharsis, in stepping. The form of dancing and chanting that evolved from South African mines to black fraternities and sororities has previously been seen in glossy teen fare like Stomp the Yard, but director Amanda Lipitz is less interested in competitive bravado and the Big Battle than she is in the individual fortunes of the team's members, and how their involvement in step informs the rest of their lives. There, is, of course, a big battle looming on the horizon — this is ostensibly a dance movie, after all — but it's easily overshadowed by graduation day.
The Lethal Ladies of the Baltimore Leadership School for Young Women (LLOB for short) number in the teens, but we focus on three of them, all graduating seniors and members of the founding team. The most screen time goes to Blessin, a statuesque, theatrical young woman who is desperately trying to move her grade point average above a 2.0. She's the de facto leader of the step team, a striking presence that even coach Gari McIntyre admits all eyes go to. This makes her lackadaisical side, which we only catch glimpses of, all the more intriguing. Blessin is a fascinating documentary character: a bubbly, social girl with dreams of Broadway and the big city, fastidiously attentive to her appearance, who also apparently missed half the school days of her junior year, and who clearly has a complicated, love/hate relationship with her depressive mother. It's obvious why Lipitz is drawn to her, often at the expense of the other elements of the film.
Alas, squeaky wheels get the grease. Shy aspiring programmer Cori is the kind of success-story charter schools like BLSYW will tout for years. The hilariously deadpan Tayla, always shadowed by her overenthusiastic but fiercely loving mother, heads off to Alabama A&M without an apparent hitch. But as intensely emotional and inspiring as these stories are, rather than spend more time with them individually, I yearned for more scenes of the team together. But Lipitz never seems as interested in the namesake of her movie as she is in the girls' college prospects. (At no point do any of her characters explain what step is and its origins, for those just being introduced.) Almost as much of the film takes place in a guidance counselor's office as it does on the gymnasium floor. This is a fine and completely worthy subject for a documentary, but it separates the girls almost necessarily, so that by the time they head to the big tournament, we are missing that rush of collective effervescence that garnishes the best dance and sports films.
There are moments, though, and they go a long way: I was fascinated by a master class the girls attend at a dance expo, where a step veteran helps them improve their projection and composure on stage. The teacher herself is so intense that a few of the girls are genuinely shaken, but then they follow her lead and fill the linoleum-tiled cafeteria with regal bellows. A tournament midway through the film, where the girls pay tribute to Freddie Gray, is chill-inducing. "It could have been us," they declare to the crowd, and at that moment one wishes they had an arena to deliver that message to.
But the Lethal Ladies, and Step by extension, are most effective at their most life-affirming. Baltimore offered so many extremes in the year that Lipitz spent filming: a painful lack of justice, fires in the streets, and a devastated Cori weeping outside her house after the power is shut off. But Lipitz also had a crew of bright, bold young women shouting and stomping as a powerful, undeniable union of individuals. There are many films that attempt to illuminate the world through pain, but Step is most instructive in its moments of joy.