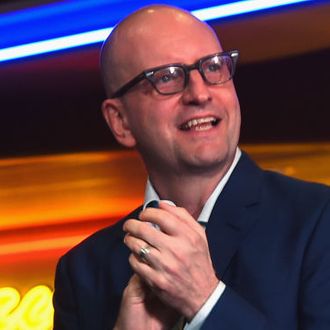 Steven Soderbergh
Photo: Rick Diamond/Getty Images
Back in 2015, HBO and Steven Soderbergh announced a movie project that would only be able to fit into "a new Emmy category": Mosaic, an interactive narrative experience requiring the use of an app and featuring different possible endings. Other than the casting of Sharon Stone, however, not much else was known about it; details have been kept to a minimum in the year-plus since that initial information was released — until now.
Soderbergh spoke extensively about the project in a recent interview with Film Comment, clarifying how Mosaic will work. In short: It sounds like a doozy. The Logan Lucky director teased that Mosaic is "supposed to" debut exclusively as an app (across Android, iOS, and desktop platforms) in November, and that rather than be released as a standalone movie by HBO, he cut some additional footage together to create a six-episode series, which he says will premiere on the network in January 2018. (HBO has not confirmed any release information.) But he calls the interactive version of Mosaic the "ideal" version: a time-jumping, murder-focused "branching narrative piece" that gives viewers the "possibility of going right or left" after the first chapter and presents similar choices from there. Soderbergh cautioned that Mosaic is not a "choose your own adventure" experience, however — just the phrase, he says, makes him "blow up" — it rather presents options of how to navigate a "fixed universe."
There's a lot going on here, obviously, and it sounds as fascinating as it does complicated. (Very.) Indeed, Soderbergh wasn't shy about admitting to the amount of trial-and-error and tech-revising that he and writer Ed Solomon went through, in order to get the project where they wanted it to be. Soderbergh then ominously cracked about whether the Mosaic app's rollout this fall can go as smoothly as he hopes: "The question now is if a million people log on at the same time, will it crash?" Hopefully HBO has that covered this time.