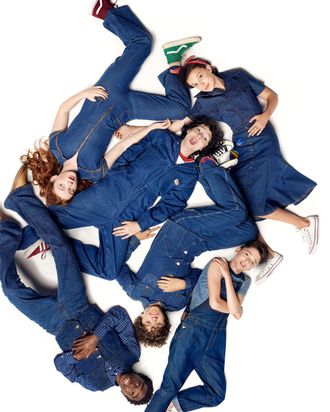 In conjunction with New York Magazine's fall preview issue featuring the cast of Stranger Things on its cover, I recently spent some time chatting with the six most-well-known kids from Hawkins, Indiana: Finn Wolfhard, Millie Bobby Brown, Caleb McLaughlin, Gaten Matarazzo, Noah Schnapp, and Sadie Sink, who joins the ensemble in season two. (Our Adam Sternbergh also profiled Stranger Things creators Matt and Ross Duffer.)
The young stars of the Emmy Award–nominated series talked about how life has changed — or not changed — since season one came out last year and almost immediately made them famous. (Or as Matarazzo calls it, "the F-word.") But they also spoke about a number of other subjects that weren't covered in that initial article, including the much-anticipated second season that drops on Netflix October 27. (By the way, the Duffers confirmed to Sternbergh that it will be followed by a third, and possibly a fourth season.)
These kids are too savvy to reveal anything too spoiler-y. But some of what they said provides additional information — specifically, 11 (get it?) additional pieces of information — about where the '80s-throwback story may go, and what it was like to work on the sequel to the nostalgia-tinged horror show.
1. Expect Eleven to broaden her culinary palette in season two. "Eleven's diet expands," Brown shared, confirming that she will eat more than just waffles during the next set of episodes. When I asked Brown if she liked what she got to eat, she said, "It was actually pretty good." McLaughlin (Lucas) added, "It was human food. It's edible." At which point a publicist cut in with, "We'll leave it at that." Because obviously they were skating a little too close to revealing something significant.
2. The Duffers hadn't publicly confirmed there would be a season three when I spoke to the cast. But it was pretty clear they were already preparing for another round even though they couldn't say so.
Matarazzo (Dustin) was already talking about how eager he is to start filming again. When I asked if there was still more story to tell after season two, most of the actors said yes, though Brown was a little cagey about whether we'd see her character. "I plead the fifth," she said. "It's easier for the other characters to talk about it. For Eleven …" and then she stopped herself.
3. According to the actors, season two is darker and more emotional than season one.
Schnapp, who plays Will, said there are "more scary parts" in the second season, while Wolfhard (Mike) described it as "more dramatic." "It's also even more emotional than last season just because of the backlash of what happened," he said. "It's sort of like PTSD."
4. Each of the adolescent characters will also get more of his or her own story line, says McLaughlin.
"It's not just everyone together but everyone goes back into their story," according to McLaughlin. "I have a little story going on, Gaten, Finn — everyone."
5. Will (Schnapp), who was in the Upside Down and therefore not always present during season one, gets much more screen time and has some intense scenes, as suggested by the recent season-two trailer (and, also, our cover story).
Schnapp's castmates were blown away by his performance.
Wolfhard: "We were so surprised because we've never seen Noah — well, we've seen him act but like never …"
Sink: "Not intense."
Wolfhard: "… intensely act. And it was so surprising. We were all just going nuts."
Added Matarazzo, addressing Schnapp: "I'm gonna brag about you every time I get the chance. You're so good, dude!"
6. For some of these intense scenes, Schnapp said he sought the advice of the woman who plays his mother: Winona Ryder.
"It's definitely been harder than last year, but I've had Winona — there's been hard scenes and she's been there to help me," he said. "There was this one that I was worried about. So I just texted her, 'Hey, can you help me with this? Can you come in and talk to me about it?' And she came in like an hour and a half earlier than she was called in for and she brought me in her trailer and she talked to me. She gave me tips and guided me how to do the scene. And she was like, 'You'll do it. You'll do great.'"
7. Speaking of texts and Winona Ryder …
In addition to the group text that the younger cast members used to communicate with each other during production (name: "Stranger Texts"), Brown says there was another mass discussion that focused on a blemish she developed. "One day, I had a pimple in my ear on set and we made a group chat called Pimple It," Brown remembers. "Pimple It! Winona was in it, the Duffers were in it. Because they were all really worried about my pimple in my ear. I let them know that everything was fine. It popped. My texts were the weirdest things. And then Noah was like, 'Anybody want to go to Six Flags?' And I was like, 'This is not about Six Flags. This [group text] is about my pimple.'"
8. Sadie Sink, who will play a new character named Max, almost didn't get cast because of her height.
"At one point, they told me, 'Oh, we think you're too tall,'" Sink recalled. "'I don't know if we should let you read for it again because you're too tall.' I'm like, just let me read. I just want to read the new material." Sink did get to read again with future co-stars McLaughlin and Matarazzo, whom she already knew from working in New York theater, at which point the team responsible for casting Stranger Things realized the boys had grown and weren't dwarfed by the vertically unchallenged Sink.
9. Sink's audition with Matarazzo and McLaughlin shaped their characters' season-two trajectories.
The three did a chemistry read together, and Matarazzo said the Duffers "didn't even have the whole story line finished when we did the chemistry read. They built the story line of our characters based on how we worked together on camera. That's something that they always do with their characters."
10. Brown has heard the internet-circulated theory that the Demogorgon is a reflection of Eleven's psychological trauma, but says it is not accurate.
"It's not true," Brown said, although she says she likes the elaborate explanation for how the monster and Eleven interact with each other. "The Duffer brothers don't want to do a fan theory. They want it to be original and they don't want it to be somebody else's idea."
"This season is amazing. And you dive into the character" — at this point Brown paused and laughed, as if the word dive had a double meaning — "we want to dive into the character of Eleven a lot more." Perhaps Eleven will be spending more time submerged underwater in season two?
11. The actors play '80s kids, but also have an appreciation for the decade's pop culture and an instinctive understanding of the power of nostalgia.
Brown's cell phone is filled with pop hits from the 1980s, including tracks by Prince and Whitney Houston that emanated from the sound system during New York's photo shoot. "I like '80s music," she explained. "It gets me going." (Matarazzo also busted some Michael Jackson dance moves while being photographed.)
Some of the actors get to spent time in the Hawkins arcade in season two, and appreciated the chance to play some retro video games. ("I didn't know what Dig Dug was [before]," Schnapp said.) But Matarazzo has already mentally fast-forwarded to a moment when he'll have to explain the video games of his youth to a younger generation.
"It's funny to think that later on in life, our kids will be like, 'What's Call of Duty?'" he said. "Oh, boys. I remember back in my day. I always played that Call of Duty. On the Playstation. 'What's that, dad?' I'm really excited for that conversation."