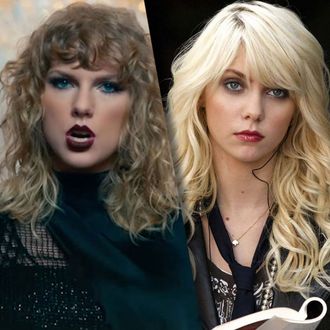 Photo: Big Machine Records/The CW
What did you think of "Look What You Made Me Do," Taylor Swift's single that announced that the "Old Taylor" couldn't come to the phone right now because she's dead? I can tell you one person who certainly feels very seen by the song: the CW's most beloved bad girl, Gossip Girl's Jenny Humphrey. Have you forgotten the Brooklyn-bred Humphrey, a.k.a Lil J (a.k.a a raccoon-eyed Taylor Momsen), the definitive wild child of the Upper East Side? In season one she waited on Blair Waldorf hand and foot. By season three, she slept with Chuck Bass to get back at GG's reigning queen. Taylor Swift's vengeful Reputation single is an anthem for Lil J, who went off to boarding school, but lives forever in our hearts. Within minutes of the release of "Look What You Made Me Do," Gossip Girl fans caught the similarities between New Taylor's revenge song and Edgy Jenny's TV arc:
"Look What You Made Me Do" sounds exactly like a song that would play during a Lil J revenge montage. To prove this, I woke up this morning, found the definitive scene of Lil J's plotting (when she pulled a guerrilla fashion show, remember?), and paired it with New Taylor's new song:
XOXO, Gossip Girl.