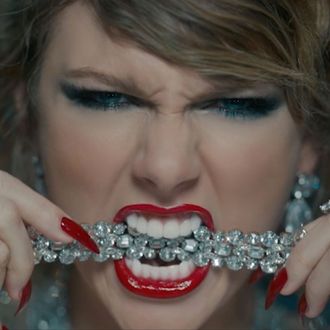 Stop the presses.
Photo: Big Machine Records
May the next Taylor Swift era officially commence: As promised, after much anticipation following a week of teases that saw the polarizing superstar embrace the snake some say she's become, Taylor has released the first single from her forthcoming sixth album Reputation. "Look What You Made Me Do" is her first solo song since her last album, 2014's 1989; her most recent new release was a collaboration with Zayn for last year's Fifty Shades Darker soundtrack. "Look What You Made Me Do" is a fiery, vengeful explosion, declaring "the old Taylor dead" and the new Taylor a woman out for the kill. (Her recently wiped Twitter bio now quotes the song: "The old Taylor can't come to the phone right now.") And in a hilarious twist, the song credits Jack Antonoff … and the trio behind "I'm Too Sexy," Right Said Fred's Richard Fairbrass, Fred Fairbrass, and Rob Manzoli, for interpolating their infamous hit on the song's hook. It also samples Peaches's "Operate."
A clip of the song's music video — which promises to bring us multiple outfit changes and some blinged-out snake rings — debuted Friday morning on GMA, and the full video will officially drop at this Sunday's VMAs. Reputation is out November 10, with a preorder revealing it contains 15 songs. At Target, the album will come with two 72-page magazines of "personal poetry and photos, artwork by Taylor, handwritten lyrics, and an exclusive poster," plus photos from the single's video shoot. In addition to the song, Taylor has launched new merch, including snake rings (does Kim Kardashian get a cut?) and clothing with the word REP on it; and she's already giving fans advanced access to upcoming ticket sales (likely for a tour) through Ticketmaster, restricted to those who purchase the album or her merch. Forget winter, Taylor is coming.
This post has been updated throughout.