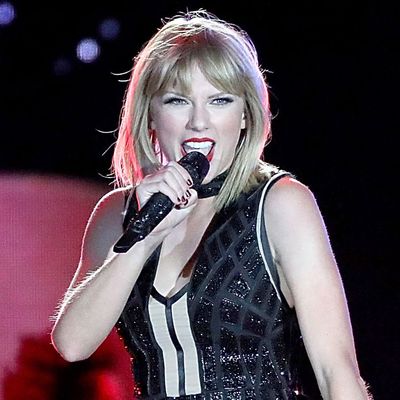 This is Taylor's narrative and none of us are excluded from it.
Photo: Gary Miller/FilmMagic
The list of things we know for sure about Taylor Swift's next album isn't nearly as long as what we wish we knew. Does it exist? Is it coming? Yes to both! Will it be a surprise? Nope. Taylor has announced both its title and release date: Reputation, November 10. Do we think it'll be as reptilian as its teasers suggest? If only. This is Taylor's narrative and none of us are excluded from it. Here's what we know about Reputation so far.
It's coming November 10.
Taylor has gone ahead and told us exactly when to be ready for her sixth album, which will be released almost nine years to the day when she released Fearless. Reputation contains 15 songs, along with two 72-page magazines featuring Taylor's poetry and other exclusives if you buy the album through Target.
She'll perform a new song from it on TGIT.
Before Reputation drops on our heads, Taylor Swift will first perform a new song from it in the middle of Shonda Rhimes's Thursday night TV lineup on ABC, during Scandal on November 9. (TGIT also promoted her first single in its fall coverage.) It's unclear if it'll be a live performance — the preview gives the feel of an at-home pre-filmed concert — but either way, it will be the first time Swift has performed any new song from the album.
Taylor could reveal herself as a true Slytherin.
From the time that Kim Kardashian sought to expose Taylor Swift as a disingenuous conniver caught lying about approving Kanye West's misogynistic verse about her on "Famous" in a leaked phone call, the snake emoji has followed Taylor wherever she goes. So much so, that Instagram intervened and created a new censor feature that filtered out all snakes from her comments. But now it appears Taylor is embracing the reputation that precedes her. After wiping her social-media footprint off the grid, she returned days later with short, silent, grainy clips of a snake. To our frightened eyes, it's more like a Basilisk. Her lyric video for the first single also features a snake eating its own tail, and she's now selling merch that includes a snake ring and a hoodie with a snake on it. Maybe she'll sing the whole album in Parseltongue.
The first single, "Look What You Made Me Do," promises fiery revenge.
The dark pop song makes slight reference to her feuds with both Kanye West and Katy Perry, and, in a melodramatic skit, ultimately declares that the old Taylor can no longer be reached because she's dead. But long live New Taylor. Jack Antonoff, who worked on a few 1989 songs, produced her latest, which also gives writing co-credits to, of all people, Right Said Fred for interpolating "I'm Too Sexy" on the hook. The song also heavily samples Peaches's "Operate." Kahn directed the song's video, premiered during the VMAs, which contains several more references to snakes, kills off dozens of Old Taylors, and culminates in Taylor roasting herself.
The second, third, and fourth singles promise a lot of gushing about her boyfriend.
Taylor followed-up "LWYMMD" with a series of less-spiteful songs than the one that led them. On "… Ready for It?," "Gorgeous," and "Call It What You Want" she switches subject matter to a boy who's driving her wild. Each are rumored (and coyly confirmed) to be about her current boyfriend, Joe Alwyn, also known as that guy from Billy Lynn's Long Halftime Walk. Like her first single, "CIWYW" was produced by Jack Antonoff, while the other two were co-produced and co-written by Max Martin and his team, including Shellback.
She released a second video from the album for "… Ready for It?," also directed by Kahn, that pays homage to various dystopian sci-fi tropes, most curiously even Ghost in the Shell. (Which likely says more about Kahn's film taste than hers.)
Maybe, just maybe, it will feature Drake.
Taylor Swift and Drake are both on Apple Music's payroll and have released self-deprecating commercials for the streaming service, lip-syncing each other's music. It seems very likely that they will collaborate (or already have). It's just a matter of how. The two partied together and, like clockwork, "Page Six" immediately reported that they'd also worked on new music together. British tabloids would have us believe it's because Taylor is pivoting to a more "urban sound" with a "real mix of edgier hip-hop and R&B sounds" — a theory her Fifty Shades Darker one-off with Zayn does support — but, still, we refuse.
Then again, Taylor was also reportedly spotted earlier this year recording in Nashville and is said to have set up shop there for months. Which is not to say that zero pop music gets made on Music Row, but location is everything, and Us also says she's "overhauling her image." Curiously, Kesha, who recently overhauled her own image to better reflect her Nashville roots, is believed to have hinted about recording with Taylor — who donated to Kesha's legal battles against Dr. Luke — in a vague Instagram from last September. (Though Kesha recorded with a few Grammy winners on her own album.)
It could be an Apple Music exclusive.
Half the narrative surrounding Taylor's last album was how she released it. With that album, she declared war on streaming services over artist royalty rates by withholding the album from streaming, only to then side with Apple Music and much, much later put the rest of her catalogue (including 1989) back on Spotify. 1989 was not an Apple Music exclusive in the technical sense, and widening streaming access to her albums now means Apple has little exclusivity left to boast over Taylor's music. However, because she still does work for the service via commercials and other tour exclusives, that could change with whichever method Taylor plans to release #TS6. Still, consider Taylor also now has her own 24/7 TV channel through DirecTV where she can broadcast anything she wants. Taylor did release "Look What You Made Me Do" and subsequent singles on all streaming services simultaneously, so it's possible the album will be all-access.
She's had loads to write about.
Few people have had a busier vacation than Taylor Swift these last few years, and if she's mining her journal for songwriting subjects, we can think of a few: On top of the Kanye-Kim feud, she's had to endure an entire album cycle of Katy Perry disses against her and subsequent peace offerings, plus insults from her ex Calvin Harris over a song she co-wrote for him originally under a pseudonym. Not to mention her victory in the sexual-assault trial where she accused a former radio DJ of groping her during a photo op. Hell, she could even break her apolitical silence and write about the election she made it a point to tell the world she voted in. And then there's men: Her fling with Tom Hiddleston was always assumed to be a publicity stunt, even when she had nothing to promote at the time — perhaps it was fuel for her album? She's now dating British actor Joe Alwyn of Billy Lynn's Long Halftime Walk. What there could possibly be to say about that, we'll surely soon find out.
She's launching an app for it.
At some point "late this year" (read: around album release time), Swift plans to launch her own community app where her fans can interact with her and her brand, and she in turn can stalk you right back. Taylor already has her Tumblr for this, but you can't use Taymojis on there, so that's at least one perk of downloading her app. Meanwhile, she has continued to use her channel to give fans all the album deets, like how she made "Gorgeous." Which means you to get sit at the piano with her and find out how challenging (and mostly boring) the songwriting process tends to be.
This post has been updated throughout.