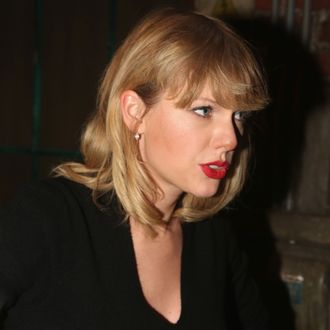 Swift.
Photo: Bruce Glikas/Bruce Glikas/Getty Images
The trial pitting Taylor Swift against radio DJ David Mueller over an alleged sexual assault in 2013 has now allowed the pop star to take the stand. During Swift's testimony Thursday, she recounted details of the alleged groping at a meet-and-greet event, saying radio DJ David "Jackson" Mueller's hand "stayed latched on to my bare ass cheek as I moved away from him visibly uncomfortable," according to BuzzFeed News, adding that the touch was a "definite grab." Swift said Mueller lifted her skirt to grope her: "It was a very shocking thing that I have never dealt with before," Swift said. "He grabbed my ass underneath my skirt. It was underneath my skirt." She said Mueller did not touch her anywhere else, and that she flatly thanked Mueller and his girlfriend for attending, and continued on with the event because she did not want to disappoint the fans who'd waited hours to see her. When Mueller's attorney, Gabriel McFarland, suggested Swift could've taken a break, Swift replied "and your client could have taken a normal photo with me."
Mueller is suing Swift for defamation, alleging that she falsely accused him, and those accusations got him fired. In her countersuit alleging sexual assault, Swift is asking for just $1. When McFarland asked the singer about the Mueller's firing, she said she had no reaction to his job loss. "I just wanted to never have to see him again," she said.