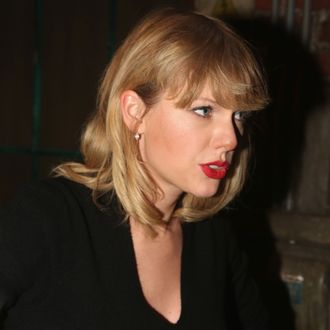 Swift.
Photo: Bruce Glikas/Bruce Glikas/Getty Images
The day after Taylor Swift's mom told the court that she wanted to "vomit and cry" upon learning about her daughter's alleged groping at the hands of a radio DJ named David Mueller during a meet and greet, Swift herself took the stand to testify at the trial — which is a countersuit, as Mueller sued Swift first over her groping allegations, which allegedly led to him losing his job. But while her mom reportedly became emotional giving testimony about the 2013 incident, it sounds like Swift stayed beyond cool during her time on the stand, taking any chance she could to cut the opposition attorney, Gabe McFarland, down to size. Leaving behind any formalities like "sir," Swift simply called Mueller's attorney Gabe, and delivered a series of what can only be described as dry one-liners in response to some of his questions. Let's take stock of these responses, shall we?
* After the alleged incident, Swift continued her meet and greet despite feeling stunned, because she says she didn't want other fans to know what had happened. When Mueller's attorney told Swift she could have taken a break if she was feeling so truly distressed, she shot back with, "And your client could have taken a normal photo with me."
* McFarland also tried to redirect accountability to Swift's bodyguard, who he said could have reacted to protect her if an assault really did occur. She reminded McFarland that her bodyguard, Greg Dent, is not the one who supposedly assaulted her, saying, "I'm critical of your client sticking his hand under my skirt and grabbing my ass."
* Upon referring to the photo of Mueller and Swift from the night in question, McFarland told Swift that there is nothing visibly inappropriate going on. Swift, however, did not leave her media blackout or one of her many homes she owns in the United States to be gaslighted in Denver. "Gabe, this is a photo of him with his hand up my skirt — with his hand on my ass," she told him. "You can ask me a million questions — I'm never going to say anything different. I never have said anything different."
* Further using the photo as evidence of no wrongdoing, McFarland told Swift that the front of her skirt showed no signs of displacement. Swift came through with the facts for him: "Because my ass is located in the back of my body."
* Mueller attended the meet and greet with his then-girlfriend, Shannon Melcher. McFarland pointed out to Swift that she was closer to Melcher than Mueller in the photo, at which point she reminded McFarland that no, she's not confused about which hand might have been "latched" onto her: "Yes, she did not have her hand on my ass."
* When the lawyer asked how Swift felt about Mueller losing his job at a radio station following their encounter: "I'm not going to allow you or your client make me feel in any way that this is my fault," Swift said. "Here we are years later, and I'm being blamed for the unfortunate events of his life that are the product of his decisions — not mine."
* Swift's best response may have come when she explained why no one else saw Mueller grabbing what Swift called "a handful of my ass." Swift with the logistics: "The only person who would have a direct eye line is someone laying underneath my skirt and we didn't have anyone positioned there."
* This whole thing started because in 2015, Mueller sued Swift for millions of dollars in compensation for the loss of his job and damage to his reputation following the alleged assault. Mueller claims Swift's team slandered him to his former employer, and therefore got him fired. At that point Swift countersued for sexual assault, seeking literally $1 in damages, and she asserts neither she nor her team are responsible for his termination. When McFarland asked Swift if she thinks Mueller got what he deserved, she said this: "I don't feel anything about Mr. Mueller. I don't know him."
Gabe clearly did not do his research before cross-examination, otherwise he would have known that Taylor Swift is the master of shady comebacks — after all, she did release her entire, long-awaited catalogue onto Spotify the same day Katy Perry released her latest album. Taylor doesn't come to play, ever.