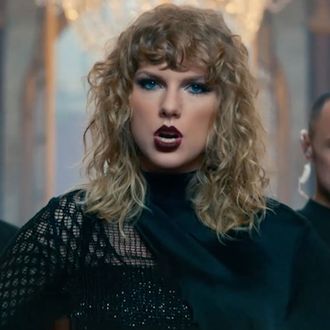 Photo: Big Machine Records/GMA/Twitter
Whether you love or loathe Taylor Swift's return-from-the-media-silence single "Look What You Made Me Do" — we like to think of it as Disney villain karaoke — it'll likely be all anyone talks about over the next few weeks, especially with the song's accompanying music video debuting at the MTV Video Music Awards this Sunday. To psych up her legion of fans, Swift teased a snippet of the video on her social-media accounts, which features the songstress in a black-leotard ensemble flanked by a group of backup dancers in an opulent room. Interestingly, this brief moment got many people scratching their heads: Was she trying to pull a Beyoncé in "Formation"? Twitter took notice with many quips.
While the comparisons were nothing more than jokey social-media speculation at the time, it has now actually gained major traction: The director of "Look What You Made Me Do," industry veteran Joseph Kahn, took to social media to flatly deny that he looked at Bey's Lemonade visuals for inspiration. "I've worked with Beyoncé a few times. She's an amazing person. The #LWYMMDvideo is not in her art space. Love and respect to Bey," he tweeted. "Also there's something to that 'Formation' shot I painted out and you haven't seen yet. Stay tuned Sunday."
At least Swift has Right Said Fred fans on her side?