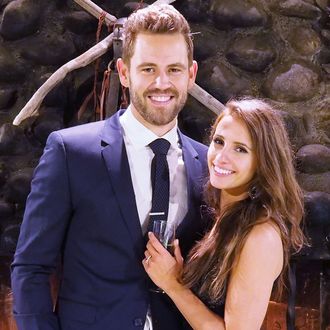 No fairy-tale ending.
Photo: Terhi Tuovinen/ABC
Nick Viall and Vanessa Grimaldi, the couple who found happiness (?) on Nick's season of The Bachelor, and, apparently, unhappiness in real life, have announced that their long-distance love (Grimaldi is Canadian, and while she spent time in L.A. with Viall, the visa process is still a very real hurdle) has come to an end. "It's with a great amount of heartbreak for the both us as we have decided to end our engagement," Viall and Grimaldi said in a joint statement given to E! News. "We gave this relationship our all and we are saddened that we did not get the fairy tale ending we hoped for." They say they'll "continue to be there for each other no matter what," but in a friend way, not a marriage-vow way. Catch ya on Raya, Nick!