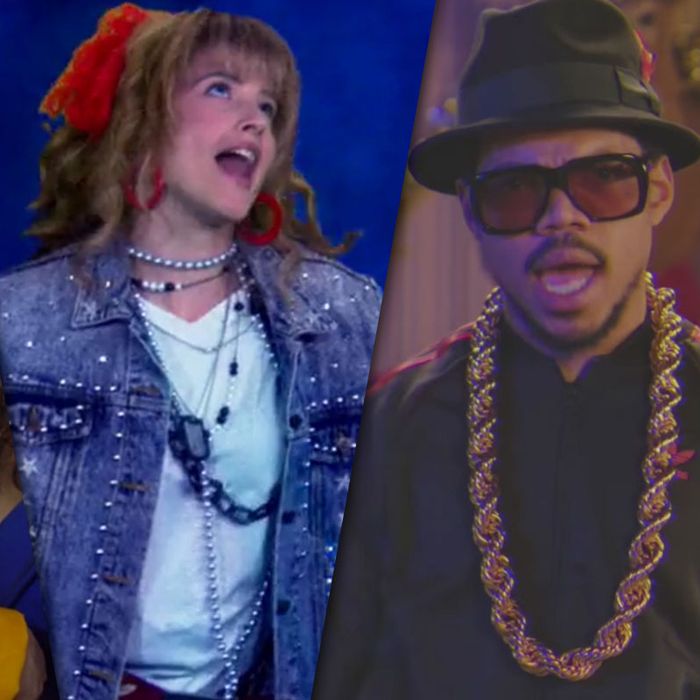 Photo: Comedy Central/CBS/NBC
Wet Hot American Summer: Ten Years Later is set in the early 1990s, but it still features music from the early '80s on its soundtrack, perhaps most notably the original arena rocker, "Higher and Higher." It's a trademark of the series — it also appears in the prequel Wet Hot American Summer: First Day of Camp — and hearing it again made me think about all of the other songs created for television specifically to evoke the sound of the '80s, even though they weren't written or recorded at the time.
That might seem like an incredibly limited focus of inquiry, but a surprising number of tunes fit in the category, enough to create the following list and put some parameters around it. Parameter one: I omitted covers of actual '80s hits that were featured on TV shows, which ruled out some great moments from Psych, Scrubs, and Community, among others. Parameter two: I disqualified songs that used the melodies from actual songs but just changed the lyrics. So sorry, "Hiking on Sunlight" from Unbreakable Kimmy Schmidt, and apologies to "The Goonies 'r' Good Enough"–inspired "Taffy Butt" from Bob's Burgers. Parameter three, which should be obvious: A song doesn't count if it appeared in TV shows that were actually broadcast in the '80s.
With all that clarified, here's a list of 21 great, original '80s-esque songs written for television shows that aired well after people stopped saying tubular in everyday conversation. Enjoy!
"I'm Lindana and I Wanna Have Fun!"
Phineas and Ferb, "Ladies and Gentlemen, Meet Max Modem"
Did you know that Phineas and Ferb's mom was a pop star in the '80s? Well, she had a big hit with this exceedingly repetitive ditty that reflects what happens when a Madonna homage and a Cyndi Lauper tribute crash into each other, then ricochet off of Debbie Gibson.
"Lady L"
Freaks and Geeks, "Dead Dogs and Gym Teachers"
As a teen growing up in the earliest days of the 1980s, it's natural that Nick Andopolis (Jason Segel) would write a song for his crush, Lindsay Weir (Linda Cardellini), that sounds part Styx, part Led Zeppelin, and part bad generic AM rock.
"It Must Be Done"
The Americans, "Yousaf"
This Pete Townshend song, co-written with Americans composer Nathan Barr, may not have been trying to sound '80s, but it still fits in seamlessly with the rest of the FX drama's era-specific musical choices, which have previously included the work of Townshend. ("Rough Boys" was used to great fight sequence effect in season one.) This is also the foreboding type of song — used in this episode to underscore a sequence involving murder and sex — that would have fit in nicely in an episode of Miami Vice.
"Standing"
Buffy the Vampire Slayer, "Once More With Feeling"
"I'm just worried this whole session is going to turn into a training montage from an '80s movie." Buffy says that just before this number begins, prompting everything to indeed turn into a training montage from an '80s movie. While "Standing" sounds a little more '80s than it might have under other circumstances, the sincerity of Anthony Stewart Head's vocals and the song's pop-ballad qualities wouldn't sound that out of place during an American Top 40 countdown circa 1987. (Note: This is not the last time this list will feature solid '80s training-montage music.)
"This Is a Generic Song From the '80s"
BoJack Horseman, "The BoJack Horseman Show"
Lyrically, it's similar to the generic songs that also appear in this flashback episode to mark the '90s and 2007. But sonically, it's got the decade down to exaggerated synth perfection.
"Something Like a Feeling (That Feels So Right)"
You're the Worst, "Twenty-Two"
Given the show's epic use of Boz Scaggs's "Lido Shuffle," the folks at You're the Worst clearly have an affinity for yacht rock, so much so that composer Adam Blau, series creator Stephen Falk, and Rick Cowling, former lead singer of the band Ambrosia, formed a fake yacht-rock band called Starlight Tidepool to record this mellow track, which Edgar listens to during season three's PTSD episode. Technically, yes, this probably skews more '70s than '80s inspiration-wise. But since yacht rock was alive and well in the very early '80s and Ambrosia had its most significant hit, "Biggest Part of Me," in 1980, I'm going to say this qualifies as '80s.
"Balls in the Air"
Arrested Development, "Notapusy" and others
As previously noted, nothing says '80s quite like an inspiring, vaguely hard-rockin' training-montage song. This one is inspiring, vaguely hard rockin', and, depending on your interpretation, filled with juggling and/or sexual innuendo.
"Sports Training Montage"
South Park, Episode: "Asspen"
For real, '80s training-montage tracks are like an entire subgenre of fake '80s song in TV shows. This South Park one, later reused in Team America: World Police, is about as blatant as it can be about its attempt to mimic hype-up music from the Karate Kid era. "That's when you need to put yourself to the test / And show us the passage of time / We're gonna need a mon-tage / A sports training montage!"
"80s Ladies"
Inside Amy Schumer, "80s Ladies"
"They're sexy young professionals / They work in an office and date Michael Douglas." Yes, the theme music for Schumer's "80s Ladies" truly captures what it was like be a female businesswoman in the 1980s … if you were a character in a movie.
"Love Ninja"
The Goldbergs, "I Drank the Mold!"
This original song written by Erica (Hayley Orrantia) and Barry (Troy Gentile) contains many of the elements found in classic '80s pop: liberal use of synth, misguided attempts at rap, and lyrics that don't make a hell of a lot of sense. Actually, "Love Ninja" might make more sense than "I Wanna Be a Cowboy."
"Flaming Moe's"
The Simpsons, "Flaming Moe's"
Pretend TV theme songs are another wonderful subgenre of fake '80s television music and "Flaming Moe's" is one of the best. It's a blatant riff on the theme from Cheers, but with a melody and lyrics ("Where liquor in a mug, can warm you like a hug") just different enough to qualify as an its own thing.
"Horsin' Around"
BoJack Horseman, Multiple episodes
Another great fake TV theme song, "Horsin' Around" is a blatant riff on the saxophone-accented opening title music to every TGIF or TGIF-equivalent sitcom from the era.
"Dayman"
It's Always Sunny in Philadelphia, "Sweet Dee's Dating a Retarded Person"
They are Electric Dream Machine. Prepare to experience sexual magic.
"We're Sending Our Love Down the Well"
The Simpsons, "Radio Bart"
A charity song designed to help yank young Timmy O'Toole (who doesn't really exist) out of a well, "We're Sending Our Love Down the Well" is an obvious riff on "We Are the World." Like that famous USA for Africa track, it's got well-known celebrities on vocals (Sting, Krusty the Klown), as well as some random famous people whose presence in the recording studio is slightly baffling. (The Capital City Goofball is to "We're Sending Our Love Down the Well" as Dan Aykroyd is to "We Are the World.") More importantly, the song's hokey but heartfelt nature perfectly captures the Band-Aid/Live-Aid/Hands Across America pop-truistic spirit of the mid-1980s. (Oh, and before you ask: I didn't include the actual hit '80s song "Baby on Board" by the Be Sharps because it didn't sound like a real '80s song at all, unless I missed that big barbershop quartet craze back in '83.
"You Go First"
Crazy Ex-Girlfriend, "Who's the Cool Girl Josh Is Dating?"
Why didn't actual '80s hair-bands record power ballads about women trying to figure out how to apologize each other? Probably because they were focused on home sweet home and not knowing what you got 'til it's gone and how roses tend to have thorns and stuff like that. Oh, and also because most of those real songs were performed by dudes. My point is: This monster Crazy Ex-Girlfriend track fills a niche, albeit 30 years late.
"Lemon's Theme"
30 Rock, "Floyd"
In the episode "Floyd," Liz Lemon says she always thought her relationship with ex-boyfriend Floyd DeBarber (Jason Sudeikis) would "turn out like a movie where Christopher Cross sings a song like, 'All my days I've been waiting / For you to come back home / In the moonlight / Of New York City." Cross apparently appreciated the reference so much that he wrote an entire song, "Lemon's Theme," that sounds exactly like the kind of early-'80s Christopher Cross song Tina Fey described. You can hear the full track on the 30 Rock soundtrack, or every time you daydream that Jason Sudeikis will finally realize his love for you in a movie that's vaguely reminiscent of Arthur.
"Jingle Barack"
Saturday Night Live, Season 42, Episode 10
This Emmy-nominated song acts both as a seasonal farewell to our 44th president and a dead-on hat tip to "Christmas in Hollis" by Run DMC, complete with Kenan Thompson and Chance the Rapper decked out in Adidas and an appearance by Darryl "DMC" McDaniels himself. Is it weird that when I watch this clip, I laugh for a few seconds, then start sobbing uncontrollably?
"The Night Begins to Shine"
Teen Titans Go!, Multiple episodes
If you told me this overproduced space-rock jam was released in the 1980s — perhaps on the soundtrack to the movie Heavy Metal — I honestly could be convinced. It's so epic that it inspired a recent four-night series of episodes for the Cartoon Network series. It's also inspired me to listen to it on my own, in private, when my 10-year-old kid wasn't even watching the show.
"Inner City Pressure"
Flight of the Conchords, "Bret Gives Up the Dream"
This captures all the urban ennui of the Pet Shop Boys' "West End Girls," but with funny jokes, because it's Flight of the Conchords. The videos are strikingly similar, too.
"Let's Go to the Mall"
How I Met Your Mother, "Slap Bet"
Technically Robin (Cobie Smulders) recorded her big hit as Canadian rock star Robin Sparkles in the 1990s. But as Robin notes: "The '80s didn't come to Canada until 1993." Which is why everything about this song and video screams late '80s, including the fact that Robin performed it on a shopping-mall tour. Guys, she was the Canadian Tiffany!
"Higher and Higher"
Wet Hot American Summer, Recurring theme
This song has it all: the potential to be used in sport montages, as it was in the original movie; an anthemic, hard-but-not-too-hard brand of mainstream rock that more or less disappeared post-1980s; and a Reagan-era sense of optimism. "Higher and Higher" was written by Theodore Shapiro and Craig Wedren, although according to the events in First Day of Camp, Chris Pine's Eric is the man behind it. Either way, one thing is clear: This soaring masterpiece belongs on the Top Gun soundtrack.