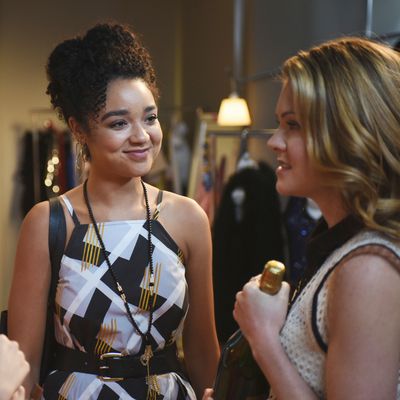 Katie Stevens (left), Aisha Dee (center), Meghann Fahy (right).
Photo: John Medland/Freeform
One of TV's best depictions of adolescence isn't about teenagers at all. Glossy and sweet, The Bold Type debuted earlier this summer on Freeform to spin a charmed but emotionally realistic fantasy about a trio of young women who work at a Cosmo-like magazine. (Former Cosmopolitan editor-in-chief Joanna Coles executive produces.) Writer Jane (Katie Stevens), social-media director Kat (Aisha Dee), and assistant Sutton (standout Meghann Fahy) lead candy-coated lives. They juggle handsome men (or, in Kat's case, flirt with an accomplished female artist). They're mentored by a perfect boss, Jacqueline (Melora Hardin). They spend seemingly half their time at the office in the fashion room, borrowing designer wares without a care in the world.
And yet, I wouldn't trade places with any of them for a second. That's because The Bold Type hinges on a key insight: Your first few post-grad working years are basically a sequel to your teen years. Everything feels uncertain. You keep mistaking what's important with what's not, and vice versa. You're eager to try out things you've been hearing about for years, only for them to blow up in your face. You need more guidance than you care to admit. If you're in an entry-level position, you're probably waiting out a shitty situation until you can move on to the thing you really want to do. A few years from now, you'll laugh about how little you knew not too long ago. Until then, every day feels like an emotional roller coaster — one of those rickety wooden ones that make you question your own judgment the entire time you're on it.
There's little about the Scarlet newsroom that resembles reality, except maybe the fact that the most crucial decisions are made by old white men who couldn't be further away from the target readership. But The Bold Type has become one of the few bright spots on TV this summer (after overcoming a rough pilot) by emphasizing the unique challenges of a first adult job, as well as their similarities to the hardships of adolescence. And so the crossover series joins Younger (TV Land), and Jane the Virgin (the CW) in the small canon of girly dramedies whose warmth, sincerity, and not-so-secret smarts elevate them far above frothy escapism.
The Bold Type is a show about learning — and part of the joy of watching Jane, Kat, and Sutton is seeing them grow their understanding of themselves and the world around them. That means a lot of firsts: Jane's first orgasm, Kat's first lesbian love interest, Sutton's first leap into fashion. At 15 or 25, the exuberance of trying something new remains the same. When the three friends recount their adventures to one another, it's all giggles and jumping up and down while holding hands.
And not a small amount of self-absorption. One of The Bold Type's recurring scenes is its moments of competing narcissism, where the trio interrupts each other to share how freaking crazy the latest thing to happen to them is. It sounds annoying — and straight out of Girls, that study of millennial self-obsession — but most of the time, it's just a reflection of the friends' cups running over with eventfulness, like when Sutton is devastatingly offered too low a salary for her first professional foray into fashion, or when Jane yells at Jacqueline because she thinks (wrongly) that the editrix wants her to write about her fear of getting terminal breast cancer (a disease that killed Jane's mom). Jane, Kat, and Sutton's blithe preoccupation with themselves is also understandable because many of us tend to burrow inward when we get nervous or scared, and not knowing the lay of the land — either in teenage-hood or at a new job — means plenty of opportunities for jitters. Sutton's myopia is evident when she sighs to her work husband (and possible romance) Alex (Matt Ward) that she feels like the fashion-assistant job she wants so badly is her "last chance" at making a leap toward her dream. "I'm gonna be 26 this year," she sighs. It's the kind of line that would be eye-roll-inducing if it weren't so true to life.
If each day offers the characters a chance to learn something new, it can also feel like evergreen occasions for them to feel like they've destroyed everything they've worked for. Part of that is because most of their accomplishments are yet to come; it's difficult to imagine Jacqueline feeling like she's damaged her career or credibility irreparably in the way that Sutton does when she loses a $5,000 necklace in a cab. The Bold Type is the rare show that pulls off what can feel like life-or-death stakes with winsomeness. Sure, nothing truly bad will happen to the characters; they all need to work at Scarlet to keep the show going, after all. But because Jane, Kat, and Sutton have yet to fully figure out what's a forgivable offense at work and what's a fireable one — and because they don't know how much they don't know — their reactions are often out of proportion with their actions in a way that feels fresh and relatable, and without making the characters seem the least bit dumb.
The friends arguably seem most youthful around the sometimes stern but unfailingly kind Jacqueline, a role model and a mother-teacher figure. In one of her most encouraging moments, Jacqueline tells Jane — an employee who just got the magazine sued because of her negligence — that it's okay to screw up: "Sometimes you're going to fail. That is what it means to be a professional writer. Now go write something else." But Jacqueline is also beholden to a socially and strategically conservative board of directors — a state of affairs that often leads Jane, Kat, and Sutton to rebel against their boss, sometimes out of moral righteousness, sometimes out of petty rebellion. Kat's Scarlet-branded posts of nipples — flouting Instagram's rules against female areolae and Jacqueline's warnings against such provocations — is one such story line where our protagonists have to evaluate the power structure they're in and carve out their place within it. Testing boundaries and attempting to assert your own individuality within a place of authority and protection is an ideal work situation — and a quintessential teen problem. As the show's title suggests, the young women we follow are, well, the courageous kind. But The Bold Type succeeds because it understands the terrifying uncertainties of adolescence and beyond.