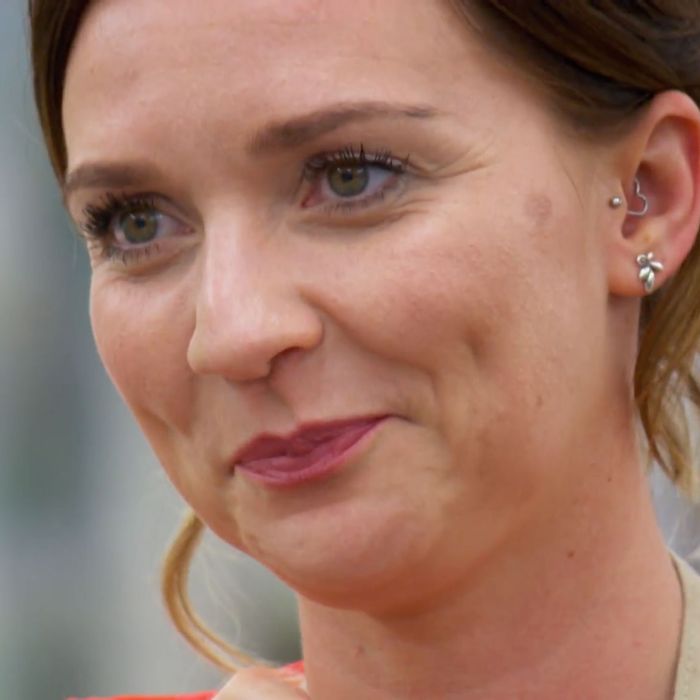 The bad news is that it's the semifinal, which means we've only got one more episode left this season. Yes, we're down to just Andrew, Jane, Selasi, and Candice in the eerily empty tent. The good news is that it's Patisserie Week, emboldening Mel and Sue to break out their Franglish and their Pepé Le Pew accents.
The signature challenge requires the contestants to bake 24 palmiers — it's a palm-shaped French pastry — in two different shapes and with two different savory fillings. Paul wants to see the layers of puff pastry all the way through the bake, which should come out flatter, rather than thicker. Mary advises they incorporate their fillings carefully, for "great bulky things" will ruin the delicate layers. And they'll want to protect those layers with their lives: It takes a lot of chilling, rolling, turning, folding, and praying to the butter gods to get the lamination right.
Candice bakes caramelized red-onion chutney, blue-cheese-and-walnut palmiers, and bacon-and-mushroom heart-shaped palmiers. With all those ingredients, she estimates that her palmiers will be a substantial half-inch-plus thick, which Paul is not pleased to hear. Well, motion of the ocean, etc. Jane has chosen to bake pesto-and-sun-dried-tomato flower-shaped palmiers and goat-cheese, black-olive, and parma-ham elephant-ear-shaped palmiers. "The last batch I made this week failed spectacularly, really. All the butter leaked and it was as tough as old boots," Jane says. If you were to tell me in a charming enough accent that "old boots" was the name of a classic British pastry, I have no doubt that I would believe you.
Andrew's "cheesy elephant ears" are stuffed with roasted red peppers and goat cheese, and he'll pay homage to his love of music with rosemary, thyme, and sage "herby treble clefs." The latter bake involves bread crumbs, an increasingly regrettable decision on Andrew's part as he frets over his unexpectedly dry dough. "I'm losing confidence by the second," he says. An hour into the bake, he decides to remake his "ruddy disaster" of a pastry.
Selasi's butterfly-shaped palmiers will be filled with sun-dried tomato, red onion, and piqaunté peppers. His elephant-ear-shaped palmiers will incorporate chili-infused salmon, spinach, and mushroom palmiers — not to mention pesto and crème fraîche. Mary is worried that those wet elements will cost the pasties their crispness, but Selasi seems confident, because that is Selasi's way. As the bakers roll and slice their dough, the palmiers begin to take shape. It took me a minute, but I finally realized what Selasi's "butterflies" remind me of: the four bedridden grandparents from Charlie and the Chocolate Factory, with just their heads sticking out of the covers. (To be clear, I would still very much like to eat these palmiers.)
Three of Jane's palmiers roll off the parchment paper lining her baking tray onto the floor of the oven. Andrew invokes the internationally recognized five-second rule on her behalf. "It will be absolutely fine," Mel and Jane chant, like a mystical affirmation. Selasi is uncharacteristically nervous, and absentmindedly drumming a spatula against his chest as he paces the tent. He takes his palmiers out of the oven at the last possible second, but they're still under.
Jane's flowers look a little like smiling frogs. They're yummy but soggy: Mary observes that the pastry has been "steeped" in the oil from the pesto and the sun-dried tomatoes. Candice's mushroom palmiers may be on the hefty side, but their shape and color are great. Mary calls them "something I'd like for breakfast." The volume of the fillings in her red-onion, cheese, and walnut palmiers has robbed the pastries of much of their definition, but in terms of their taste, Paul declares them "one of the best things I've had for a long time." Selasi's palmiers are "untidy," and worse, raw. Andrew may present his palmiers in what Mel calls an "underwear drawer" display, but they elicit an audible "mmm" from Mary. Paul likes the flavor of the treble clefs, but thinks the pastry could be more buttery (couldn't everything?). Andrew's elephant-ear palmiers are even more deliciously crispy.
The technical challenge, via Paul, is a savarin: a yeast cake soaked in orange-liqueur syrup, decorated with Chantilly cream, fresh fruit, caramel shards, and a little chocolate placard (excuse me, a "seven cm oval disc") piped with the word "savarin" in white chocolate. Who could resist a baked good polite enough to introduce itself? None of the four bakers has ever made one. Nailing the proving time is key, Paul says, and the properly risen cake should be moist with booze all the way through.
It's a warm day in the tent, which makes the challenge all the more difficult. Sue towels off Selasi's sweaty face not once, but twice. Jane struggles to make her caramel, as batch after batch keeps crystallizing. The bakers' pretty patterns of decorative sliced oranges, raspberries, blueberries, and mangoes are compromised when the cream below them begins to melt in the heat. Paul tells them not to worry about that; there's nothing they can do. Mary doesn't recognize the suspiciously humane judge beside her: "Did you really say that?" she asks incredulously.
Jane comes in first in the technical — and squeals in delight in her post-challenge talking-head interview. Andrew comes in second, Candice comes in third, and Selasi takes last place.
The showstopper calls for two different types of fondant fancies, which are petit-four-esque mini-sponges, for a total of 36 little treats. The Génoise sponge, the buttercream, and the fondant must all be made from scratch. Paul wants to see smooth, glossy "shop standard" fancies with flat sides. Consistency or death. Mary predicts it'll be hard to cut the sponges in neat shapes; normally, you'd make the Génoise the day before so it would have time to firm up.
Jane is working with flavors her kids love: pistachio-and-raspberry-curd fondant fancies (pink hearts!), and lemon-curd-surprise fondant fancies in a light shade of blue-green. "Are you a dipper, dunker, or pourer?" Mary asks of Jane's fondant-application technique. Mary identifies as a pourer, but Jane plans to dip her fancies into the goop using a potato masher.
Half of Andrew's "philharmonic fondants" will be Victoria-sponge-inspired: vanilla Génoise, raspberry jam, and vanilla buttercream. The other half will be chocolate and coffee fancies, with Irish-cream-liqueur buttercream inside. They'll be coated in marshmallow icing and decorated with miniature sheet music and bow ties, provided he can finish them all — he hasn't practiced a timed run at home. Candice is, as usual, taking on what would be too much for anyone but Candice. She'll be baking chocolate-praline fondant fancies, topped with nut brittle, plus cherry Bakewell fondant fancies, each with an almond-liqueur-soaked cherry surprise hidden inside.
Selasi bakes 18 lime-and-ginger and 18 pink-velvet-and-raspberry-Prosecco fondant fancies. The latter will feature Prosecco buttercream (which, coincidentally, is what I will name my first-born child) and a bright-pink sponge. When Mary expresses her concern that he didn't sift his flour (he might end up with dreaded air pockets!), he decides to remake the batter, even though he's already baked a first round. Everyone else has taken their sponges out of the oven when Selasi's second attempt is just going on.
Three of the bakers cover all 36 of their little sponges with a crumb coat of buttercream to ensure the fondant will apply perfectly smoothly. Jane, notably, makes the bold choice of skipping this time-consuming step altogether (spending five minutes on each fancy would take you a total of three hours!), only spreading icing into the hollowed-out centers of her fancies. Selasi manages to get a smudge of buttercream on his nose. The actual dipping, pouring, and/or dunking the sponges into the liquid fondant proves to be even messier, drippier work.
At judging time, Candice presents three dozen very cute fancies, decorated with cherries and music notes and arrayed around a toy piano. The bottoms of the praline fancies are a little messy, but otherwise, they garner rave reviews. "They don't look so brilliant, but they're stunning," Mary says. (I disagree — I love the lilac icing on the Bakewell fancies — but on a scale of one to Mary Berry, I am a discarded Easy-Bake Oven that a family of mice has made their home.) Speaking of not looking brilliant, Selasi's fancies are undeniably clumsy in appearance. "Maybe don't try the icing," Selasi suggests, with a self-deprecating grin. His sponge is great — and the lime fancies have a strong, lovely tang — but the overwhelming flavor of the pink-velvet fancies is sugar, sugar, sugar.
Jane's vivid colors and delicate decorations are irresistible, but the fancies' un-buttercreamed sides are conspicuously bumpy under the unforgiving cover of fondant. That was a mistake. Inside, though, her heart-shaped fancies are picture-perfect cross sections of sponge, marzipan, buttercream, raspberry curd, and fondant. Andrew's simple but remarkably well-executed little fancies are neat and adorable: good sponge, good flavor, good texture.
Andrew is named Star Baker for a second time this season. "It's with real incredible sadness that this week we say good-bye to Selasi," announces Sue, and she and Mel jostle for position to smother him in hugs. Selasi calls Bake Off a "splendid" experience, but there's no doubt it'll be a little less splendid for the rest of us without him.