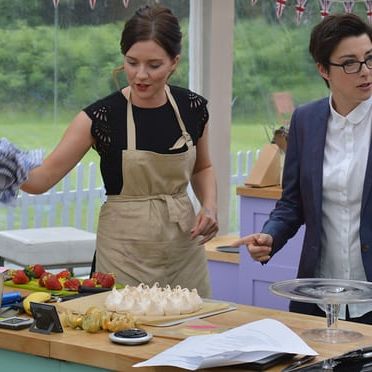 After nine weeks, only three spectacularly talented and eminently lovable bakers remain to fight it out — well, warmly chat and hug it out — in the tent. Garden designer Jane was the season's very first Star Baker and the contestant I'd most like to adopt me as her child. Aerospace engineer Andrew is more than ready to sketch all the schematics he'll need for a precise, stunning final bake. And PE teacher and three-time Star Baker Candice's appealing, family-inspired bakes are some of the most ambitious that this show has ever seen.
"I'd really like to think I'd got really fit and toned and everything from baking," Candice says. "Definitely haven't. Definitely struggling to fit in clothes currently."
This season's Bake Off final has a fittingly majestic "royal" theme. For their last-ever — I'm already getting verklempt — showstopper, the bakers must present a filled meringue crown, which sounds like something you'd topple onto a prince's head for a messy prank. The judges will need to see at least three layers of meringue, enough for the whole Royal Family. Why have them work with meringue yet again? Because it's difficult, of course, and dungeon-master Paul can't resist the opportunity to torture his victims one last time. Bakers would be wise to cut the overpowering sweetness of the meringue with some fruity tartness, he advises.
Jane's red, white, and blue meringue crown will get its vivid colors from layers of strawberry and raspberry compote, blueberry compote, and white nectarines. Paul warns her that this relatively simple concept better be executed perfectly. "Oh, no pressure then," Jane cracks. (I briefly wondered why she'd borrow the colors from the U.S. flag for such a quintessentially English bake, then I remembered that I am an American moron and that this country doesn't exactly have a monopoly on red, white, and blue.) Candice's mango and strawberry crown will be decked out with Prosecco-soaked strawberries (hello), mango curd, and glittered pistachios, a phrase that's crying out to be a euphemism for something. She pipes a delicate little version of Queen Victoria's crown to grace the very top of her bake.
Andrew applies a gold luster to give his crunchy caramel cassis crown an appropriately royal finish. He incorporates muscovado, a type of brown sugar, into his meringue, which he intends to craft into a re-creation of the Queen's Jubilee crown. The bake will have a pecan praline center and will be surrounded by layers of blueberry fool ("Blueberry fool?" I know you're not actually trolling us, Bake Off, but it sure feels like you're trolling us), topped with cassis jelly jewels. Muscovado sugar is very moist, so it's extra difficult to meringue-ify — and Andrew's batch is already looking a little runny.
As the meringues bake for upwards of an hour, "It's in the hands of chemistry and the gods," Jane says. Once they're done, it's imperative to let them cool slowly in oven. If a baker pulls a meringue out prematurely, the drastic change in temperature could ruin it. In fact, we can hear Andrew's meringues cracking on the counter before he hastily shoves them back in the oven.
Andrew manages to wrangle his crown onto a generic purple foam mannequin head, possibly nicked from a department store to represent the Queen, I guess? I am not delighted with Andrew's presentation, myself. It's hard to get definition from muscovado sugar, Mary says, and indeed, the cross looming over Andrew's crown is looking a little mushy. That's not the only issue: His praline is overwhelmingly sweet, making it far from an ideal mate for the already sugary meringue. Meanwhile, Candice's crown looks stunning. It's a symphony of textures and flavors, with a lovely curd and pleasantly soft-in-the-middle meringue. Candice earns a coveted handshake from Paul. Jane, too, has brought it: Paul says that her masterfully shaped and masterfully balanced (with sharp coulis and peach) meringue is "three layers of heaven." Then, she too gets a handshake. "I've never seen two handshakes!" I exclaim to no one but my screen. "I've never seen two handshakes!" Jane exclaims, moments later, in her talking-head interview. Poor, handshake-less Andrew thinks he'll need to come first in the technical to stay competitive.
And this is quite the technical: The contestants are asked to bake a Victoria sandwich with raspberry jam and buttercream — a classic Bake Off bake if there ever was one — but they aren't provided with any instructions whatsoever. The bakers spend the next 90 minutes navigating between deceptively simple choices that they'd normally never need to think about. Salted butter, unsalted butter? Medium eggs, large eggs? In top Andrew form, Andrew goes so far as to weigh his eggs. "If it goes wrong, we're going to look pretty daft," Candice predicts.
With an evenly risen cake that's just the right pale golden color and jam that's well set, Andrew takes first in the technical, just as he'd hoped. Candice is in second, and Jane is in third.
The season's final showstopper requires bakers to produce a picnic "fit for Her Majesty." That includes — take a deep breath now — one chocolate celebration cake, 12 puff-pastry sausage rolls, 12 mini quiches, 12 savory scones, and 12 fruit and custard tarts. That's a whopping 49 bakes in total! They'll have five hours to complete them, but there's a tremendous amount of planning needed for this undertaking: Andrew, naturally, has a color-coded spreadsheet that tells him exactly what he should be doing in every five-minute interval. "Every one of those bakes should be good enough to put in front of the Queen," Paul says. I'm sorry, is having dozens of pastries laid out in front of you what the day-to-day job of being Queen actually involves? If so, how do I apply, slash which weird fourth cousin of a Duke should I marry?
Candice's "Picnic for Pearly Kings and Queens" (a nod to her Cockney roots) will tempt the judges with a chocolate orange and orange cardamom cake, manchego and olive scones, salmon and asparagus quiches, rhubarb and custard tarts, and pig-shaped sausage rolls with bacon, mushroom, and black pudding. We pay a quick visit to Candice's family, who have the greatest accents that I have ever heard emanating from a human being's mouth. Candice's beloved late Nan started teaching her to bake at 4 years old. "I don't think there's any words that can express how proud we are as a family," Candice's mom says.
Andrew calls his chocolate cake "the definitive" family recipe, of his Gran's creation. For his "Family and Friends' Favourites Picnic," he's also serving up smoked cheddar and paprika buttermilk scones, sausage and chorizo jam rolls, strawberry and pistachio tarts, and goat cheese and caramelized onion quiches. Andrew first discovered his love of engineering through his love of cake, which he longed for his Gran to teach him how to bake. His mother attests that he recently skipped his own graduation to practice baking. "I absolutely think Andrew deserves to win. He's put so much hard work into it," she says. "And I hope he does because I love him to bits." She laughs. "He'll hate me saying that."
Jane's "Family Favourites Feast" includes tarts filled with red fruits and elderflower crème pâtissière, butternut squash and parmesan scones, apple and thyme sausage rolls, salmon and dill quiches, and a four-tier chocolate cake with a white chocolate lacy wrap, to avenge her failed chocolate collar from Botanical Week. "Mum hasn't slept much the last 12 weeks," Jane's daughter says. Jane's son adds that his mother always puts other people first: "[Bake Off] is is the first thing she's done purely for herself."
As the bakers frantically multitask inside the tent — remember, they'll need to pull off all 49 of those treats with just a single oven each at their disposal — their friends, families, and former competitors gather outside for an extremely pure and wholesome picnic on the grass. In the last minutes of the bake, Andrew abandons his nerdy principles to save time on his sausage roll pastry: "Screw the measurements." His hands are visibly shaking as he applies chocolate shards to his cake. Meanwhile, Jane's overchilled white chocolate collar simply won't stick to her cake, a "minor disaster." She frosts its sides instead and hopes for the best.
Once the bakers have placed their dozens of treats inside their picnic hampers, they come together in a big group hug to celebrate finishing. It's clear they're all exhausted. "I have given everything," Candice says. Jane is on the verge of tears. "I think it's just the emotion of finishing, and not doing it again. I think that's really sad. I'll really miss it. I've loved every minute."
Jane's picnic looks "right royal and regal" to Mary Berry. The sausage rolls are delicious, but the pastry is a bit raw inside. Her quiches and gorgeously decorated fruit tarts are yummy, although the judges wish they could have picked up more of the butternut squash in the scones. Jane more than recovered from her white chocolate collar mishap, turning in an excellent chocolate cake with a "lovely surprise" of cherries and cream in its center.
Everything about Andrew's picnic looks beautiful and meticulous. The sausage tastes great, but the roll's pastry is so undercooked that Mary declines to eat it. The scones' color and appearance are "most exciting," but they're utterly devoid of the smoked cheddar flavor the judges had been looking forward to. The quiche is tasty and its pastry crispy, if a bit overworked. Andrew's strawberry tart, though, is regrettably floppy and soggy. But his majestic-looking cake is the "star piece" of Andrew's picnic, according to Paul, and something he'd gladly eat any day. Good job, Gran!
Candice's display as impressive and as colorful as we've come to expect from anything she comes into contact with. Her piggy sausage rolls are a big hit with the judges, though to me, they look disconcertingly like screaming human faces. Candice's quiche is crispy and well baked; her scones are the right color and the right size, but Paul can't taste the manchego, only the olives. Her raspberry and rhubarb tarts are absolute cuties, but they're a tad overbaked. After sampling Candice's chocolate cake, Paul and Mary look at one another before saying anything. Fortunately, the news is good: "That's a lovely cake," Paul says, with a fantastically shiny finish to boot. There's a roar of applause as the bakers head outside, hampers on their arms, to greet (and, more importantly, to feed) their loved ones.
Finally, it's time to announce the winner of the Bake Off trophy (which is, of course, a simple glass cake stand): It's Candice! She's so overcome with emotion that she doubles over, and her family screams louder than the cumulative sum of all decibels of all sounds heard throughout the entire season. It's wonderful.
Candice, quick to embrace her equally adorable pug and boyfriend, can hardly believe it. "Never ever, ever thought I'd even get on this," she says of Bake Off. "And I'm standing here now, with this [trophy], and they said my name. And that means more to me than I think anyone will ever ever realize. It really, really does." With her passion, determination, skill, ambition, creativity, wit, and infallibly on-point lip color, Candice is truly an inspiration to us all. Love you, Candice!
As for those of you reading this recap, cheerio, pip pip, and tara, my dears! I'll see you next season, when we'll muddle through the apocalyptic wasteland that will be a Bake Off without Mary, Mel, or Sue together. Until then, remember: A Victoria sandwich a day keeps the doctor away, or something like that.