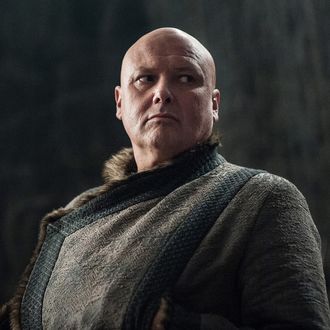 Beware the network of whispers.
Photo: Helen Sloan/courtesy of HBO
The hackers responsible for HBO's recent data breach have demonstrated a show of force by releasing some company emails they mined during the digital attack. The Hollywood Reporter says it received a message from the culprits with nine files attached that had names like "Confidential" and "Script GOT7," and also in that message was a publicly available link to a variety of HBO internal documents. THR is not releasing details about what's in those documents, but the publication does say there are script summaries and marketing materials for Game of Thrones, in addition to a month's worth of emails from the inbox of a network executive. It is not yet known how deep into HBO's email system the hackers were able to get, since the single employee's messages are the only ones to be released so far. In other words, no one knows yet if this is Sony Hack 2.0.
In a very fsociety move, the hackers sent a video message to CEO Richard Plepler containing a letter animated to unfold like a scroll as "ominous music" played. In it, a demand was made for an undisclosed sum of money and Plepler was told, "We successfully breached into your huge network …HBO was one of our difficult targets to deal with but we succeeded (it took about 6 months)." In response to the very dramatic message, a network representative told THR that a forensic review of the breach is in progress, and, "The review to date has not given us a reason to believe that our e-mail system as a whole has been compromised." The statement added, "We continue to work around the clock with outside cybersecurity firms and law enforcement to resolve the incident."