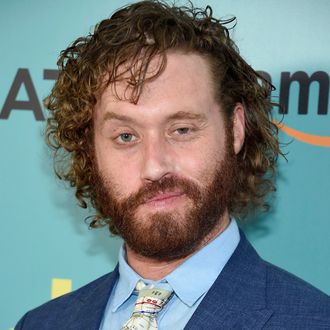 Photo: Dimitrios Kambouris/Getty Images
As in nearly everything ex-Silicon Valley actor T.J. Miller does these days, it's hard to parse the line between real life and comedic bit. But T.J. Miller apparently enjoys reviewing everything from plumbers to restaurants to strip clubs to the people driving airport pickup shuttles for hotels on his Yelp account, and his reviews — which are almost exclusively raves — are peppered with all the pomp, absurdity, and strange tangents you'd expect from a guy who says we live in a "post-meaning society" where his words have "no teleological destination." Because debating the merits or sincerity of his reviews could require thousands of words, we'd rather just present the most absurd, Millier-iest lines from his three pages of Yelp reviews without context. So without further ado, behold:
"I'm not an egg roll man (or an egg roll can)"
"I suppose now that I mentioned it in a parenthetical there are a variety of ways that one could eat a poboy. With gravy, with catsup and blustard (that's blustering mustard) or simply dip it in Gatorade and eat it on a long run."
"Perky nibber herbin bee feet."
"I've ordered a cheeseburger, obviously, this is nearly the only thing that they serve, it's their special … tee? Tee jay? T.J.? What is HAPPENING?!!"
"We mostly go for the dumplings, but this place is no "dump" in terms of its noodles that's for sure! LOL roll on the floor LOL or a farewell ROTFL ROFL roll roll roll drop and roll laughing avoid the fire roll on the floor laughing."
"Now I'm not a lettuce wrap man myself, I'll get it for my wife if she's having lady issues that month … But boy oh boy must I have had lady issues this month because I love their lettuce wraps! I'll take that monthly visitor any day of the week if they'll come to NIU noodles with me!"
"We ordered only sashimi and explained that we were in a hurry because we are going to get our feet attached our heads at 4pm. They didn't understand that at all, because it wasn't true or real, but boil oh boy were they accommodating to our rush.  The miso soup came out so fast we thought we had peed it up thru the table!"
"the salmon was a little chewy. You can't blame them for that some salmon are just tough as hell. They can be tough cookies. They can be really hard on themselves and others. Some salmon can be hard to get close to the emotionally or physically, they can just be tough. But if you're in a rough spot and you're looking for somebody who can get you out of it the person tough enough with the right stuff to take you through … That salmon is that person."
"I can't imagine I'll be in here less than fifteen times while shooting Office Christmas Party."
"I ate the food and I didn't get disease, rather I felt vigorously virile and ready to take on the meter maid!  That's my metaphor for Carpe diem, daddy!"
"If you are doing something that requires a suit that will become an heirloom (tomato), Art Lewin is your guy.  He made my toddler body look like a chiseled Adonis with a fair sized phallus."
"I got engaged to be married underneath of 'levitated mass,' a giant rock and an excellent pun to ask for a woman's hand underneath.
I was between a rock and a hard place so to speak, and that hard place was not an erection. That came much later.  Approximately 3 hours.  This is the kind of establishment that leads to sexual intercourse and educated decisions."
"I hate how fresh I am. Sometimes it is deeply depressing, affecting to the point of me not being able to get out of bed for hours at a time, sometimes even minutes."
"Delicious, varied and it can be vegan if you're a little bitch about capitalist factory farming when you live in the hellhole that is Los Angeles where natural free range grass fed farming is available at every instance."
"you're butt will catch fire in a positive way as soon as you eat the Bahn Mi, ahi poke, hoke poke, the last one's a joke, and I recommend after the pork bun a healthy smoke."
"Please patronize this business (be a patron, don't talk down to them) and you'll likely see me there if you eat there a lot.  Come say hi.  don't call me a perspiring' pig tho, or I will cry hog tears and drink swine beers."
"I asked him to sing the Rolling Stones tune at the end of the appointment but he refused, said I had a feminine raspy voice, and he didn't want any part of it — he's right and we had a good laugh!"
"There are few places in the Hollywood Power Broker circle where the food is even better than an already hilarious array of the who's who and what's that from Old Hollywood and New, but this is one of them. Anything spinach related will make you crap your hat."
Most of the reviews so far are for Los Angeles–based establishments, but since Miller and his wife recently relocated to New York, those living in the five boroughs can soon make sure their favorite establishments pass the Miller quality test.