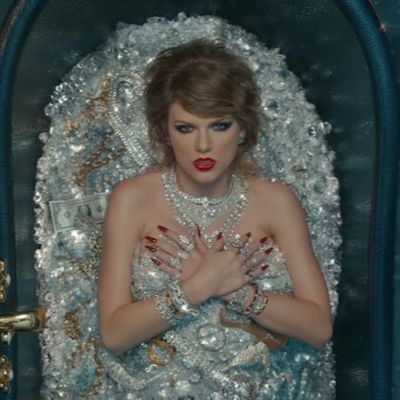 Photo: YouTube/TaylorSwiftVEVO
After a week of snake GIFs and MS Paint–inspired album art, Taylor Swift unveiled the music video for her new single "Look What You Made Me Do" at Sunday's VMAs. The video is a bitter mediation on the various iterations of Taylor Swift we have seen over the years, and while the snake motif and overall theme of "the old Taylor is dead! I wear black now and don't care what you think!" are both fairly straightforward, there are a number of more subtle references sprinkled throughout the video as well.
Here are some of the references you may have missed.
A single dollar in the tub of jewels
Likely a reference to her recent court case against David Mueller, the Colorado DJ whom Swift accused of grabbing her butt during a meet-and-greet in 2013. Mueller was found guilty of sexual assault and battery, and Swift was awarded the full damages she sought: $1.
I <3 TS shirts
Although screenshots of Taylor Swift and her black-leotard-clad backup dancers have been circulating for a while, (sparking many unfavorable comparisons with Beyoncé's "Formation" video), in the actual video, the dancers are all wearing "I <3 TS" shirts, a throwback to simpler days when Tom Hiddleston and Taylor Swift were kissing, and wore shoes on the beach a lot, and Hiddleston was spotted wearing an "I <3 TS" tank top while frolicking in the ocean with Swift and members of the squad.
The shirts are also on sale now.
She and her friends are robbing a streaming company
After Swift and her friends commit theft in what looks like impractically conspicuous clothes, they exit what is, according to the LED sign in the background, a streaming company. This is likely a reference to Swift's past refusal to make her work available on streaming services such as Spotify, because users can listen to music for free.
RIP Nils Sjoberg
While Swift buries her reputation in a graveyard at the beginning of the video, a gravestone behind her bears the name "Nils Sjoberg," the pseudonym Swift used when she co-wrote Calvin Harris's song "This Is What You Came For," a collaboration that reportedly contributed to the couple's breakup.
Squad headquarters
Taylor Swift gets it, you guys. She knows you make fun of her extensive squad of Victoria's Secret models, and non–Victoria's Secret models, and Haim. The new Taylor doesn't care that you laugh about it, though, so here she is laughing about it with you, claiming her throne as the Mother Dominatrix of a militant squad of sexy robots.
She gets it.
A shirt with her squad's name on it
Taylor Swift gets the joke about her squad, but she would also like to remind you about her squad. In the video, the "You Belong With Me"–era Swift wears a shirt signed with the names of her various famous friends, including Selena (Gomez), Ed (Sheeran), Blake (Lively), and Ryan (Reynolds).
Snakes
Now that Taylor has embraced her serpentine reputation, images of the snake feature throughout, whether she's wearing them as jewelry (from her new merch, of course), has one tattooed on her thigh, keeps a den of them at her feet, or, most ironically, is being served the tea so many have spilled about Taylor by one of them.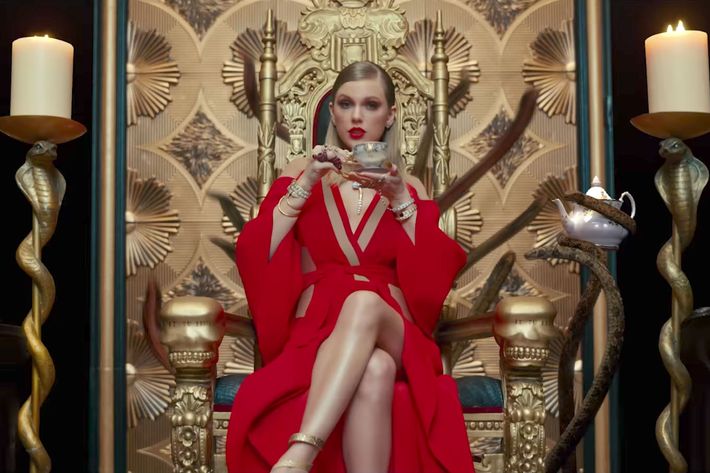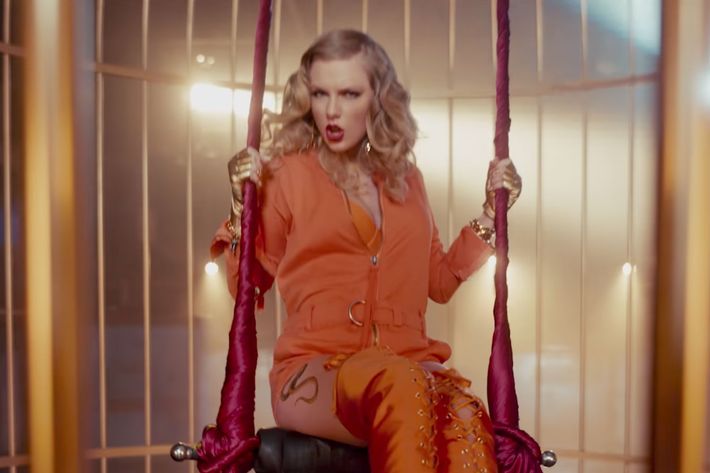 Katy Perry
In this war of shade, Taylor would like to have the last unsubtle word. While robbing all of streaming, Taylor does it with a posse disguised in cat masks, a nod to her rival's fans, known as the KatyCats. (Her shirt also features a tiger, hinting at Katy's "Roar.") And for her run-in with the paparazzi, Taylor is dressed just Katy enough to draw comparisons, particularly as she holds a Grammy, which Katy has never won.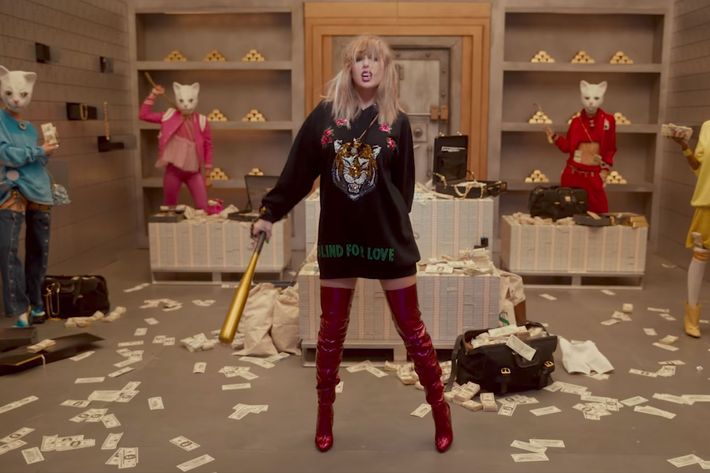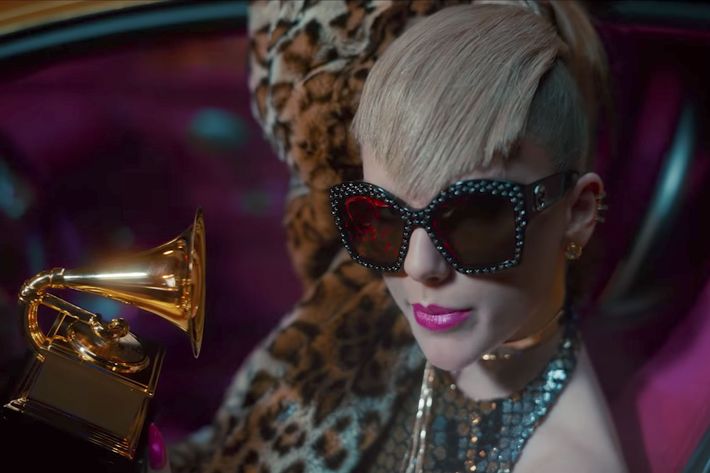 Et tu, Brute?
In whatever Shakespearean tragedy Taylor Swift has invented for herself, someone's double-crossed her and made her do all these things. And as a reminder of her enemies, she's inscribed the words "Et tu, Brute?" on the armrest of her throne, where her snake-adorned fingers lie. "Brute," of course, being Latin for Katy, Kanye, Kim, you, everyone.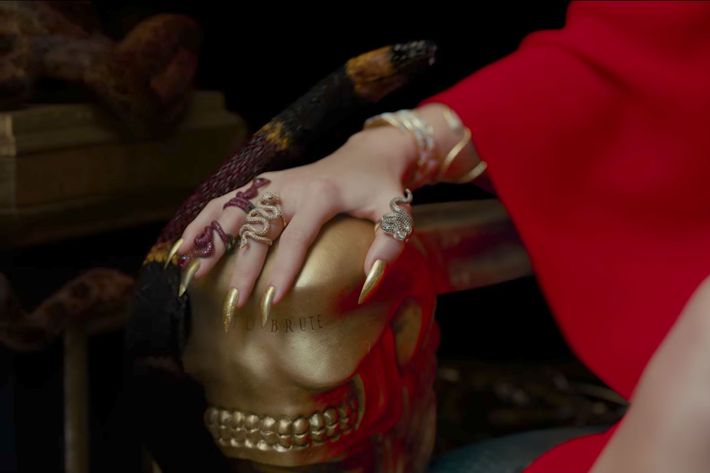 13
Thirteen is Taylor's lucky number. It's the day she was born and has therefore become a symbol that she's interjected into her all work throughout her career — even "New Taylor" can't shake it. Acknowledging the old, the "13" Taylor used to write on her hand on tour makes its most prominent appearance, but "13" also sneaks up on the necklace of her cheetah, in the airplane hangar, and on her license plate.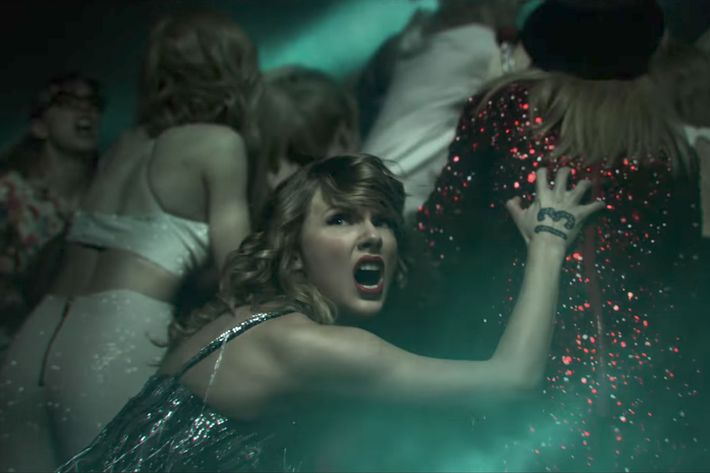 This post has been updated throughout.