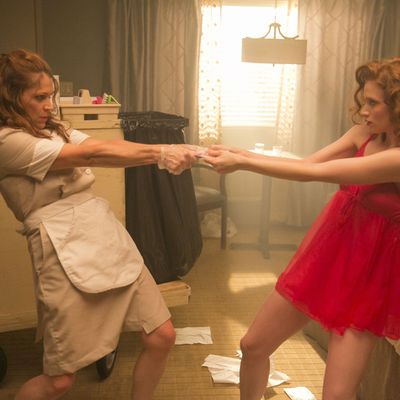 An episode of Room 104, the Duplass brothers' HBO anthology series.
Decades before season-long storytelling came into vogue with series such as American Horror Story and Fargo, TV was filled with programming even more appealing to audiences with limited attention spans: the episodic anthology. Rather than telling their tales over eight or ten episodes, as the modern-day anthology series does, golden-age classics such as The Twilight Zone and Playhouse 90 — along with less prestigious (if no less beloved) offerings such as The Love Boat and Tales From the Crypt — delivered a full-course narrative meal within as little as 30 minutes. It was one of the great TV genres, until it wasn't. But now, the TV anthology is staging a comeback. Netflix's Black Mirror, originally a U.K. import, pioneered the modern revival and is now one of TV's most critically acclaimed shows. HBO, already home to High Maintenance, last week premiered the Duplass brothers' Room 104, in which the only regular character is a hotel room. And Thursday brings TBS's The Guest Book, a comedy anthology from My Name Is Earl creator Greg Garcia focusing on the misadventures of an ever-changing cast of vacationeers. All of a sudden, short-form storytelling has found its way back onto the TV menu — and the reasons why have a lot to do with the ripple effects of Peak TV.
The rise of streaming made anthologies economically viable again. Broadcast and cable networks have largely avoided episodic anthologies the past few decades because they just didn't make much business sense. Absent recurring characters or story lines, networks realized it was harder to get audiences to form a strong connection to a series, making it less likely they'd return each week out of habit. Just like the TV movie-of-the-week — another now-extinct genre — every episode of an anthology show had to be marketed and promoted as its own miniature event, a difficult proposition once cable exploded in the 1980s and audiences suddenly had lots of viewing choices (vs. just three big networks). Even the mighty Steven Spielberg couldn't make the form work: His 1985 attempt to revive anthologies, NBC's Amazing Stories, lasted just two seasons.
But the concerns about marketing and viewer attachment that sunk anthologies in the past don't apply in the age of streaming, at least not to the same extent they once did. For a streaming-only outlet such as Netflix, which releases all episodes of a season at once, there's simply no need to worry about having to sell a "new" show every week. It can promote awareness of a Black Mirror the same way it hypes Stranger Things, pitching potential viewers on the concept of the show rather than worrying about driving tune-in over the course of several months. And while old-school linear networks remain invested in weekly telecasts — particularly ad-supported channels such as TBS — their business models have been upended by streaming and on-demand technology. Lessened pressure to deliver big weekly ratings, and the ability to monetize a show over the course of months and even years via streaming views, makes it easier for an old-school cable net such as TBS to take a chance on something like The Guest Book. (That's not to say it's not hedging its bets just a little: Like ABC's late-1970s hits The Love Boat and Fantasy Island, episodes of Garcia's series will still feature a few recurring characters, maintaining some of the trappings of a non-anthology show.)
They're more easily digestible for audiences overwhelmed by Peak TV's cornucopia of choices. As popular as bingeing entire seasons (and even series) has become, consumers have always hungered for bite-size morsels of entertainment — programming that requires little up-front investment. There's a reason Dick Wolf, father of the Law & Order franchise, is a gazillionaire: His self-contained procedurals can be enjoyed equally by viewers who've never watched a single episode or those who've been addicted since the days Wilson Phillips ruled the Billboard charts. Anthologies work in a similar way, but the format gives producers a bigger canvas on which to paint.
Rather than being limited to telling crime stories, a show such as Black Mirror or Room 104 can reinvent itself with every episode. Viewers get the same sort of payoff as with an L&O episode, while also getting to choose from a wider selection of food groups. "In the era of Peak TV where you guys have so much shit to watch … we want Room 104 to be your casual dating experience," Room 104 co-creator/executive producer Mark Duplass told reporters last week at the semi-annual TV Critics Association press tour. "You pop in, you watch one episode, have some sex with that episode, and you don't even have to come back." In other words, as brother Jay Duplass added during the same news conference, anthologies are basically "the Tinder of television." Of course, the downside to casual TV hookups is that without continuing story lines and characters, it's harder for viewers to form the same sort of emotional attachment they do with regular series. But it's not impossible: Black Mirror's "San Junipero" episode was one of 2016's most memorable TV moments, and stood out enough that Emmy voters nominated it in the TV-movie category.
They stand out. With shows premiering or returning almost every week of the year now, one of the biggest challenges facing programmers is figuring out how to get noticed in the crowded TV universe. A star-studded cast (think Big Little Lies) does that, of course, but shows loaded with big names also tend to be super expensive. Anthologies offer networks a different, often more cost-effective way to make noise. Rather than spending half their budget on a movie superstar, producers can recruit dozens of interesting names over the course of a season — both in front of and behind the camera. For The Guest Room, Garcia enlisted a small army of character actors, some with loyal cult followings (Danny Pudi, Mary Lynn Rajskub) and others too busy to have signed up for a full series run (Margo Martindale, Michaela Watkins). The Duplass brothers, meanwhile, cast a few well-known actors (Philip Baker Hall, James Van Der Beek) in Room 104, but more importantly used the series to offer a showcase for directing and writing talent from diverse backgrounds. Neither of these strategies is going to get the sort of attention that landing Julia Roberts for a TV show will, of course. But when smartly cast and produced, anthologies offer a chance to generate attention without spending a lot of money.