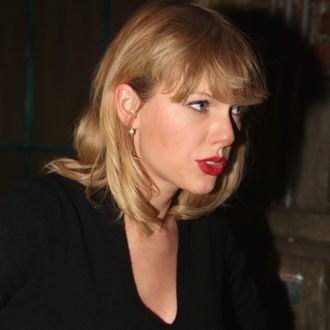 Taylor Swift.
Photo: Bruce Glikas/Getty Images
The Taylor Swift sexual-assault trial is now underway, and on the second day of proceedings, the man accused of inappropriately touching her, David Mueller, testified in his own defense. A brief recap of how we got here: During a fan meet-and-greet event at Denver's Pepsi Center in 2013, Mueller, who was a radio-show host at the time, allegedly touched Taylor Swift inappropriately by putting his hand up her skirt and onto her butt. (At the time, the singer apparently told someone in her camp, "Dude, that guy just grabbed my ass," immediately following the photo she took with him.) Swift's team then informed Mueller's employer about the supposed groping and he was fired shortly after. That led to Mueller suing Swift in 2015 for at least $3 million in damages for the loss of his job and the fallout from accusations that he is a sex offender. Swift counter-sued him for sexual assault, and now that trial is taking place in the city where the incident occurred.
Today, on the second day of the trial, Mueller acknowledged on the stand that he did make physical contact with Swift, but said his hand only touched "what seemed to be a ribcage or ribs," according to a report by People. He also said to his lawyer that it is a "humiliating thing to be accused of something that despicable." Swift has not yet taken the stand, though she is expected to, and in response to Mueller's denials, her team told People "the radio station was given evidence immediately after the incident" and decided independently to terminate his employment.