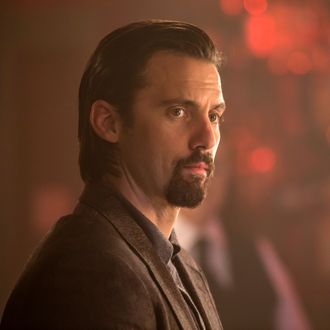 Milo Ventimiglia.
Photo: Ron Batzdorff/NBC
Yes, we know, it's embarrassing to admit that This Is Us manages to leave you a bawling, blubbering mess every damn time. But if it's any consolation, even the acting ensemble on NBC's multi-Emmy-nominated family drama confess that they, too, are grabbing the tissues time and again, getting misty-eyed over the show's mercilessly tear-jerking moments, as they revealed to Vulture at the show's For Your Consideration event Monday night in Los Angeles.
Milo Ventimiglia (Jack)
The show has made me feel things that other work that I've done haven't — as well as it's happening at a time where I feel more connected to my emotions just as a human being. You hit 40, and you start just thinking about life a little bit more, those moments that you want to capture and hang on to, and then hopefully experience again and relive, but you know you can't ever get it back. So you just have to live every moment as fully as you can, soak it in and put it in a nice little glass box in your memory, and hopefully revisit it in a quiet, reflective moment. It gets me. It definitely gets me.
Chrissy Metz (Kate)
I have to watch episodes alone, and I'm not kidding — because it's not cute when I cry, and I really get into it. It's layered because it's such beautiful work, and then they're my friends, and then there's beautiful stories, and then I'm like, "Yeah, I shouldn't be doing this kind of crying with anybody else."
So many scenes: when Jack sat outside of Rebecca's room and eventually gave her the moon necklace, the way he kissed her hand was so beautiful and tender; then of course the painting episode with Kevin, where you see the depths of this character and we thought he was just a handsome guy. It's not about what we look like. There are so many other facets to us. Then, of course, the passing of William was so hard. When we read the episode, we were bawling, so seeing it happen and those performances were, like, out of control. Enough of the torture!
Justin Hartley (Kevin)
It's gotten me teary-eyed, it brings out emotions for sure. The interesting thing is, you've read it and you're in it and you've watched it, and then you watch it again and you know what's coming, and you still kind of get welled up. It's just a really well-written show.
Chris Sullivan (Toby)
I'm a pretty easy cry, but I give it that 1946-World War II-father single tear. My favorite scene is Kevin running to get his brother Randall. That really got me. Or the push-up scene in the gym with little Randall on Jack's back.
Denis O'Hare (Jessie)
Yes, I will admit, absolutely. Here's the disclaimer: When I'm on an airplane, I kind of cry at everything. I don't know what happens to me on airplanes. I think it's the altitude. I cannot control it. That being said, I've also cried in my living room on the ground at This Is Us. So yeah, it got me. It's probably the Randall story — I find it just so moving. I have an African-American son my husband and I adopted, so I really key into that story and that kid.
Gerald McRaney (Dr. K)
Reading the script makes me cry. So yeah. Watching the show definitely does. I've given up [fighting it] — so now I just embrace it: I've invested in Kleenex.