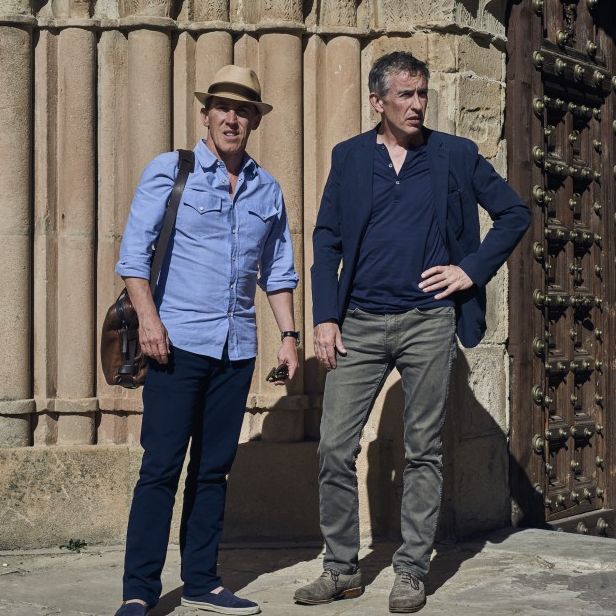 It's like The Trip, except this time they're in Spain.
Photo: Revolution Films
Spoilers for the ending of The Trip to Spain below.
The audience that arrived at the Tribeca Film Festival for the debut screening of The Trip to Spain were expecting a charming, insightful, celebrity-impression-laden filmic journey through one of Europe's great nations, and for the majority of the feature, that's just what they got. Then came the final 60 seconds. The third installment in the Trip franchise concludes with a solo spinoff wander for Steve Coogan after co-star Rob Brydon heads back home to Britain, and it doesn't go as planned.
Coogan ventures across the Mediterranean to North Africa, erstwhile land of the medieval Moors, a population whose praises Coogan sings earlier in the film. He goes on this final jaunt seeking fulfillment and, more important, adventure — he's spent much of the flick talking about the pursuit of greatness, particularly the Spain-based greatness experienced by George Orwell and Miguel de Cervantes. However, the African trip goes awry: He gets stuck on a rural road without cell service or gas and, as he gazes in horror, he sees an oncoming truck filled with balaclava-wearing men yelling Allahu akbar. We end with a freeze-frame of his face, terror dawning upon it.
During the post-picture Q&A, director Michael Winterbottom fielded a question from a viewer who found that last moment a little offensive and stereotypical. In so many words, Winterbottom politely suggested that the questioner was missing the point:
It's a tricky ending, I think. They talk quite a lot about Don Quixote and Sancho Panza, so it is like a version of that. And one of the aspects of that is Don Quixote is this idealist who sees things wrongly. He confuses everything. He sees thing in a wrong way. And there's a comic gap between how he thinks of the world and how it hits. So there's a running thing that Steve imagines he's gonna write this cultural book about Spain. He wants to have a life of action. He admires George Orwell because he went off fighting and he thinks he would fight. He admires Cervantes because he went off fighting, was kidnapped, and so on. So he talks about how he imagines himself. And Rob's thing is much more conventional about how he sees it. Steve is banging on about enlightened Islam and wanting to be a man of action and Rob's a bit more conventional; just sees them as the bad guys and the good guys. So at the end, all those liberal ideas, all this belief that he wants to be a man of action and really experience life — and suddenly he's in the desert in a Muslim country and he sees four guys arriving and suddenly, he's panicking, thinking, Shit, I'm actually gonna have an experience.
However, no one found Coogan's insanely good and insanely mocking Mick Jagger impression offensive, presumably because no members of the Jagger family were present.