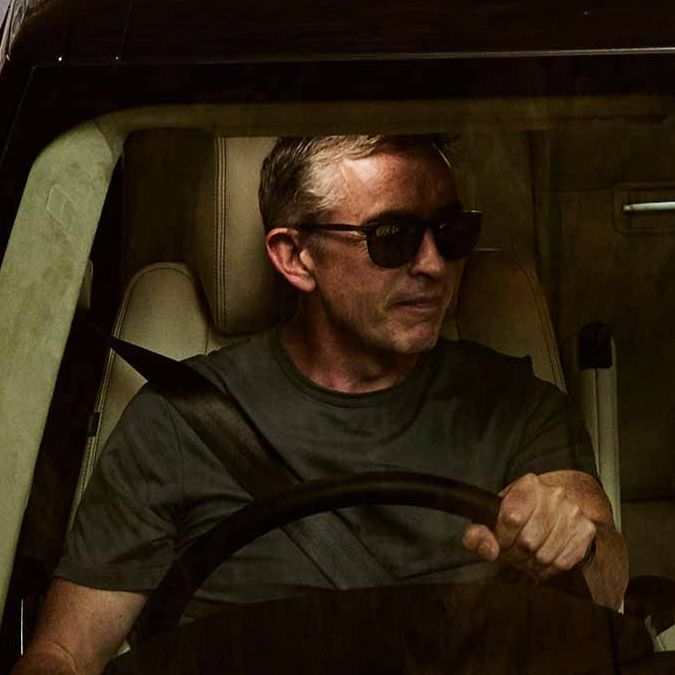 The Trip to Spain is the third and most enjoyable of the comedies featuring Steve Coogan (as "Steve Coogan") and Rob Brydon (as "Rob Brydon") as they motor from restaurant to restaurant downing fancy food and indulging in competitive bouts of celebrity impersonation while their saddish lives are laid bare.
It goes down easier than the last installment, The Trip to Italy, in which the ruins of past civilizations threw the men's fear of aging into stark relief. Coogan, Brydon, and director Michael Winterbottom have retreated a bit from the slough of despond, which is now only faintly visible beyond the plains of La Mancha and hilltops of Malaga. But visible it is. They've settled into a winning formula: Modern gastro-tourism is subtly juxtaposed against a history of economic deprivation and war. The life of Coogan — unattached and sexually free but shackled by a sense of impermanence — is broadly juxtaposed against the life of Brydon — attached but buoyed by family and a sense of continuity. Coogan struggles in vain to reach the next level of fame while Brydon, less glamorous, goes along to get along and seems ever more secure.
In the field of celebrity impersonations, the pair is more evenly — and splendidly — matched. It was their Dueling Michael Caines that launched the 2010 film The Trip (edited down from a TV mini-series) into public consciousness, and the bit remains jaw-dropping. As each man becomes progressively more nasal, phlegmy, and emphatic, Caine emerges in a more penetrating light — less flattering, but that's the peril of having predictable mannerisms with impersonators like Coogan and Brydon in attendance.
The recurring celeb in The Trip to Spain is Roger Moore, who I hope lived long enough to enjoy the meal Coogan and Brydon make of him. A great impressionist teaches us about an actor's (or anyone's) persona — how the pitch of a voice or an intake of breath can be used to signal the inner being. The Moore we meet via Coogan and Brydon is a more actorish creature than his nonchalant presence onscreen suggests, the voice more self-consciously toasty, the English diction more pompous — yet still somehow playful. And by citing him, they can also sight the Moors, a marauding presence in Spain. The pair does even better with the Welsh. When you listen to their renderings of Anthony Hopkins's Picasso, you realize the limits of the actor's voice: He's a great ham but no chameleon. The Spanish must have giggled madly. Then watch Coogan deconstruct Sir Ian McKellan, the actor's high-flown musicality "throwing the line up to the gods" and crashing down to earth with his "flat Northern vowels."
The banter feels like free association, but it's fairly pointed. Marlon Brando's Torquemada in the risible Christopher Columbus: The Discovery allows the stars to invoke the Spanish Inquisition that terrorized the world not far from where they're enjoying mussels with a carrot-juice reduction. They laud David Bowie for ending his career with Lazarus, then demonstrate the difference in pitch between Bowie young and Bowie —thrillingly but poignantly — old. Michael Caine makes another appearance, via an unexpected source. Apparently, Mick Jagger, greeting Brydon, once attempted to impersonate the actor, and so we are treated to the sad spectacle of Brydon doing Jagger doing Caine. A mention that Jagger had a child at 72 raises once again the question of our protagonists' age, along with their insistence that they're not so much old as fully ripe. "We are in our prime," says Coogan, "like Miss Jean Brodie. I should play Miss Jean Brodie — there's a lot of gender-swapping going on." Amusing, but also a bit tone-deaf: Coogan is inadvertently revealing his age.
Other signs of age: Coogan drinks no alcohol and is no longer a sexual adventurer, being in love with the woman he was dating (but not faithful to) during his first trip with Brydon. She is married now, he admits, "but like an anchovy she just wriggled into my net again." The net has a hole, though — the woman is elusive. So is Coogan's agent, who decamped without telling him, leaving the actor in the hands of a callow assistant. Although Coogan continually brings up his Oscar-nominated script for Philomena, he is dismayed by how little currency it carries. Hearing that a script of his is being rewritten by someone "up-and-coming," he cries, "I've come!" He also laments the focus on such actors as "Tim Huddleston," which I love because that's what I always used to call Tom Hiddleston and still occasionally do. As ever, Coogan is taken down multiple pegs while Brydon — who strayed in a guilty stab at a second adolescence in The Trip to Italy — finds fortune drifting his way. He is adept with the casual putdown, countering Coogan's assertion he, Coogan, could play El Cid with, "You could be a chap called 'Sid.'"
The supposed reason for these trips is for Coogan and Brydon to write about food, but there's little talk of it here, and Winterbottom makes only one or two forays into the kitchen. Spanish servers put down plates, say, "En-yoy-ee," and depart so that the pair can continue their impersonations. Coogan eagerly awaits the arrival of his 20-year-old son, but his hopes for stability seem increasingly pitched on sand.
The Trip to Spain plays like it's no big deal — a throwaway — but it's consistently funny, its bitterness nudging the sweetness into complexity, its sweetness tempering the soupçon of despair. If that also sounds like a food review, well, someone has to write one.