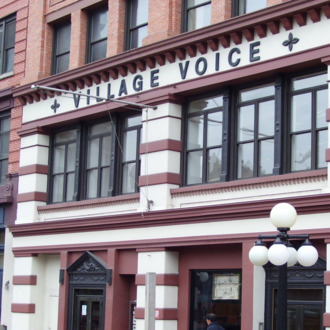 After more than 60 years, the Village Voice is shutting down its weekly print edition. Founded in 1955 and converted into a free weekly in 1996, the Voice built its name as one of the country's first alt-weeklies by covering and critiquing New York politics, culture, and more with its distinctive downtown sensibility. The progressive alt-weekly plans to continue on in digital form, according to an announcement from Peter Barbey, who purchased it in October 2015 amid financial struggles, and will also continue to sponsor events like the Obie Awards and Pride Awards. "[The Voice] has been a beacon for progress and a literal voice for thousands of people whose identities, opinions, and ideas might otherwise have been unheard. I expect it to continue to be that and much, much more," Barbey said. "The business has moved online — and so has the Voice's audience, which expects to do what we do not just once a week, but every day."
The Voice sold to Barbey, whose family owns the VF Corporation sportswear empire, in 2015 after a rocky decade under former owner Michael Lacey. In the recent years, the publication struggled through a series of layoffs and resignations, including one dramatic bloodbath in 2013 when then-editor-in-chief Will Bourne and deputy Jessica Lustig both quit in protest.
The no-longer-weekly alt-weekly has a hallowed history of defining and exemplifying New York counterculture, having been founded by Norman Mailer, Ed Fancher, Dan Wolf, and John Wilcock. It launched the careers of numerous authors and journalists, and started a trend of alt-weeklies across the country, many of which, like the Voice, had run into financial hardship with the advent of online media. Now, the Voice will try to build its presence online, as New Yorkers wonder what will happen to all those boxes dispensing Village Voice issues dotted around New York.