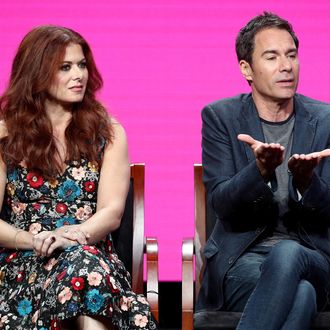 Earlier this week, the writers of the forthcoming Will & Grace revival explained how they plan to incorporate the events of the series finale into the new show. Basically they're just going to totally disregard the fact that Will and Grace became estranged and started families without being in each other's lives. Great! Another question that has loomed over the comeback is how the show's humor will evolve to reflect the changes in the LGBT community. In a new interview with the Daily Beast, co-creators David Kohan and Max Mutchnick were asked about the wokeness of the new series, to which Mutchnick responded, "We know that word. We just put it in the script yesterday." But aside from the laughs, he also explained that the fictional characters will have matured, just like the real people performing them and writing for them.
"There are jokes that we would have made 12 years ago that we won't make today. And there are things that we can say today that we couldn't back then. That's happening and we've put a lot of it down on paper already. It's come out of us very naturally and it doesn't really feel like we're pressed or pushed in the writing, because I think we're staying very true to ourselves and what the show is. The characters grew at the same rate."
They're already kicking off the series by shirking the heteronormative mandate to marry, settle down, and have children, so here's to living, growing, and co-habitating with your best friends in a cosmopolitan setting well into your adult life.