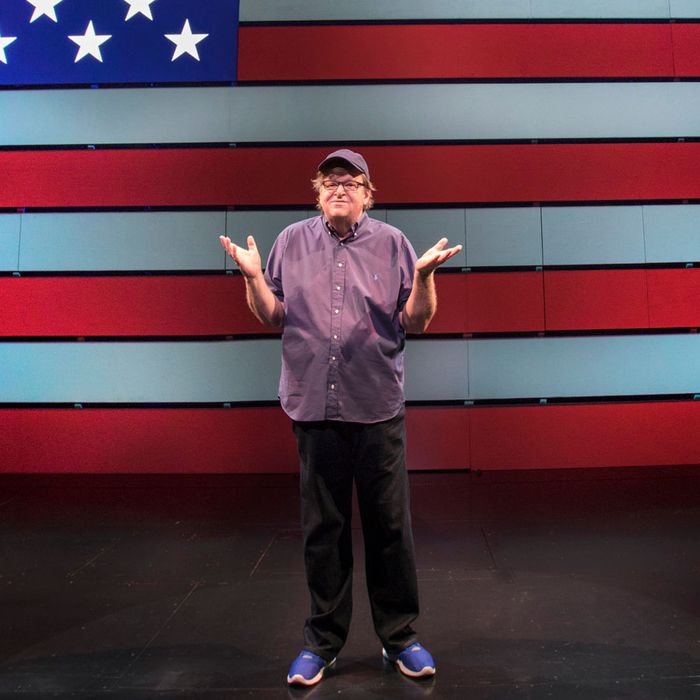 Michael Moore.
Photo: Joan Marcus
The Terms of My Surrender, the new solo show by filmmaker and self-described "high-profile shit-stirrer" Michael Moore, isn't a play. It's a pep rally.
Or, to get really American with the metaphor, it's a combo meal. A little stand-up comedy, a little reality TV, a slice of personal reminiscence, a dash of State of the Union address (with the same frequent and grating outbursts of applause), and several helpings of what feels like an NPR pledge drive — not for our money, of course, but for our action.
Like the would-be stars fresh off the bus from the sticks, suitcase and sheet music in hand, Moore has come to Broadway out of a desire to act, if in a slightly different sense of the word. What differentiates him is his desire that we, his audience, act with him. Hardly 20 minutes into his show, Moore exhorts us — pretty much pleads with us — to visit the website 5calls.org (one of the many platforms that tries to make calling your representatives as easy as the one-click option on Amazon). He explains how the site works and tells us to make the calls that it prompts part of our daily routine. He tells us we're in the middle of the French Resistance here and that "I have to pick up my kid from soccer practice" or "I have couples' counseling" is no excuse for not doing our civic duty. Would the guerrillas undermining the Vichy regime have made such excuses? He promises us that, in the words of a bygone era, Yes We Can. The overriding theme of The Terms of My Surrender is as well-worn as its earnestness: Everyone can make a difference. Indeed, despite his reputation for professional haranguing, Moore often felt to me like a big, baseball-cap-wearing Galadriel, bending down to tell us mere hobbits that, "Even the smallest person can change the course of the future."
That should be uplifting. Moore wants to uplift. The show is structured around stories from his own life in which he (or someone else but, to paraphrase The Book of Mormon, mostly he) takes a stand that has wide-rippling effects. In a recent New York Times piece on the show, David Itzkoff wrote that Moore's goal is "to tell stories that will make audiences feel better about this fractured nation," and Moore himself adds that he'd like his viewers to "feel empowered" and to leave "with a sense that they've been moved in a profound way." Good intentions all. So why does The Terms of My Surrender feel so uninspiring?
First of all, because it's almost entirely unsurprising. In an interview with Time Out, Moore promises that "for 87 minutes, you're going to experience something you're not expecting" (the show runs 110 minutes, by the way), but my feelings upon leaving the Belasco Theatre can best be summed up with a long sigh. If I had had to make a guess as to what a Michael Moore Broadway show would feel like, this would have been pretty much it. The Terms of My Surrender feels like a live version of my Facebook feed: a few good stories and a boatload of preaching to the choir (add requisite helpings of self-congratulation and liberal-on-liberal shaming for full effect). From the opening line —"How the fuck did we get here?"— to the set-'em-up, knock-'em-down jokes (re: North Korea: "A leader that's irrational, unhinged, and maniacal … and then there's Kim Jong-un!"), to the production's flashier gimmicks (a Michael Moore 2020 stump speech, a faux game show designed to ridicule American ignorance) … it all seemed too easy, like playing T-ball with the audience. A pity, since in speaking with the Times, Moore actually seems to have a more vital idea of what theater can do: "I want to go and be challenged. I want to leave [the theater] better, smarter, angrier, happier than when I came in."
There is no challenge in The Terms of My Surrender. Well, there is the external challenge to the Trump regime, but no call for those of us participating in the event at hand to reexamine the ideas we presumably walked in with. Despite Moore's protests (in the Times and in Time Out) that the show isn't a "political rally," what else are you supposed to call a room full of people chanting and cheering every time a majority opinion is reaffirmed, and hissing and cursing whenever the Enemy is mentioned? And the audience was cheering all right — and cursing. This crowd was there for Moore. "We are the majority!" he repeated, each time to whoops and applause. "We" and "us" were two of the most frequent words out of Moore's mouth, and though they seemed to fire up a good number of my neighbors, I quickly started to feel like my significant other was ordering for me at a restaurant: "We'll have the salmon." The salmon in this case being Trump's impeachment.
Here's the thing: It's not that I don't want the salmon. The salmon would be great. I'm the target demographic for salmon. And yet I bridled at Moore's immediate and unceasing assumption that all 1,000 of us in the audience at the Belasco were one unified liberal "We." How is such an assumption helping anything — except perhaps a few more calls to a few more senators, and that's a big perhaps — to occur? How is it in keeping with the statement on the show's official website that "Michael would love nothing more than to make Donald Trump's supporters a part of the conversation?" (Fascinatingly, Itzkoff describes watching Moore rehearse a segment of the show in which he invites a conservative audience member onstage for a discussion: Nothing of the kind happened during the performance I witnessed.)
Moore might have unquestionable Midwest cred. He might attribute his prediction of the 2016 election results to his understanding of and sympathy for Trump's voter base. He might genuinely believe that what he's doing up on the Belasco stage is creating a dialogue. But this is a monologue in the most literal sense: one point of view, unchallenged and uncomplicated. The Terms of My Surrender might look like a play, but make no mistake: This is not theater. Theater was born when the second actor entered the stage: There entered dialogue, argument, dissent, struggle. There are certainly great pieces of solo theater, but I would argue that even in a single body, these monologues are in fact dialogues: hashings-out of some proposition and the position, or positions, against it. No matter the number of bodies up there, theater should always be a debate, not a pronouncement. You are always speaking to someone and grappling with something. The medium is uniquely suited to destabilize us, to pose thorny questions and grapple with insoluble problems. Quick answers, unhesitating certainty, self-righteousness — not only are these defining qualities of our current commander-in-chief, they are also the blights that turn theater into a dry, lifeless version of itself, a stump speech perhaps, but not a play.
The best moments in The Terms of My Surrender come when Michael Moore pauses for a moment simply to tell us a story — two stories in particular. Seated in an armchair and illuminated by a reading lamp, Moore tells the remarkable tale of how, in 1984, he and a friend bought cheap plane tickets to Germany and managed to sneak through presidential security in order to protest Ronald Reagan, who was paying a (miscalculated and highly criticized) visit to a cemetery full of Nazi graves. Later, Moore sits in this same chair and tells us about his hometown — Flint, Michigan. It's the long version of the terrible story we've now all heard in sound-bite form, and it deserves the deeper attention. As Moore speaks of his friend Gary — whose parents survived the Holocaust and who was devastated by his president's callousness — or of the hundreds of thousands of people in Flint literally poisoned by the greed of their politicians (who have yet to face any consequences), he is visibly shaken. And something in him opens up that's more interesting than any gimmick, more compelling than any blustery confirmation of our preexisting politics. In these moments, it's as if he meets our eyes for the first time and just … talks to us. Suddenly, briefly, it's not a pep rally anymore — or a game show or a manifesto. Suddenly, it actually feels like a conversation. And that's the beginning of theater.
The Terms of My Surrender is at the Belasco Theatre through October 22.