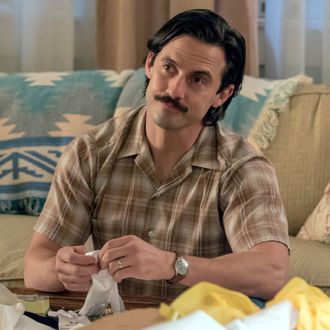 This Is Us creator and executive producer Dan Fogelman came to Thursday's panel at the Television Critics Association press tour with a secret weapon to distract from questions about Jack Pearson's death: a clip from the season-two premiere that's designed to melt hearts.
In the show's present-day timeline, Randall (Sterling K. Brown) confides to his mother Rebecca (Mandy Moore) that his wife Beth (Susan Kelechi Watson) is struggling with the idea of adopting a baby. The scene flashes back to the day of the babies' births when Jack (Milo Ventimiglia) wheels Rebecca into the hospital nursery room to introduce her to the baby he's hoping they will adopt. Grief-stricken and exhausted, she says no. But, as Rebecca tells adult Randall, Jack convinced her and she never looked back.
But despite how touching as the clip is — actor Chris Sullivan (who plays Toby) playfully asked for a moment to gather himself, while Brown dabbed his eyes — the Jack questions still came. According to Fogelman, the present-day timeline in season two will open on the Pearson children's 37th birthday, about one or two months since we last saw them. Randall and Beth are discussing adoption; Kate (Chrissy Metz) is pursuing her singing career; and Kevin (Justin Hartley) is in his first big movie opposite a father-figure character that will be played by Sylvester Stallone.
Although the premiere won't reveal all details of Jack's death, "our first episode will feed the beast enough," Fogelman said, adding that all answers about how Jack died will be delivered by the end of the season. While Jack was portrayed as a near-perfect husband and father in the first season, Fogelman said the second season will delve into his deepest struggles. His death, he said, "gives us a lot of places we can go with this family. There's a lot of healing to be done."
And on the topic of dead This Is Us characters: Ron Cephas Jones will reprise William in the form of flashbacks. "Ron is opening our season in his own way," Fogelman said. The second season will premiere on September 26.