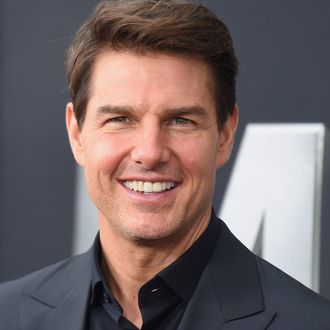 Photo: Jamie McCarthy/Getty Images
Tom Cruise is notorious for his extreme fitness regimes and insistence on performing his own movie stunts, but he may want to consider utilizing a stuntman in the future after the events of this weekend. TMZ is reporting that Cruise suffered an on-set injury while filming the upcoming Mission Impossible 6, with a video from the London set showing the actor jumping between two buildings with a wire harness and missing his landing mark. As a result of falling short, he hit a rooftop hard with his upper body and is next shown limping away and collapsing, with crew members pulling him away to safety.
Production on Mission Impossible 6 in London is expected to halt between six weeks and three months, Variety reports, in order to give Tom Cruise the necessary time to recover from the injuries he sustained on set. The film will now reportedly wrap in December instead of October, but director Christopher McQuarrie tells Empire its July 2018 release date shouldn't change. He also confirms that Cruise broke his right ankle after slamming into the building (an intentional part of the shot) at the wrong angle on his fourth attempt.
This post has been updated throughout.