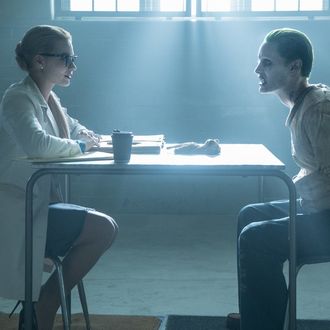 Just one day after it was announced that the director of The Hangover, Todd Phillips, will be helming a Joker-origin-story movie under the producing guidance of Martin Scorsese, Warner Bros. has gone and announced yet another project starring Gotham City's favorite mad man. This one, though, will co-star his No. 1 gal, Harley Quinn, with Jared Leto and Margot Robbie both signed on to reprise their roles from Suicide Squad, according to The Hollywood Reporter. Are you ready for another plot twist? The untitled Harley-Joker misadventure will be written and directed by Glenn Ficarra and John Requa, who direct and executive-produce the weepy TV series This Is Us. Previously, they wrote and directed I Love You Phillip Morris and Focus, and strictly directed Crazy Stupid Love and Whiskey Tango Foxtrot. Their new DC gig is being dubbed a "criminal love story," meaning fans are about to get the Gotham bad-guy rom-com they've always wanted.
Yesterday's Joker-spinoff announcement came with the added detail that Warner Bros. is ginning up "a new banner that has yet to be named in which WB can expand the canon of DC properties and create unique storylines with different actors playing the iconic characters," per the report by Deadline. But with Leto and Robbie onboard, this movie would fall in line with the studio's main stable of Justice League–adjacent DC films, like Wonder Woman and Aquaman. (For those keeping score at home, the upcoming Batman movie directed by Matt Reeves remains in the gray area, with its timeline — and its star — still up in the air.) THR says the Ficarra and Requa effort would be scheduled to go after WB wraps on the Suicide Squad sequel, which doesn't even have a director as of now, but based on input from sources, both movies are on the development fast track so the studio can maximize its stars while their holding deals are still in place.
Deadline is reporting simultaneously that this Harley-Joker movie is the one previously referred to as Gotham City Sirens. That film still has David Ayer officially lined up to direct despite rumors that he is moving on from the DCEU, but according to Deadline, that is about to change. Sirens was meant to be a property that focuses on the villainess trio of Quinn, Catwoman, and Poison Ivy, which sounds like a different movie entirely from the "criminal love story" about the Joker and Harley. But whether these films are the same property or separate ones, Margot Robbie is definitely busy if you need to get a hold of her before the year 2020.