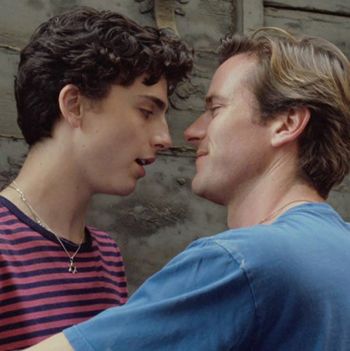 Photo: Sony Pictures Classics
How long have you been waiting for Call Me by Your Name to come out in theaters? Maybe you've been envisioning it since 2007, when André Aciman's acclaimed book was first published. Perhaps you got on board the Call Me by Your Name train this past January, when the film debuted at the Sundance Film Festival and became an immediate critical sensation. Or maybe you're reading this post today, thinking, "What is Call Me by Your Name, and why should I care?"
Fortunately, we can tide you over no matter which camp you're in. Below, Vulture has the exclusive first trailer for Call Me by Your Name.
Directed by Luca Guadagnino (A Bigger Splash, I Am Love) and set in the Italian region of Lombardy during the early 1980s, Call Me by Your Name follows young Elio (breakout Timothée Chalamet), on the cusp of college and the child of two brainy aesthetes. During the summer we meet Elio, he finds himself bewitched by Oliver (Armie Hammer), a strapping American student who has come to assist Elio's professor father (Michael Stuhlbarg) for several weeks.
At first, Elio doesn't quite know what to make of Oliver: Though Elio offers to show the older man around, he lightly mocks Oliver's casual brashness behind his back. Book-smart and steeped in culture, Elio thinks he knows just about everything already, but as he finds himself increasingly drawn to Oliver — culminating in a romance that's teased in this trailer — he soon finds out how much there is to learn about love, sex, and the life he's going to lead.
There's a lot to swoon over here, from the pitch-perfect performances to the gorgeous cinematography by Sayombhu Mukdeeprom and the two new Sufjan Stevens songs on the soundtrack — one of which, "Mystery of Love," you can hear in this trailer. Alas, you've still got a while longer until you can check out the movie in full: A near-certain Oscar contender, Guadagnino's film won't be released until November 24. It may seem like too long a wait for something so anticipated, but if it weren't bittersweet, it wouldn't be Call Me by Your Name.