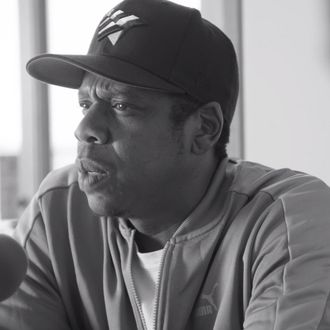 If you've got Tidal and a little over an hour, you should definitely sit down and listen to Jay-Z's new interview on Tidal's Rap Radar with hosts Elliott Wilson and Brian "B. Dot" Miller. Labeled "Part 1," it'll be interesting to see what topics are covered in "Part 2," because Hov immediately dug pretty deep into a wide variety of topics related to his album 4:44, Kanye West, Solange, Tidal, anti-Semitism, using a stack of money as a phone and, of course, mold-induced illnesses. Here are the major takeaways from Jay-Z's interview, which you can also watch in its entirety on Tidal below.
Jay-Z thought it would take you a little longer to deduce he was releasing an album …
After 4:44 appeared on the sides of buses and billboards, Jay-Z assumed he had some breathing room before people started figuring out he was teasing his new project. Never underestimate the internet, though. "I thought that would last longer. I was like, Okay, we've got two weeks when we drop this. By the night, it was on Channel 11 news," Hov laughs. "It was like everywhere. CNN was like, I think Jay-Z is dropping an album."
… which lead him to create that faux–movie trailer.
To keep people's interest up until 4:44's actual release, Jay-Z suggested making the "Adnis" trailer, which featured Mahershala Ali, Lupita Nyong'o, and Danny Glover. "We got three more weeks. We gotta think of some things," he says, explaining the move. "I was like, Okay, let's be an asshole. Let's just throw a little curve ball. Now you don't know if it's an album or a video or a film."
Mold is partially responsible for Jay-Z's vocals.
One of the album's strongest influences? The mold that had secretly crept into Hov's home. "One of the houses I had out here had some mold in the wall and we didn't know," he recalls. "We go to New York and I'm like, Man, I've been sick like, two, three weeks." If you particularly liked the vocals on "Moonlight" and "Smile," you're sort of enjoying the fruit of Jay's mold cold. "It gave it its vulnerability on its own," he says of recording an album with his voice in an imperfect state.
Two songs ended up on the cutting-room floor.
Songs by the name of "Black Gold" and "Part 2," a response to "Kill Jay Z" that incorporated a "beautiful Al Green sample."
Jay-Z has some problems with Billboard.
4:44 isn't the first Jay album to partner with a corporation for its release. This time around, it was Tidal shareholder Sprint that offered their customers free access to the record. Billboard, however, does not count free downloads (or, of course, pirated downloads) toward a record's place on their charts, a rule Jay-Z thinks is dated and inaccurate. "Some rules were way before things were introduced, before the internet was introduced," he reasons. "We don't even know an album's consumption. 4:44 was downloaded a million times illegally. We gave it away. We gave away a million." Says Jay-Z, "We're not throwing albums out to make numbers." Ultimately, Hov concludes that he will continue to release records in whatever way he sees fit. "I'm an artist. This is my music. I can do what I want with it," he says. All that being said, 4:44 still reached Billboard's number one via traditional album sales and streams, in addition to going platinum.
Jay-Z knows the Tidal launch was messy.
Jay-Z has received a lot of criticism for Tidal over the years. If your criticism is specifically about the stilted press conference with Madonna and Nicki Minaj that launched the platform, well, he actually agrees with you. "I think it's important, even if I at some point failed, that people see. Maybe the next person will see the things that I have done wrong, like that terrible press conference," Hov explains. "I would never do that again, the launch of the entire thing. Things like that, that I've done wrong, that I'll never do again. I thought it was wrong. I thought it was a bunch of big artists complaining about money, and it wasn't even about that."
He thinks those who accuse him of anti-Semitism are "hypocrites."
"It was an exaggeration, much like that racist cartoon," Jay-Z says in response to criticisms of "The Story of O.J." lyrics "You wanna know what's more important than throwin away money at a strip club? Credit./ You ever wonder why Jewish people own all the property in America? This how they did it." The American Defamation League made a statement against the lines, but Jay-Z points to the song's video, which features a black-and-white cartoon world populated by African-Americans drawn as racial stereotypes, as evidence of his intent. Says Hov, "It's hard for me to take that serious because I've exaggerated every Black image in the world. And if even you, as a Jewish community, if you don't have a problem with the exaggerations of the guy eating watermelon, and all of the things that was happening, if you don't have a problem with that, and that's the only line you pick out, then you are being a hypocrite and I can't address that in a real way." Explains Jay-Z, "Context is everything. In the context of the song, I'm trying to say, You did it right."
Jay-Z has not changed his stance on money phones.
The "Story of O.J." also features the lyrics "Y'all on the 'gram holdin' money to your ear / There's a disconnect. We don't call that money over here." The lyric didn't sit well with some people, specifically people who really, really like holding a stack of cash like it's a phone. In his song's defense, Jay-Z admits, yeah, he thinks money phones are dumb. "I just said it ain't money to us. It ain't. That's just an honest statement," he insists. "That can't be our goal, to get money and show it on the internet. That's some corny shit."
And yeah, Jay-Z and Kanye are still fighting.
Kanye famously criticized Jay-Z and Beyoncé in a concert rant last fall, lamenting the fact that their children don't play together. West eventually left Tidal over a $3 million financial disagreement. Sadly, it sounds like Hov and Yeezy are still estranged. "What really hurt me was, you can't bring my wife and my kids into it," Jay-Z says of Kanye's diatribe. "Like, Kanye is my little brother. He's talked about me a hundred times. He even made a song called 'Big Brother.' We've gotten past bigger issues. But you brought my family into it, now it's a problem." Says Hov, "You know it's a problem because me and him would have been talked about it, been resolved our issues. And he knows he crossed the line. He knows. And I know he knows. 'Cause we've never let this much space go between one of our disagreements and we've had many. That's part of who we are."
Jay-Z admits his feelings are still hurt by the incident, as you might have guessed if you've heard "Kill Jay Z" ("But you ain't the same, this ain't KumbaYe / But you got hurt because you did cool by 'Ye"). But the song, Jay-Z says, was a criticism of himself as much as it was a critique of his friend. "It's not about a Kanye diss," he maintains. "I'm talking about me. When I say, 'You dropped out of school / You lost your principals,' I'm not talking about Kanye. I'm talking about me. The whole thing." Jay-Z also says, in hindsight, maybe referring to the specific amount of money he loaned Kanye wasn't the best move: "The $20 million thing shouldn't have been said. Sometimes, you go too far."
Jay-Z has only had one fight with Solange. We all just happened to see it.
When asked about the infamous elevator fight with his wife's sister, JAY-Z says, "We've had one disagreement ever. Before and after, we've been cool."