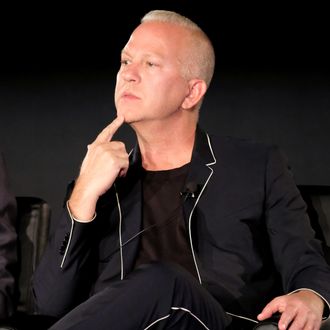 Ryan Murphy.
Photo: Frederick M. Brown/Getty Images
After the runaway success of FX's The People v. O.J. Simpson: American Crime Story, Ryan Murphy and the anthology show's producers decided to try something new with their second installment, The Assassination of Gianni Versace, which deals with the murder of the famed fashion designer on the front steps of his Miami mansion.
"Everything is different than how we did O.J.," Murphy told journalists on Wednesday during the Television Critics Association panel to tease Versace, which will air in 2018. "That was an interior show; we spent so much time in that country. Here, we go across the country. It's a manhunt season […] It has a great breadth and a great scope and is really looking at the social issues of that time, which even a few years after O.J. were very different." How exactly will The Assassination of Gianni Versace be different? Here are seven big takeaways from Murphy and the cast.
1. The story will be told in reverse, starting with the murder.
"We're telling the story backward," Murphy explained. "The first episode deals with the murder and we tell the story in reverse."
2. Similarly to how O.J. dealt with race, Versace will explore America's relationship with LGBTQ issues.
Murphy said the show will have parallels to "the current president we have and the world we live in" and that an entire episode will concentrate on the Clinton-era "don't ask, don't tell" military policy. It will also look at Versace's life and how his coming out as a public figure led to his death. "More than why he was killed, it was why it was allowed to happen," Murphy said. "The thing about American Crime Story is that we're not doing a crime. We're try to talk about crime within a social idea." He added that serial killer Andrew Cunanan (who is played by Darren Criss) was able to reach Versace (who is played by Édgar Ramírez) because "of homophobia at the time, homophobia particularly within the various police organizations that refused, in Miami, to put up wanted posters."
3. The show will address Versace's alleged HIV.
The mini-series is based on Maureen Orth's book, Vulgar Favors: Andrew Cunanan, Gianni Versace, and the Largest Failed Manhunt in U.S. History, and other research that supports the idea that Versace did have HIV. This is contrary to some suggestions from family members that he did not. "I think the Versaces will like some of what we do […] I think it's moving and powerful and I don't think there should be any shame associated with HIV," Murphy said.
4. They'll avoid certain details about the Versace family.
Murphy said that Donatella Versace didn't want them to show her children, and so they respected that. Penélope Cruz, who plays Donatella in the series, is also friends with the fashion designer.
5. Gianni Versace's partner Antonio D'Amico had denounced the series, but things are cool now.
Ricky Martin, who plays D'Amico, spoke to him and promised he'd do justice to this story. Murphy added that Sarah Paulson didn't talk to Marcia Clark about O.J. until they were well into filming — and that she was also originally against that project. "It's hard to judge anything based on a paparazzi photograph," Murphy said.
6. The show will look at Andrew Cunanan's other victims, as well as his own history with homophobia.
"O.J. takes place after the murders," said executive producer Brad Simpson, whereas with Versace, they wanted to "celebrate the lives that Andrew Cunanan snuffed out." Cunanan's life also comes into play, specifically how his parents' homophobia turned him into a monster who killed at least four other people.
7. Like Murphy's other period projects, Versace was heavily researched.
"When you're doing historical pieces, you have an obligation to get it right," Murphy said. "We did a tremendous amount of research down to the backpack that Cunanan had and what his shoelaces looked like." Part of the show was shot inside Versace's actual house in Miami, which is now a hotel, and they filmed the murder scene on the exact steps where he was killed.