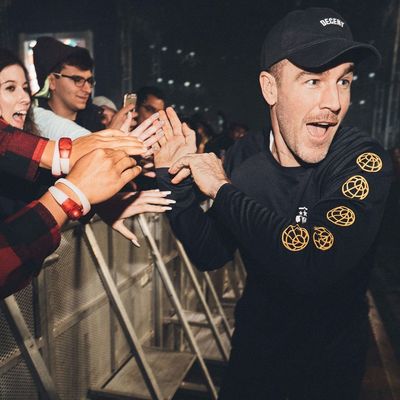 James Van Der Beek in
What Would Diplo Do?
Photo: Shane McCauley / Viceland
The new Viceland series What Would Diplo Do? isn't about the actual Diplo. It's about the idea of Diplo, one based on the public persona the EDM DJ and producer has created for himself, which may or may not reflect his actual personality.
On social media, Diplo has a reputation for tossing bombs and then watching as his feed burns. A few years ago, the former Katy Perry flame tweeted his plans to start a Kickstarter to "get Taylor Swift a booty," a suggestion that didn't sit well with Swift Nation. Last year, he dissed fellow DJ and producer Zedd because of the music Zedd created for an M&M commercial. "Don't be such a pompous cornball loser also I fucked your girl," he tweeted. Basically, Diplo can be kind of a jerk. Or he pretends to be a jerk just to get attention. Or he's a flawed guy who, as he — or rather, the fictionalized version of him — says in the pilot of What Would Diplo Do?, "Can't not be me." Maybe it's all of the above.
Since the Diplo in What Would Diplo Do? — the first Viceland scripted series and (probably) the first meta EDM comedy in TV history — is a character played by James Van Der Beek, it doesn't offer much clarity about who the real Diplo is. But the show's take on its protagonist certainly suggest he falls into the "all of the above" category. The first two episodes of this half-hour series certainly don't shy away from the less savory aspects of his behavior: That entire Twitter feud with Zedd, for example, is rehashed almost verbatim in the first episode, though this time, Diplo lobs snarky tweets at fellow artist Calvin Harris, who's also played by an actor (Tom Stourton), not the actual Calvin Harris. At the same time, Van Der Beek's Diplo also exhibits flashes of self-doubt and generosity that puncture some holes in his narcissism, posturing, and propensity to stir the pot.
Van Der Beek, who's also the showrunner and a writer for What Would Diplo Do?, essentially plays the DJ as a sometimes maddening but mostly harmless bro-idiot. He slides into the role with such self-involved, casual-yet-orchestrated swagger that you forget you're watching the guy once synonymous with Dawson's Creek. Van Der Beek has gone meta before, having played an exaggerated version of himself on Don't Trust the B— in Apartment 23, and he inherently understands how to mock a celebrity and play him with utter sincerity at the same time. He also has a way of spiking certain lines with exactly the right touch of dum-dum arrogance.
During a restroom conversation with Jamar (comedian Jamar Malachi Neighbors), Diplo's invisible African-American friend who occasionally appears to remind the DJ that he's making lame choices, Jamar points out that Diplo has no right to criticize Calvin Harris considering that he once released a song called "Bubble Butt." (The Diplo-founded electronic trio Major Lazer really did release that track, and it really is terrible.) Diplo simply looks at Jamar for a second, then smiles. "Yo," he says with 100 percent confidence. "That song was flames."
Van Der Beek's performance is definitely the draw in What Would Diplo Do?, which, at least in the first two episodes, is driven by sitcom-ish shenanigans, including a mix-up involving a critically ill kid and a baseball game in the Dominican Republic that Diplo joins because, according to one of his reps, it will help his image with men over 21 who "think he's a pussy." The supporting characters, including Karen (Dora Madison of Friday Night Lights), an assistant who's constantly rushing around to satisfy Diplo's unreasonable preperformance requests, and Diplo's best friend Randy (Dillon Francis), who's basically the Drama/Turtle to Diplo's Vinnie Chase, aren't fleshed out enough to fully register. Initially, at least, they're more like executors of subplot than actual people. In Diplo's world, everyone is overshadowed by Diplo, which makes sense, really.
As for the actual Diplo, don't worry, he's totally in on these gags at his expense. He's one of the executive producers of the series, which means that even if he sometimes comes off like Bozo the EDM Clown, he's still making bucks off of this project and, it should be noted, getting tons of free publicity. (Major Lazer posters and a T-shirt that says Mad Decent, the name of Diplo's record label, are among the Diplo-related pieces of merch featured on the show.)
"I bet Jesus had more haters than Buddha," Van Der Beek's Diplo thinks to himself during a meditative moment in the first episode. "That means more followers." I have no idea whether the actual Diplo ever had the same thought, but based on the DJ's willingness to be the butt of many jokes in a five-episode Viceland series, it would not surprise me at all.