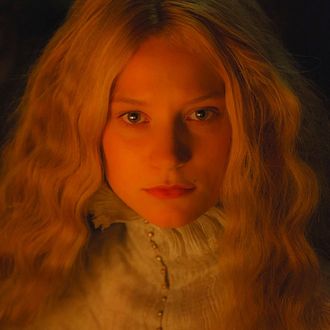 Photo: Universal Pictures
Each month, several films and TV shows leave HBO's catalogue. We provide a list of departing titles and recommend a few standouts so you can watch them before they're gone forever (or are just available on a different site). For more comprehensive coverage of the best titles available on HBO and elsewhere, check out Vulture's What to Stream Now hub, which is updated throughout the month.
If you like spooky costume dramas: Crimson Peak
A great horror movie is about so much more than scaring you. To that end, Crimson Peak is a love story — or rather, a cautionary tale about wanting a love story. Guillermo del Toro's lush, unsettling Gothic romance is a spooky fable with wonderfully rendered ghosts and haunting performances by Jessica Chastain and Tom Hiddleston, who play a pair of siblings who have inherited a decrepit yet formerly grand estate, and Mia Wasikowska as the heiress lured into joining them once Hiddleston's Sir Thomas Sharpe proposes to her. Lovely, lavish, and just a touch scary, Crimson Peak is another argument for del Toro as one of the best makers of modern fairy tales working in cinema. Leaving September 30.
Because it's just so damn fun: Central Intelligence
Maybe you aren't a Kevin Hart fan. That's fine. Dwayne "The Rock" Johnson, however, is an untapped wellspring of comedy, playing completely against type as a former geek turned CIA superhero suddenly on the run, and Hart is the poor schmuck who gets wrapped up in his mission because he was nice to him in high school. Central Intelligence features Johnson giving what might be the most fun performance of his career, and Hart has ample opportunity to demonstrate his knack for finely tuned exasperation. Throw in a surprising amount of fun action and an amazing cameo we won't reveal here, and Central Intelligence is the crazy romp you didn't know you needed. Leaving September 30.
If you love gentle, sweet comedies: Be Kind Rewind
It's been almost ten years since Be Kind Rewind premiered, but few comedies have come close to the warm, fuzzy vibes that Michel Gondry's modest film evoked about a couple of dorks trying to save a VHS rental store. Best known as the movie that taught us how to make sweded movies, it's still amazing to think about the legs of Be Kind Rewind's central gimmick, where Mos Def and Jack Black make their own no-budget fan films for their video-store library after Jack Black's character accidentally erases the real ones. (To this day, I still think about their version of Rush Hour 2.) Be Kind Rewind is a big warm blanket of a film, and one totally worth revisiting after an especially hard day. Leaving September 30.
Noteworthy selections in bold.
Leaving September 30
42
American Psycho
American Psycho II: All American Girl
The Assassination of Jesse James by the Coward Robert Ford
Batman & Robin
Be Kind Rewind
The Big Lebowski
The Blues Brothers
Blues Brothers 2000
Casper
Central Intelligence
Cocoon
Cocoon: The Return
Crimson Peak
End of Days
Grumpy Old Men
Hollywood Ending
The Huntsman: Winter's War
Lady in the Water
The Legend of Tarzan
M*A*S*H
Mamma Mia!
My Big Fat Greek Wedding
Resident Evil
The Simpson's Movie
Slumdog Millionaire
Straight Outta Compton
Urban Cowboy