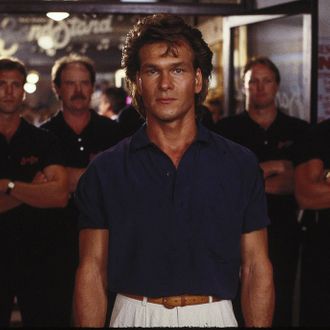 Photo: MGM/UA Communications Co.
Each month, several films and TV shows leave Hulu's catalogue. We provide a list of departing titles and recommend a few standouts so you can watch them before they're gone forever (or are just available on a different site). For more comprehensive coverage of the best titles available on Hulu and elsewhere, check out Vulture's What to Stream Now hub, which is updated throughout the month.
Because it's always time for some Swayze: Road House
The movie that billed Patrick Swayze as "the best friend a good time ever had," Road House is a classic that needs no introduction. But I'll give you one anyway: As a bouncer in the titular Missouri roadhouse, Swayze finds himself in a feud with a local crook and a team of goons he'll spend the next two hours completely wrecking when he's not impressing ladies. It's the sort of film that you'll want to stream at a moment's notice, so it's a real drag that it's leaving Hulu at the end of the month — but hey, here's your chance to watch. Leaving September 30.
If you're hankering for a good video game movie: Silent Hill
Silent Hill manages to ditch gaming's trend of awful film adaptations by cheating a bit: It's just a solid horror movie. Of course, it's a horror movie that leans on the aesthetic of one of the most enthralling and deeply psychological horror-game franchises in existence, so it's not like it's ignoring its source material. While the film leans less on the more internal psychological terror of the games, its hellish vision is a spooky and distinct portrayal of one of the most memorable horror settings in recent memory. The franchise deserved more than it got, but what it got isn't bad either. Leaving September 30.
Because you won't believe this movie actually exists: Top Dog
You won't miss most of the movies leaving Hulu this month, which is a best-case scenario for lists like this. But it's also an opportunity to check out some hilariously bad stuff you might not otherwise notice. Like Top Dog, a 1995 movie in which Chuck Norris is a maverick cop partnered with a police dog named Reno who lost his handler when white nationalists bombed an apartment complex. The majority of this action comedy, which flopped at the box office because it came out a week after the Oklahoma City bombing, concerns a neo-Nazi terror plot that Norris foils with the help of his four-legged carpet. I'm not saying you should watch every minute of Top Dog — it would almost certainly be in poor taste if it were made today — but at least take a moment to marvel about the strange tone-deafness of it all. Leaving September 30.
Noteworthy selections in bold.
Leaving September 30
Almost Famous 
Bolero
Boomerang 
Click 
Dragon Eyes 
El Gringo 
Fly Me to the Moon 
Free Money 
Godsend 
House of Dead 
House of Dead 2 
Ingenious 
Kingpin 
The Lucky Ones 
Manhattan 
Payback 
The Peacemaker 
The Philly Kid 
Pootie Tang 
Reasonable Doubt
Regarding Henry 
Rescue Dawn 
Riding in Cars With Boys 
Road House 
Santee 
School Daze 
Silent Hill 
Stash House 
Strategic Air Command 
Suicide Kings 
Top Dog 
Transit 
The Water Horse