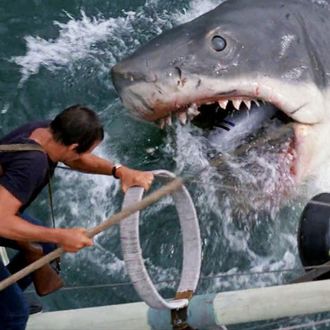 Photo: Universal Pictures
Each month, several films and TV shows leave Showtime's catalogue. We provide a list of departing titles and recommend a few standouts so you can watch them before they're gone forever (or are just available on a different site). For more comprehensive coverage of the best titles available on Showtime and elsewhere, check out Vulture's What to Stream Now hub, which is updated throughout the month.
If you're mourning the end of summer: Jaws
As peak beach season comes to a close, so exits the film that exists as the pinnacle of beach terror. Jaws helped invent the summer movie season as we know it, which makes it exceedingly appropriate to close out the summer with a rewatch. Try and get any kids in your life to watch it too. They might not have even heard of Jaws! Do your part to make the 2018 beach season a terrifying one for a whole new generation. Leaving September 28.
Before you see the musical: A Bronx Tale
Robert De Niro's directorial debut couldn't possibly be more Robert De Niro: a story about growing up in '60s New York and being tempted by the allure of the mob. Based on a semi-autobiographical one-man show of the same name by writer-star Chazz Palminteri, A Bronx Tale seems too self-serious to be the sort of fodder for musical theater, but here we are! The story has found its way back to the stage in a musical with music by Alan Freaking Menken, and you don't get more Broadway than that. If you watch the film, you'll see a quieter mob tale about a kid who has to choose between the working-class values his father instills in him and the confident and seductive sway of a local crook who takes an interest in him. Leaving September 16.
If you miss Guy Ritchie's fun crime capers: Lock, Stock, and Two Smoking Barrels
Guy Ritchie has mostly pivoted to big, flashy blockbusters to mixed results (The Man from U.N.C.L.E. — good. King Arthur — not so much.) It's enough to make you yearn for the days of yore, when Ritchie just made films about hapless British crooks, the poor saps who crossed their paths, and the fools they double-crossed. It's an especially nice time to revisit Lock, Stock, and Two Smoking Barrels, the movie that gave us both Jason Statham and Vinnie Jones, as it nears its 20th anniversary. Leaving September 11.
More departures, with recommended movies in bold:
Ending September 2
The Eye
Ending September 5
Crash
Ending September 9
Witless Protection
Ending September 11
Army of Darkness
Lock, Stock, and Two Smoking Barrels
Ending September 14
Premonition
Ending September 16
A Bronx Tale
Ending September 17
Child's Play 2
Child's Play 3
Ending September 18
Paranoia
Ending September 23
Half Baked
Ending September 24
A Civil Action
Eastern Promises
The Insider
Mystery, Alaska
Ending September 25
The Jam: About the Young Idea
Ending September 28
Jaws
Ending September 30
America's Sweethearts
Company Man
Election
The Final Cut
Free Money
The Ghost Writer
Grosse Pointe Blank
The Others
Raze
The Roost
Trading Places
Tyler Perry's Meet the Browns
The Whistleblower
Why Horror?
Willard
The Wraith
The Yards