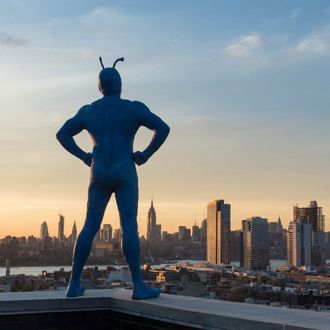 At the beginning of (and during) every month, Amazon Prime adds new movies and TV shows to its library. Below, you'll find our recommendations for August 2017. For more comprehensive coverage of the best titles available on Amazon Prime and elsewhere, check out Vulture's What to Stream Now hub, which is updated throughout the month.
If you wish superheroes were more ridiculous: The Tick
The Tick has a surprisingly interesting history: Originally a comic-shop mascot created by Ben Edlund, the Tick became the star of a satirical superhero comic of his own, which was then adapted into a 1994 cult hit animated series, and a subsequent short-lived, live-action series starring Patrick Warburton and Christopher Lloyd in 2001. Both series were lauded by small but devoted followings for their absurdist satire of superhero stories, a torch that Amazon's 2017 reboot hopes to carry. In the modern era of superhero blockbusters, it might land better than its predecessors ever did. Available August 25.
If you love weird comedy: Comrade Detective
Comrade Detective is, essentially, an elaborate joke told over the course of a television series: It features an all-star roster of actors including Joseph Gordon-Levitt, Nick Offerman, Jenny Slate, and Mahershala Ali, dubbing over a season of faux-Romanian television. It's a lot, but with talent like that, it's hard to ignore — and at a mere six episodes, Comrade Detective is just short enough to keep it from wearing out its welcome. It's definitely the most absurd comedy project you can stream this month. Available August 4.
Because sometimes you just need a good costume drama: Victoria
It's been a while since we've had a good ol' costume drama, since Netflix's The Crown is still a ways out from season two and Downton Abbey's days are over. Into this void comes Victoria, an eight-episode ITV series starring former Doctor Who companion Jenna Coleman as the young queen. Victoria's first season covers the early years of Queen Victoria's reign in sweeping Masterpiece Theatre fashion, full of politicking and romance and saucy-as-hell shots of hands clutching bedsheets. Available August 1.
Available August 1
All Dogs Go to Heaven
Among Friends
Bad Boys (1983)
Bad Company (1972)
Benny & Joon
Bill & Ted's Bogus Journey
Bill & Ted's Excellent Adventure
Box of Moonlight
Breakdown (1997)
Charley One-Eye
Criminal Law
The Dead Zone
Eve's Bayou
Far From Home (1989)
Friends and Lovers
The General's Daughter
Ghost
Hannie Caulder
Harsh Times
High Noon
The Mod Squad
New in Town (2009)
Ulee's Gold
Once Bitten
The Pursuit of D. B. Cooper
Save the Last Dance
Saw
Saw II
Saw III
Saw IV
Saw V
Teen Wolf
Teen Wolf Too
Terry Fator: Live in Concert
Wayne's World 2
Available August 2
Valkyrie
Available August 4
Superbad
Comrade Detective (Amazon Original) Season 1
Lost in Oz (Amazon Original) Season 1
Available August 5
The Ticket
Available August 15
Tumble Leaf (Amazon Original) Season 3
Available August 17
Undercover Season 1
Nick Offerman & Megan Mullally: Summer of 69
Available August 19
My Bloody Valentine
Available August 20
In Secret
Available August 25
The Tick (Amazon Original) Season 1
Available August 27
Florence Foster Jenkins
Available August 29
Gimme Shelter (2013)
Victoria Season 1