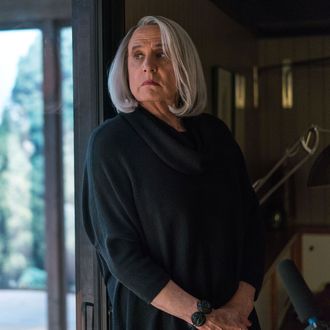 Photo: Jennifer Clasen/Amazon Video
At the beginning of (and during) each month, Amazon adds new movies and TV shows to its library. Below, you'll find our September 2017 recommendations along with a full list of new titles. For more comprehensive coverage of the best movies and TV shows available on Amazon and elsewhere, check out Vulture's What to Stream Now hub, which is updated throughout the month.
Because it's Amazon's best TV show: Transparent season four
When Amazon's acclaimed dramedy returns this month, it'll take the Pfefferman clan in a fascinating direction: to Israel. That's the premise of at least part of this new season of Transparent, a family journey that's described as both spiritual and political following a shocking discovery made by Maura Pfefferman. Transparent has built a reputation for doing strong work exploring themes of identity the further it reaches — most notably when it explored the Pfefferman family history in Berlin during season two — and while this seems like a reach in a very different direction, Transparent excels at creating stories that feel poignant, moving, and (as the trailer's final joke suggests) more than a little relevant. Available September 22.
For fans of sweet, heartfelt comedy: One Mississippi season two
Loosely based on the life of comedian Tig Notaro, One Mississippi season two continues the story of L.A. radio host Tig Bavaro, now residing in her childhood home of Bay St. Lucille, Mississippi, following a double mastectomy and the death of her mother. While the first season followed Tig coming to terms with her family history and deciding whether or not she'd stay in Bay St. Lucille, season two sees her settling back into Mississippi life, and all it entails: Evangelicals who want to pray her gay away, people who don't believe in dinosaurs, and what it's like to fall in love with a tragically straight friend. Available September 8.
Because Ryan Gosling is great at playing a socially awkward loner: Lars and the Real Girl
It's kind of amazing how charming Ryan Gosling is in Lars and the Real Girl — hell, it's amazing how charming the whole movie is. The story of an awkward recluse who strikes up a chaste relationship with a sex doll and the Wisconsin town that comes to accept him, this is a life-affirming comedy that's sweet but not saccharine. It's perfect for a lazy night in: Give it a watch and marvel at how much empathy Gosling brings to what could have been a disastrous role. Available September 1.
Available September 1
American Loser
American Ruling Class
And You Thought Your Parents Were Weird
Autopsy
Best Seller
Bio-Dome
Blood Car
Boy
Breathing
Butterfly Effect 3: Revelations
Calloused Hands
Carrie
Charlotte Rampling: The Look
Clip
Computer Chess
Dark Ride
Dead Weight
Dirty Dancing
Disturbing Behavior
Double Headed Eagle
Double Take
Down to Earth
Duane Michaels: The Man Who Invented Himself
Dying Breed
Free Radicals
Ganja & Hess
Gogol Bordello: Non Stop
Hippie Masala
Holes in My Shoes
Huff
In the Land of the Deaf
Indecent Proposal
Kama Sutra: A Tale of Love
Khodorkovsky
Kingdom of Shadows
Korkoro
La Maison de la Radio
Lars and the Real Girl
Lipstick & Dynamite: The First Ladies of Wrestling
Look Both Ways
Man About Town
Manuscripts Don't Burn
Meditate and Destroy
Mistress
Mr. X
Music From the Big House
Nollywood Babylon
Offspring
Primitive London
Princess Kaiulani
Pumpkinhead
Red Garters
River's Edge
Sacred Flesh
Sacrifice
Schoolgirl Hitchhikers
Sleepover
Successive Slidings of Pleasure
Switchback
The Black Stallion
The Bloodsucker Leads the Dance
The Cove
The Cup
The Dark Half
The Fairy
The Giants
The Golden Child
The Hills Have Eyes 2
The Last Godfather
The New Public
The Object of Beauty
The Rage: Carrie 2
The Revisionaries
The Search for One Eyed Jimmy
The Sinful Nuns of Saint Valentine
The Workshop
This Ain't No Mouse Music
Truth in Numbers? Everything According to Wikipedia
Vanishing Waves
Videocracy
Virgin Among the Living Dead
Virgin Witch
Web Junkie
Wedding Crashers
When I Saw You
Wide Awake
With One Voice
Ben-Hur
Unsolved Mysteries: Original Robert Stack Episodes (Season 8)
Available September 2
The Hunter's Prayer
Available September 7
Tubelight
The Magnificent Seven
Available September 8
One Mississippi (Season 2)
Available September 9
Meri Pyaari Bindu
Available September 12
The Ray Bradbury Theater (Season 6)
ReGenesis (Seasons 2–4)
Available September 15
Beauty and the Baker (Season 1)
Available September 22
Transparent (Season 4)
Available September 25
Bronte Sisters (Season 1)
Available September 26
Wishenpoof! (Season 2a)
Unsolved Mysteries: Original Robert Stack Episodes (Season 9)
Available September 28
Thursday Night Football