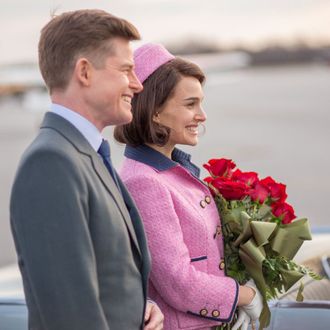 Photo: Fox Searchlight Pictures
At the beginning of (and during) every month, HBO adds new movies and TV shows to its library. Below, you'll find our recommendations for August 2017. For more comprehensive coverage of the best titles available on HBO and elsewhere, check out Vulture's What to Stream Now hub, which is updated throughout the month.
Because it's too good to overlook: Jackie
A stunningly beautiful film that takes a stark and personal view of one of America's national traumas, Jackie features a show-stopping performance from Natalie Portman as First Lady Jacqueline Kennedy in the immediate fallout of her husband's assassination. Utterly arresting from start to finish, it's terrific news that the film is finally making its way to a streaming service. It's worth diving right into the moment it's available. Available August 26.
If you're looking for a modern horror classic: The Ring
Many of the accoutrements of The Ring's horror are now obsolete: VHS tapes, landline telephones — even urban legends don't take quite the same shape anymore, thanks to the internet putting the answer to almost any question in our pockets. That doesn't make The Ring any less terrifying, but it does weirdly freeze it in time: a seminal film that bridged a cultural gap and introduced American audiences to the terrors of J-horror once they learned it was an adaptation of Hideo Nakata's Ringu. That filmmaking trend would continue through the aughts, most notably with The Grudge. Available August 1.
Because it's been too long since Spike Jonze's last movie: Adaptation
It's been about four years since Her, the last film by Spike Jonze, and as the acclaimed director keeps himself busy with TV projects on Viceland, who knows when we'll see the next one? Good thing his films keep drifting on and off streaming services like HBO Go and HBO Now. This month, you'll be able to stream Adaptation, one of Jonze's signature collaborations with madcap screenwriter Charlie Kaufman, and a film with a tremendously fun dual performance from Nicolas Cage. A masterwork of metafiction, it's not great for a breezy summer evening, but if you're looking for a good head trip, give it a watch or a rewatch. Lord knows there's enough going on here to warrant several viewings. Available August 1.
Noteworthy selections in bold.
Available August 1
Adaptation
Changing Lanes
Corrina, Corrina
Down With Love
Emelie
Enough
Frost/Nixon
Garfield
Girl With a Pearl Earring
Happy Tears
Love Liza
Martian Child
Max Payne (Extended Version)
RocknRolla
Sunshine State
Tango & Cash
The Incredible Hulk
The Ring
The Rocker
The Strangers
Thirteen Conversations About One Thing
Tin Cup
Vigilante Diaries
Available August 5
Collateral Beauty
Available August 12
Fantastic Beasts and Where to Find Them
Available August 14
Rules Don't Apply
Available August 18
Nocturnal Animals
Available August 26
Jackie