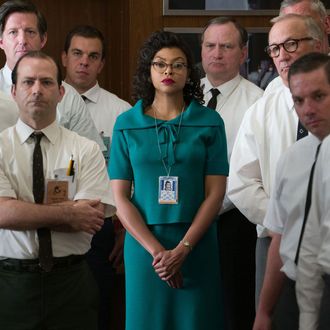 At the beginning of (and during) each month, HBO adds new movies and TV shows to its library. Below, you'll find our September 2017 recommendations along with a full list of new titles. For more comprehensive coverage of the best movies and TV shows available on HBO and elsewhere, check out Vulture's What to Stream Now hub, which is updated throughout the month.
If you missed it in movie theaters: Hidden Figures
Hopefully, you got a chance to see Hidden Figures during its wildly successful box-office run, but in case you didn't, now's the time to fix that. A straightforward yet tremendously satisfying biopic that gives us a wonderful performance from Taraji P. Henson and wonderful moments from Octavia Spencer and the terrifyingly talented polymath Janelle Monáe, Hidden Figures is infinitely watchable. The story of the virtually unknown and underappreciated black women who helped put American astronauts in space is a testament to the underrepresented people who get written out of history, Hidden Figures is one of the most accessible, crowd-pleasing historical films in recent memory. Available September 9.
If you're looking for a new prestige drama: The Deuce
Television doesn't get much buzzier than The Deuce. The latest show from The Wire's David Simon and George Pelecanos, The Deuce examines 1970s New York City at the birth of the sex industry. With James Franco playing twin brothers and Maggie Gyllenhaal as a call girl turned adult-film star, The Deuce has style and star power, so all that remains to be seen is if it brings substance. Anyone can make a drama about porn, but using a provocative subject as a lens by which we can examine other things — well, that's the sort of stuff we like to watch David Simon shows for. Premieres September 10.
Because it's rarely available: Hellboy 2: The Golden Army
It is irrationally hard to find a streaming service that carries Hellboy 2. I know this from experience: Hellboy has been streaming on HBO since the dawn of time, but its sequel — more imaginative, less restrained, and more entertaining in every way — might as well be a myth on streaming services. So I am delighted to tell you that Hellboy 2: The Golden Army is coming to HBO this September, and I urge you to watch it right away. Enjoy it, and then weep over the fact that Guillermo del Toro will not get to make a third. Available September 1.
Available September 1
Traders
Alvin and The Chipmunks: The Squeakquel
The Amityville Horror
Austin Powers the Spy Who Shagged Me
Body of Lies
The Crew
Dumb and Dumber
The Express
Fantastic Voyage
Fried Green Tomatoes (Director's Cut)
Halloween: Resurrection
Head of State
Hellboy II: The Golden Army
How High
The Hitchhiker's Guide to the Galaxy (2005)
Keeping the Faith
Maximum Overdrive
My Sister's Keeper
Scarface
Scent of a Woman
Sea of Love
Sex and the City: The Movie
Stick It
Tron
Available September 2
A Monster Calls
Available September 9
Hidden Figures
Available September 10
The Deuce (series premiere)
Available September 16
La La Land
Available September 17
Vice Principals (season 2 premiere)
Available September 23
Assassin's Creed
Available September 30
Why Him?